Birthday Wish
(5.00 from 2 reviews)
It's John's fourteenth birthday and he has an extra special birthday wish to make that would change everything if it could just come true.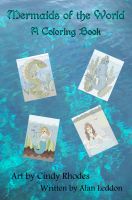 Mermaids of the World: A Coloring Book
(5.00 from 1 review)
With 24 pictures (representing 12 varieties of merpeople from around the world), this coloring book talks briefly about the myths that inspired each image. Learn about the merpeople from the myths of Africa, Australia, the British Isles, Eastern Europe, New Zealand, and Scandinavia in this pages! Permission is granted to reproduce the pages for personal use.