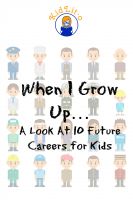 When I Grow Up…: A Look At 10 Future Careers for Kids
by

KidLit-O
This book, just for kids, looks at 10 different careers: Firefighter, Navy Seal, Astronaut, Police Officer, Veterinarian, Pilot, Lawyer, Actor, Doctor, and a Teacher. The book looks at how much they make, what education is involved, what the future holds, and more! Each topic may also be purchased as an individual book.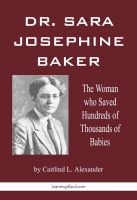 Dr. Sara Josephine Baker: The Woman who Saved Hundreds of Thousand of Babies
by

Caitlind L. Alexander
Sara Josephine Baker grew up questioning everything. She also grew up doing a lot of things that only boys were supposed to do. Soon Dr. Jo began questioning the way people raised their babies. At first no one listened, but when people started listening, their babies stopped dying. Read the exciting story of how Dr. Sara Jo Baker saved the lives of hundreds of thousands of babies.