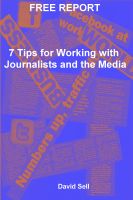 Free Report - 7 Tips For Working With Journalists And The Media
(5.00 from 1 review)
The phone rings and it's a journalist wanting a comment or some background information; what do you do next? These 7 quick tips will help you remain calm and in control of the situation; and if you're in control you can derive maximum benefit from the encounter.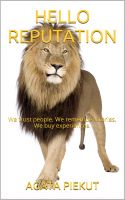 Hello Reputation: We Trust People. We Remember Stories. We Buy Experiences.
(4.00 from 1 review)
It's the first publication ever written that shows how to implement best networking practices in online marketing strategy. It's an easy guide on building lasting connections with your current and potential clients, based on step-by-step explanations of each technique and examples of implementation by some of the most popular online personalities.