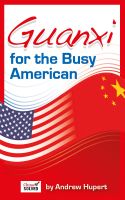 Guanxi for the Busy American
(5.00 from 1 review)
Busy Americans want to transact business and move on to the next challenge. The goal of "Guanxi for the Busy American" is to help over-scheduled professionals learn exactly what they need to do business in China effectively and efficiently. Download this e-book, and check "Prepare for Chinese Negotiation" off your to-do list.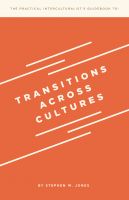 The Practical Interculturalist's Guidebook to: Transitions Across Cultures
(4.00 from 1 review)
An easy to read explanation of what you can expect when crossing cultures. Learn how to effectively navigate the stages of transition. Understand why you will experience culture shock and what to do about it. Identify healthy ways to deal with the stresses of crossing cultures. Prepare to return home, whether you've been gone for a month or for years.