Sub-categories:
Sacred writings | Rituals & practice | Theology | History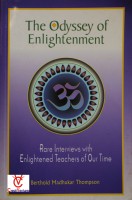 The Odyssey of Enlightenment: Rare Interviews with Enlightened Teachers of Our Time
Pathways to Enlightenment -- from Masters of Non-dual Spirituality A chronicle of the author's burning quest for truth, as he tirelessly questions a total of 12 spiritual teachers, including Osho, U.G. Krishnamurthi, Ramesh S. Balsekar, Papaji, Gangolli, Kiran and Andrew Cohen, amongst others. Contemplative dialogue of an unparalleled quality and depth.