Sub-categories:
Sacred writings | Rituals & practice | Theology | History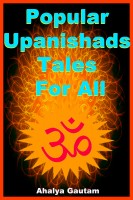 Popular Upanishads Tales For All
by

Ahalya Gautam
There are believed to be ten Upanishads: Isha, Kena, Katha, Prashna, Mundaka, Mandookya, and Taittareeya. Eitareiya, Chandogya and Brihadaaranyaka. This e-book contains the educative, entertaining and enlightening stories which not only guide us on to the righteous path but also quell the unrighteous tendencies inherent in us.