Sub-categories:
Sacred writings | Rituals & practice | Theology | History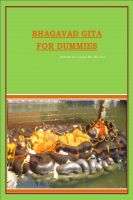 Bhagavad Gita for Dummies
(5.00 from 3 reviews)
As a common man, who lives among the 500 crore people and still searching for identity and running the life as it comes, even we too have a perspective when we read Bhagavad Gita! We would like a comparable view with our life and Gita! This book offers you that! No longer we need to imagine a ideal world, when we read Bhagavad Gita! This is for you and me! Bhagavad Gita Decoded for us!