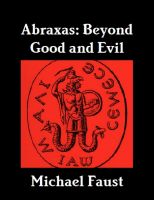 Abraxas: Beyond Good And Evil
by

Michael Faust
What is the truth regarding good and evil? Is the God of Abraham actually the Devil, as the ancient Gnostics maintained? Is this planet of ours hell, ruled over by the Prince of Darkness masquerading as God in the greatest deception of all time? Here is wisdom - the True God is Abraxas and his is the same message as Nietzsche's: we must learn to live BEYOND good and evil.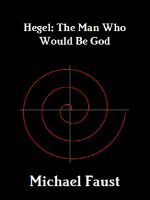 Hegel: The Man Who Would Be God
by

Michael Faust
Is the universe a gigantic evolving mind? Is it alive? Does God come to self-consciousness through humanity? Are we the vessels of God? The German philosopher Hegel is one of the greatest and most notoriously obscure philosophers of all time. Was he a secret member of the Illuminati? Did he seek to replace Christianity with Illumination - the enlightened religion of the Illuminati?