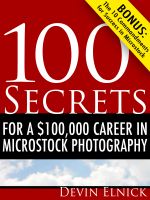 100 Secrets for a $100,000 Career in Microstock Photography
I went from $0 to $100,000 annually in just a few years as a contributor to microstock photography websites. I achieved this in my spare time, just a few hours a day, building a strategy for how to generate a LOT of downloads for my work. Microstock is very competitive, but most people don't practice the tips in this guide. If you follow these steps, you'll get a huge edge over your competition.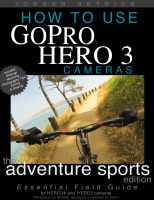 How To Use GoPro HERO 3 Cameras: The Adventure Sports Edition for HERO3+ and HERO3 Cameras
UPDATED FOR ALL EDITIONS of HERO3+ and HERO3 CAMERAS. This is the perfect guide book for Adventure Sports enthusiasts who want to learn how to use their GoPro HERO3+ or HERO3 cameras to get great videos and photos. With more than 100+ images, this book provides clear, step-by-step lessons to get you out there using your GoPro camera to document your adventures.