Capricorn Zodiac Sign Flowers Photo Book
by

Lorna MacKinnon
Capricorn Zodiac Sign Flowers Photo Book is a photo book featuring 25 plants in total; all of which are associated with Capricorn. It contains an introduction to the Capricorn zodiac sign plus a guide to the flowers and plants associated with the sexy, classy and ambitious Sea Goat. Capricorn Zodiac Sign Flowers Photo Book makes a perfect gift for that wonderful Capricorn in your life!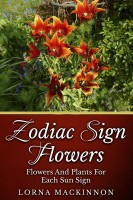 Zodiac Sign Flowers - Flowers And Plants For Each Sun Sign
by

Lorna MacKinnon
If you're wondering what flowers or plants to buy for the Taurus (or any other zodiac sign) in your life or you're just curious about which plants go with which zodiac signs this photo book is a great place to find out. Inside you'll find a list of plants associated with each zodiac sign, photos of 6 plants/flowers per zodiac sign & a poem for each sign. All the photos are unique to this book.
Related Categories