Sub-categories:
African American | Native American | Hispanic American | Asian American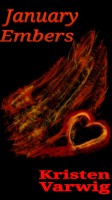 January Embers
(5.00 from 1 review)
'January Embers' is the culmination of over a decade of obsessive writing. These evocative, powerful poems have an almost tangible grace; the author adroitly deals with pain, anger and mental illness, but, above all, the spine is hope. 'January Embers' is not without humor; 'Edgar And I' dares you not to smile. Kristen Varwig's debut is a must-read for the sophisticated and casual reader alike.