Sub-categories:
General | Undead | Weird fiction | Ghost | Occult | Crime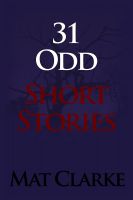 31 Odd Short Stories
A collection of 31 short stories, each one quite different. 99cents for a limited time. The majority fit within the thriller genre, yet many stretch themselves outside of this restriction and become something more. You'll be taken on adventures, chilled to your core and surprised at the sometimes unusual paths the characters walk (or run).