Sub-categories:
General | Undead | Weird fiction | Occult | Ghost | Crime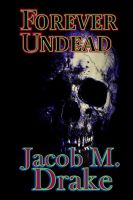 Forever Undead
by

Jacob M. Drake
(4.50 from 6 reviews)
When a family man finds his less-than-perfect life turned completely upside down by his becoming a vampire everything he knows and values is called into question, especially when other vampires expect him to assist them in staging a coup that will result in the ravaging and enslavement of all humans. He must then decide what it means for him to live forever. First of the Forever Darkness series.