Sub-categories:
General | Undead | Weird fiction | Occult | Ghost | Crime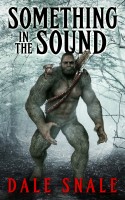 Something In The Sound
A young male Bigfoot loses his parents and his home when Mt. St. Helens erupts. Injured he escapes an opportunist hunter by falling into a train which takes him to the Rocky Mountains of Colorado. Twenty years later, homesick and lonely he hops on another train hoping it will take him home. Instead it takes him to a lake in North Texas where he encounters the most dangerous creature on earth.