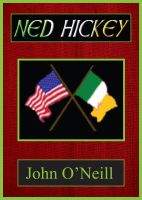 Ned Hickey - A Hero of Two Revolutions
This story about Ned Hickey, an Irish hero in Ireland and America in the War of Independence, is written for readers who love to dream, to imagine - scenes, faces, settings and yet do need a story on which to hang their vision of how the earth moves for ordinary humans in extraordinary times or circumstances.
IN OLD MONTEREY
This screenplay, a Western Romance set in the Monterey, California, of 1912, is done in the style of Nicholas Sparks' THE NOTEBOOK. An author, who competes with Zane Grey for the Western market, is suffering from writers' block and goes west in search of inspiration. There, through a mysterious older woman, he learns the surprising secret of his origins.