The Filthy Rich Life Of Wall Street Billionaires
Never Heard Before About These Secret Billionaires!! (Non-Fiction Alpha Money) Are You a Money Lover? Explore the world of these amazing people! a)Forget about what you know about billionaires,This book give you insight in their lives. b)Not only these people are wealthy,But their children also are super heroes in terms of money. C)Vast empire of Sheiks... Scroll right and grab Your copy today!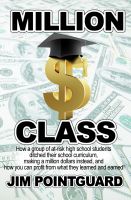 Million $ Class
Jim Pointguard's last period class is small, but with the obnoxiously loud (and unforgettable) Kee-Kee and the sleeping giant Earvin, he struggles to keep control. Eventually, in an effort to motivate his students, Jim decides to teach a lesson about money. The students love the lesson, which leads to other lessons about money and success. Soon, the students are pushing to reach a $1,000,000 goal.