Sub-categories:
Literature | Sociology | Author profile | Political | Business | Technology | Legal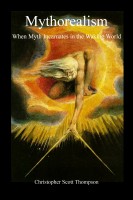 Mythorealism: When Myth Incarnates in the Waking World
Myths are the manifestations of the fundamental mysteries. Myths are the universe expressed in poetic form- those things which are more true than the merely factual. As such they are accessible now, in the "waking world" of mundane reality, and not only in some forgotten past, some distant faraway realm, or in books of ancient mythology.