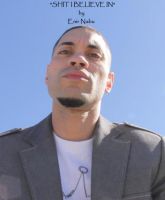 Shit I Believe In
By
Enir Nabu
Price:
$0.99 USD.
Words: 4,140. Language: English. Published: January 31, 2012. Category:
Essay
»
Sociology
(4.88 from 16 reviews)
These are random tweets taken from my Twitter account. I have epiphanies all the time so I jot them down. People said write a book about all these thoughts. So I did.
How to Tell a Lie
(4.67 from 3 reviews)
A short, provocative work examining the ways we look at life. Using logic and offbeat humor, the author challenges the reader to examine per-suppositions and provides techniques for telling the difference between truths and lies. A strange mix of humor and philosophy. Entertaining and challenging.