The Lost Immortals: When Copper Suns Fall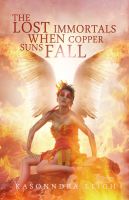 By
KaSonndra Leigh
$

2.99
Rating:
(

20

reviews)
based on
Published: Nov. 09, 2011
Words: 99,030 (approximate)
Language: English
ISBN:
9781452466071
Short description
In a not too distant future when angels hide their celestial identities, a teenage girl who uses ancient memories to change current events must face rival demon slayers before she can find the cure to save her brother and prevent a second apocalypse.
It has been fifty-five years since the angels of the Apocalyptic War attempted to wipe out humanity. Now a new nation has been built where alchemy is forbidden, and angels fear for their lives as they hide among the mortals.
The city's leaders share one view on the ancestors of angels: shoot first, no questions.
When her twin brother falls into a strange coma, sixteen-year-old Chela Prizeon vows to discover her role among these exiles, the royal angels known as the Lost Immortals.
Chela's only hope lies with the mysterious, but infuriating leader of a rebel group. But can she trust this boy, someone who can control her dreams and her heart.
Escape into a world filled with celestial creatures, fascinating villainy, high-stake choices, and forbidden romance.
Tags
angels
,
magic
,
alchemy
,
childrens books
,
fallen angels
,
ancient war
,
demon slayers
,
dystopian fantasy
Single purchase gains access to all formats. How to download ebooks to e-reading devices and apps.
| Format | Full Book | Sample First 15% |
| --- | --- | --- |
| Online Reading (HTML, good for sampling in web browser) | Buy | View sample |
| Kindle (.mobi for Kindle devices and Kindle apps) | Buy | Download sample |
| Epub (Apple iPad/iBooks, Nook, Sony Reader, Kobo, and most e-reading apps including Stanza, Aldiko, Adobe Digital Editions, others) | Buy | Download sample |
| PDF (good for reading on PC, or for home printing) | Buy | No sample available |
| LRF (Use only for older model Sony Readers that don't support .epub) | Buy | Download sample |
| Palm Doc (PDB) (for Palm reading devices) | Buy | Download sample |
Videos
When Copper Suns Fall Book Trailer
In a not too distant future, where angels hide among the mortal a fifteen-year-old girl must face her greatest challenge yet. Music used by permission from www.audiomicro.com.
Reviews
Log-in to write a Review
Log-in to add a Video Review
Review by: Sabina on March 14, 2013 :

Despite the fact that I don't really like book about angels, I said yes when I was offered this book for review. It just sounded so awesome - I had to give it a try.

I wasn't impressed by the beginning and for a while I actually thought about quitting the book - I just couldn't get into the story. Obviously the author needs the reader to know about the setting, but I just felt shot down by information about the war, the angels, the society and Chela herself. It was so confusing and I didn't connect with Chela at all. She seemed so indifferent to me and most of the time she didn't seem to care about anything but Micah. It seemed like she created trouble for the sake of trouble and I didn't get why. Actually, a lot of things happen in the beginning that I didn't understand - maybe I'm slow - but I though the setting was confusing, the protagonist was annoying and there were no plot anywhere. Not much reason for me to keep reading..

Enter Faris. Suddenly, I wanted to keep reading, keep learning about this guy. He gave Chela something to do, besides get in trouble. He gave the story depth and life. He was swell. Yeah, I really liked Faris and, as the only character in the book, I felt like I got to know him. He's awesome and he kept surprising me.
Chela matures through the book and I ended up really liking her, which really surprised med (I seriously didn't like her in the beginning!). Despite the fact that Micah is more or less a no-show, he's constantly in her thoughts and a big part of her actions and I didn't get that until the end. Well, I got the part about the coma and all, but he just pops up at weird times, I think.

There are so many different character and so many names to remember and I just couldn't do it. A couple of times I had to go back to find out who certain people was and that sucked (especially on a Kindle). But Seht and Jalen were special, important and worth remembering. I liked both of them and I loved that Chela had more than a classic love triangle.

The angel part turned out to be quiet fantastic and even if I hadn't liked it, there is so much more going on in the story - different powers, different abilities - I loved it! The setting really has some potential once you get it.

When Copper Suns Fall has a slow start and I had to get use to the writing. It's not bad (most of the time) but every once in a while it get a bit dense. The story has a few surprises to it and it did not end the way I thought it would - I loved that! The last half of the book was amazing, filled with action, real emotions and personal growth. And even if the book doesn't end with a major cliff hanger, I'm so excited for the next book about Chela.
(reviewed within a month of purchase)
Review by: Emily on Feb. 15, 2013 :

This book is the absolute perfect fantasy read. It is imaginative, deep, funny, exciting, and provides a dark, dangerous world that all book lovers crave. Plus, the cover is Gorgeous with a capitol G.

The characters are entertaining and I felt strongly about each one (hated, loved, wanted to slap, wanted to kiss etc!) I especially loved Chela and her strong personality and hilarious comments. Who doesn't love a good female lead character?

My favorite thing about this book is the world Leigh created. It is absolutely shattering. It feels bright and dark, magical and gritty. All the different groups (Caduceans, Tainteds, and many more) and characters are genius and fit right into the world.

All though there are so many names, groups, and complex ideas that you might need to go back and refresh your memory sometimes. But, I think that is one thing that makes this such a good story. You can read it again, and again, and again, and still find something new, a little creative detail or intricate plot, each time. I think this is a book you will appreciate more each time you read it. (My third grade teacher used to say thats how you told a great, well though out novel to an okay one.)

All in all, I really recommend you read this when you want to be breath taken by fun characters (Chela and Faris!), an amazing world and plot, and just to enjoy reading a wonderful fantasy.

Favorite Quotes:
(I couldn't resist. This book had so many hilarious quotes and views from Chela!)

"She wanted every detail down to the color of underwear I wore that day. All right, maybe I'm exaggerating a bit"

""Hm. Two people, same location, one lives here, the other uninvited. Sounds like a stalker situation to me," I said"

Yeah, this book made me laugh!
(reviewed within a month of purchase)
Review by: Teresa Kinckner on Jan. 26, 2013 :

This book captured me from the beginning. KaSonndra Leigh created a world that was completely believable, adding a paranormal twist that was wildly original and interesting. The setting of this book is Corunum, a Post-Apocalyptic United States, set 62 years after the Great War between the Caduceans and Tainted. The Caduceans were half-human, half-angel descendants of the archangel Gabriel, and the Tainted were half-human, half- fallen angel descendants of Bernael, the angel of chaos. Both were thought to be no more, but were actually still in existence and fighting for control of the humans.

Chela was caught up in this situation more than she realized. I loved learning along with her what she and her purpose in life were. Chela was a very strong and stubborn lead character, with a heart of gold… a perfect combination for the role she assumed in this book. Faris was quite a mystery to me, and I was just as frustrated with the lack of information he passed as Chela was. He was an excellent broody, angsty character who loved Chela with all that he had. Jalen and Alexa were great friends to Chela, each with secrets of their own. The complexity of the relationships in this book made it hard to put down… I couldn't wait to find out the next "secret"! The ending of the book had me wanting to know more, I'm definitely invested in these characters!


The writing was excellent! KaSonndra has a gift. She can write beautifully crafted descriptive sentences and flawlessly switch to more modern dialogue between the characters. That is very hard to pull off! There was some confusion with all of the new terms in the book, but the glossary at the end really helped me with that, and kept it from getting too complicated and taking away from the story itself. I am starting book 2 tomorrow, and I am so excited to see what the second part of this story holds!
(reviewed within a month of purchase)
Review by: Vikki @ V's Book Life on March 19, 2012 :

First Line: 'My brothers hand twitched. It was the first time he'd moved in almost a year. Micah was in a coma. He lay in his bed, sightless eyes staring upward. Tubes attached to his arms, legs, and head led to a life-support system. My chest ached, stomach rolled, and grief was a bomb waiting to explode inside me.'
This first few lines drew me right in, how did Chela's brother end up in a coma? This is the question that eventually draws Chela into a world most believe had been left in the past. The official story is that he was in an accident, (Micah fell from the top of a ride) but Chela is convinced that it was no accident. She believes the mythical Tainteds were somehow involved and being twins...Chela will not stop until she discovers the truth.

Unfortunately the incurable Glutovirus is rampaging through Micah's system and his Doctor wishes to use Micah's body for research purposes...because Micah and Chela share a secret. They have celestial blood running through their veins. With her celestial blood Chela could have thrown off the men who took her from her brothers room or done some serious damage to the doctor who threatens to tell the world what she is...but Chela knows she has to keep her blood hidden...otherwise she risks being arrested or shot like the others of her kind. Since the Great War the humans have been forbidden, by the governing tribuneral, to have any association with the Caduceans and Tainteds who where the beings at the centre of the war which changed mankind forever. Chela's journey to discover the truth about Micah takes her further than she had ever imagined and drags her in to a place where the Caduceans and Tainteds are anything my myths. Chela makes some life changing discoveries about her home and her celestial heritage. Lies will be uncovered and cracks begin to show in the perfect society, for those in power have been anything but honest. Chela's celestial blood brings her new discoveries about her heritage and the role she will play in a hidden war. With the help of her friends Chela will change the world and her future...forever.

As far as the characters go, I liked Chela, she's strong and protective of those she loves and will do all she can to make things right. She is human and makes mistakes...I find a flawed heroine more believable than a perfect one so this is a definite plus for me. However, I didn't always connect with Chela. In some places I can picture exactly what she sees and feels...but in a couple of other places I feel more like someone sat on the sidelines. The love intrest in the form of Faris certainly has some promise...and I love the scene where they first meet, my word Faris is certainly intriguing...my mind kept wandering back to him. However, 2 more love interests are inrtoduced in the form of Seth and Jalen. The love triangle...or maybe it's a square...I don't know that ensues is hard on Chela (though I was always rooting for Faris) and she loses herself briefly.
Seth, unlike Faris, creeped me out from the very beginning. He is just one of those characters you are always suspicious of, and for that I think he is absolutely great. He is the guy in this love triangle who whenever Chela spent time with him I was going 'NOO! FARIS, PICK FARIS, GIRL ARE YOU BLIND!?' I always enjoy trying to get characters to see what they, in my opinion, are doing wrong...though my housemates get creeped out when I start shouting at books haha.

When Copper Suns Fall certainly keeps you on your toes while you're reading it. KaSonndra Leigh has created a new world full of many types of people. It reads well and I rarely had to struggle through it. There is a lot of action and when you think you see where the story is going, KaSonndra Leigh throws a curve ball and you suddenly have no idea what will happen next! I loved that about it, predictable is no fun. The unique spin on angel myhtology was absolutely fascinating and the dystopian theme was woven really well into the mythology. The Seraphim, Cherubim, the Caduceans and the Tainted will keep you enthralled throughout.

The one fault I could find with When Copper Suns Fall was the lack of background information in one or two areas. Some area's are not fully explained and left me a tiny bit lost at times. Don't get me wrong, I still enjoyed the read but I don't think I got as into it as I feel I should have done, I mean the story showed so much promise. I had to flick back occasionally to try and find explanations that weren't always there which spoilt it for me a little bit. An example is that we don't get an awful lot of information about the Great War, it is mentioned yes, but not to the level of detail that I would have personally liked.
BUT, and this is a big but, this series certainly has a lot of promise and I certainly will be keeping an eye out as the trilogy progresses.
(reviewed within a month of purchase)
Review by: E. Leighanne Grimm-Weever on March 02, 2012 :

Okay i have to admit, i didnt think i would like this book at the start. It took me a good bit to get into the story but once i did i LOVED it! It was new and different and definetly exciting! I hope theres to be a continuation so we find out more aboth seth and everything else. Im sooo glad with what she choose to do, it was amazing! Definetly a good read and will be recommended by me!
(reviewed within a month of purchase)
Review by: Nicole Peterson on March 01, 2012 :

Chela lives in Haynes Castle. A dystopian city, created after the Tidal Wars. The Tidal Wars were fought between the Angel factions of Tainted and Caduceans. Alchemy and angel-bloods have been outlawed in the cities by humans. However there are some still hidin' within' the city. Chela and her twin Micha are some of them.

Chela's twin is in a comatose state after "falling" from a roller coaster. Chela on the other hand is of the belief that he was pushed by the Tainteds, because her brother knew something and had quit taking their Ale-meds the are supposed to take twice a day. Some time has passed and Chela forgets to take hers one day and finds that she feels more energetic and her powers are starting to appear. Chela is of Epiclesium, a higher tier angel/human hybrid.

Chela is looking for answers as to what happened that fateful day at the park and a cure to help her brother. Along the way she meets Faris, a cursed Caducean hiding as the city's Champion and Seth, a Tainted hiding as a Thoughtmaster of training. Both want to use her for their own purposes to start or win another war. Who is she to trust, Faris or Seth?

I really enjoyed reading this book. There is plenty of action to even out the romance. The book flows nicely, not even an occasion speed bump. If you liked Fallen, I think you would enjoy reading this series also.
(reviewed within a month of purchase)
Review by: Autumn Siegel on Feb. 29, 2012 :

I really enjoyed reading this book. The characters were fiesty and the book was fast paced. I'm looking forward to reading more by this author.
(reviewed within a month of purchase)
Review by: Leanne Goon on Feb. 29, 2012 :

*Received e-book through Read It and Reap program from the Shut Up and Read! Goodreads group from author;
**More like 2.5 stars; also posted on Amazon.com under Leanne

When Copper Suns Fall is told by the point-of-view of Chela, a rare descendant of celestial blood, who attempts to figure out whether her twin comatose brother was deliberately injured and which persons are involved in the plot. Do others know the secret of his blood and want to use it for selfish aims, and is she safe from them? In addition, what is she herself capable of?

Leigh opens up with this intriguing premise, but as the story continues, it becomes somewhat confusing and convoluted. The world-building was ambitious, with a Great War occurring leading to the tumultuous Tidal Years and intervention of the two angel groups, the establishment of the Nation of Corunum and its Tribunal, which controls society, the mandatory taking of ale-meds for the greater good (reminded me of the movie, Equilibrium), the two angel groups still engaged in battle (Caduceans and the Tainted) over a powerful weapon, the memories, the constant threatening presence of a great Beast, and so on. I appreciated Leigh's aspirations in creating a unique culture, but it needed to be expanded on and elaborated – it seemed too cursory at parts. In addition, I found myself having to reread portions of the book in order to understand the intricacies of the plot as it jumped from one scene to another, at times with no transition or connecting thread.

On the other hand, I did like the character of Chela as she observes and takes a role in the societal and angelic politics around her and as she experiments with her blood heritage. I found her relationship with her trio of friends, the Bermuda Three, endearing, and her roller-coaster interactions with the mysterious Faris appealing. In addition, I thought Leigh did a competent job in describing the secondary characters, such as Seth and Lucia, as well.

Overall, When Copper Suns Fall was a challenging read, but a solid attempt at a first novel in a new series. Although I wasn't awed by it, I think it did have an interesting world concept and enough dynamic character interactions to warrant reading the next book in the series. I would recommend this to young adult readers, who are fans of paranormal romances, and not necessarily dystopia.
(reviewed within a month of purchase)
Review by: Lily on Feb. 29, 2012 :

I was very excited to read this debut novel. The brief description of this story related to a genre that I enjoy reading. So I began this novel with a degree of excitement to see if it could deliver.
I was instantly caught up from the first page, when the story begins to Chela seeing her ill and comatose brother's hand move. The following scenes of her ardent pleas to have that small movement acknowledged by her brother's caregivers, and the resulting threat-like conversation with the physician, had me ready to be caught up in the story line that I was expecting and was promised. Instead the story seemed to go into a different focus.

I found myself in a constant state of mild confusion as I read through this story. As a visual reader, I had a really hard time connecting with this story, and couldn't quite picture this world that was created by this author, which was really unfortunate.

There was a lack of information in regards to this Great War that was spoken about and ended up, essentially, the catalyst for the society that developed after the fact. There was a "Memory" triggered with Chela that hinted at what may have caused or been part of this great change, but nothing definitive. I did too much guess work on what happened previously to explain the type of world these characters were now living in. I wish the author had found a way to really paint a picture of what exactly occurred at that time.
The same lack of information didn't help in establishing how exactly the Tainted and different hierarchies of angels intermingled with humans, and what exactly their 'gifts' or 'talents' were. I had a very difficult time following who was who/what in this book.

There was a wide range of characters that were not developed well enough for me to keep them straight. That was not the case with the main characters in this novel, and I was able to establish who and what they were, but once all the other characters became involved in scenes, I quickly became confused as to what team they were on, and how they related to the characters again.

The romantic relationship developed too quickly and unbelievably for me. I didn't really understand what the exact connection was for these two characters. And because of that lack of connection, I couldn't quite comprehend how deeply attached they were to each other. It felt kind of superficial.

There was plenty of action in this book, but these scenes seemed to miss a certain fluid quality that one would expect from action. These action sequences involving these characters just did not connect well together, and felt staggered.

There was not enough development in the quest to answer all the questions posed surrounding Micah's fall, and the virus that is talked about in the description of the book. In fact, the virus is barely discussed AT ALL! And that, for me, was disappointing as I was pretty interested in that subject based on the description of the book.

All of the above being said, I did enjoy this book enough to see it through. The main characters were well developed enough as individuals – that being Seth, Chela and Faris. As individuals, they were enjoyable and believable characters with well developed personalities, histories and experiences that allowed me to connect with them.

I found this story to be somewhat reminiscent of "The Hunger Games" for me, at least the first half of the book. It definitely has the potential to please many readers that enjoy this type of story. It was certainly very unique and imaginative, but most importantly, it was original. I just wish it had flowed a little better and maybe a little slower to really allow this world and the people in it to sink in.

KasSonndra Leigh did a commendable job for her first debut novel, and I am very confident that both this book and her next book will be well received. I plan on continuing the series, and hope that some of the questions that I was left with from this book, are answered in the next.

Happy reading!
(reviewed within a month of purchase)
Review by: Laura Nusen on Feb. 29, 2012 :

I wasn't draw into the book immediately. I had a hard time picturing the descriptions the author was describing. Unfortunately for me, I really wanted to like this book. Some parts felt rushed, some parts flushed out nicely. The lack of clear descriptions left me unable to picture what the author was describing. This was very frustrating for me and I struggled to "get into" the book.

The book lacks background information about the "Great War" and the lack of vivid descriptions about places left me wondering what the heck was going on. The author could have painted the picture for me better and explained the background information about the society that the reader is expected to know. I also had a difficult time understanding the hierarchy of the angel classes and how they mixed with humans. Those humans with chromosomal gifts were also hard to understand and how they were classified. The characters needed to be developed just a bit further and the hierarchy of classes explained just a bit better.

The book end up frustrating me without answering all my questions. I wanted more background, more character development, explanation of the virus and why they must take the Ale-meds. The description of the book made me want to read the book but I finished it with more questions than answers. I was hoping the book would have lived up to the description, but I was disappointed.

I did enjoy the book and did finish it. It has the potential to be a great book. The story is unique and original. It didn't feel like another dystopian book I have read. I just expected it to flow better and paint me pictures of the descriptions and not feel so hurried. A few more pages wouldn't have hurt the story and might have helped to address the lack of background and the character development as well as the pace of the story.

As a first time author, KsSonndra Leigh did an admirable job. I will read the next book in the series and I am hopeful my questions will be answered in that book.

Thanks for giving me the opportunity to read the book and review it for free!
(reviewed within a month of purchase)
Review by: Leigh on Feb. 27, 2012 :

If you want to read a book that is full of intrigue and that will keep you guessing until the end then this is the book for you. Everytime you think you know what is going on new details come to light that keep you guessing. This book kept me on the edge of my seat. What a wild ride!
(reviewed within a month of purchase)
Review by: Stephanie Wolf on Feb. 22, 2012 :

In the future, the Earth is not the same. Angels must hide among mortals and Caduceans are sworn to protect. However, there is always a good versus evil.

Who can you believe when no one will tell you the truth, not even your own father.

A boy who won't tell you everything keeps tugging at your heart. What secrets are out there about yourself, your family and the other characters.

A must read fantasy that will keep you guessing and what to believe and who to trust right to the very end.
(reviewed long after purchase)
Review by: Patti Roberts on Feb. 18, 2012 :

It you are an Angels fan.. a dystopian fan, a fan of paranormal worlds, you will enjoy this read. The author takes you on a journey into Chela Prizeon's world - a forbidden world with a dark future. If you're a fan of "The Hunger Games", then you will certainely enjoy "When Copper Suns Fall" by Author KaSonndra Leigh.
(reviewed long after purchase)
Review by: Karen Doran on Feb. 14, 2012 :

This is a great book if you liked the "hunger games". Once I started reading it I was pulled in and did not want to put it down. I look forward to other titles from this author. Well written and quite a quick read because once you start TRY AND PUT IT DOWN. This book called me when I was working and sleeping.
(reviewed within a month of purchase)
Review by: sarah kalaitzidis on Feb. 03, 2012 :

So I first notice this book back when I first learn about how many contest there was on Twitter. I saw the cover of the book and it caught my interess. I wondered what kind of book was this to have a ugly statue on the cover. So I read the summery of the book and I wanted to read this book right away. I wanted to read it dispite how I felt on angel YA novels and I never read a Dystopian novel before either. (well once "Handmaid's tale" but I only read summery of each chapter) I started to say to myself, I had to win this book no matter what I needed to read it and find out what it's really all about. Not to mention I read a short blurb from a chapter making me wanting it more and poof! I know have it in my hands(computer) and I read it in three days, THREE DAYS THATS HOW MUCH I ENJOYED THE BOOK!

I love this story so much, the book was slow at the beganning but once I got into it I couldn't put it down. The characters are amazing, Chela Prizeon who is our main girl has such a great personalty you can tell when she's scared or happy. You can tell she's trying to find her inner self, learning about her abilties, scared at first but with a help from the boy Faris she finds her strength. As the story goes you want to learn more of what she can do and if she loves the boy. You also notice that her thoughts revolve around her twin brother a lot though out the book, showing how much she cares for her twin brother. Her father though seems like a brainless puppet cause of the Tribunal(government) but you do see him care about his daughter and son more then you think.

Then there is boys of story are eye candy diffidently, Jalen the older brother type boy who will look out for you. Faris the sexy, hot, sexy....I'm saying sexy to many times but it's true he captures your heart right away with his mysterious past and crazy fighting skills. Then there is Seth, the bad boy mysterious type that you just want to be with. All these boys are great and all these boys Chela has a connection to. I just love them all, could there be a love triangle who knows this is only the first book of the series.

I can't giveaway much because I don't want to spoil it for everyone but I will tell you this, it's a great read and I recommend everyone to read it. The plot is awesome and the characters are awesome. This book is so different from what I normally read that it's just so surprising. I'm excited to read the next two books. That's right there is two more books coming and I'm so damn excited!!!
(reviewed long after purchase)
Review by: Danielle Gonzalez on Jan. 31, 2012 :

If you're a fan of "The Hunger Games", then you will certainely enjoy "When Copper Suns Fall" by KaSonndra Leigh. Chela Prizeon has spent most of her life keeping her true heritage hidden from everybody that she knows, including her best friends Jalen and Lexa who are all living under the rules set for them by a governing group called the Tribunal. When her brother Micah suffers a mysterious accident, she is determined to find out what actually happened. Chela finds herself in an entirely new world of trouble as secrets about her heritage begin to unfold, and she must choose between good and evil in order to protect the people that she loves. This book had me hooked from beginning to end, and I cannot wait for the next installment of this series!
(reviewed within a month of purchase)
Review by: Danielle Gonzalez on Jan. 31, 2012 :

If you're a fan of "The Hunger Games", then you will certainely enjoy "When Copper Suns Fall" by KaSonndra Leigh. Chela Prizeon has spent most of her life keeping her true heritage hidden from everybody that she knows, including her best friends Jalen and Lexa who are all living under the rules set for them by a governing group called the Tribunal. When her brother Micah suffers a mysterious accident, she is determined to find out what actually happened. Chela finds herself in an entirely new world of trouble as secrets about her heritage begin to unfold, and she must choose between good and evil in order to protect the people that she loves. This book had me hooked from beginning to end, and I cannot wait for the next installment of this series!
(reviewed within a month of purchase)
Review by: Joanna Marple on Jan. 14, 2012 :

When Copper Suns Fall is urban fantasy set within a dystopian society, 55 years hence, in an America that had had been engulfed in the Tidal Years, a great heavenly battle that changed the world. As a result the Nation of Corunum was created, a typically rigid dystopian society based on strict adherence to laws and customs provoking feat and distrust, governed by a questionable and unbending leadership, called the Tribunal. Survival is only ensured by conformity.

Chela Prizeon, our main protagonist, is nearly sixteen, and while clearly one of the gifted, allowed to remain within the city walls, she also benefits from some of her father's VIP status. The story kicks off with her twin brother in a suspicious coma, from the glutovirus, and Chela committed to pursue helping him whatever the cost. She is a tenacious, at times naïve, heroine who, while coming to terms with her own unique place and destiny in this angelic world, fights impressive physical battles in her pursuit of the truth and family, and emotional battles, namely for the three men who vie for her attention and commitment.

Chela's only hope is one of the three angelic groups in this story, the Caduceans, sworn to protect the last seven Light Keepers (amongst whom Chela discovers her own identity) and the ancient memories they share. This group is led by the enigmatic Faris, about whom one spends the novel asking oneself, 'well is he a good guy or a bad guy?" This tension is very beautifully woven into the story, and in my opinion, one of its strengths.


In this promising debut, KaSonndra Leigh offers a world of secrets and high stakes, which while I found slow to comprehend and complex, is well developed, mysterious, painful and persuasive. It is full of unravelling memories, celestial creatures, grey villainy, challenging choices, and complex relational attraction and repellence, When Copper Suns Fall, is an original urban fantasy that promises well for its sequels.
(reviewed within a month of purchase)
Review by: Cecilia Robert on Dec. 07, 2011 :

Thank you Ms. Leigh for giving me a chance to read this book. This is a wonderful story, starting with the beautiful cover to the essence of the story.
I enjoyed reading this book a lot, and now that I am through, I'm going to catch up on my sleep. That's how good the book was as I read page after page, eager to know what happened next.

The story starts off slow as Ms. Leigh gives us a view of the world she has created. The story is built around a dystopian society where rules are the order of the day. Chela the 15 year old female protagonist is determined to find out what happened to her brother who has been lying in a coma for one year after an accident and infection of the glutovirus. As her 16th birthday draws closer, she stops taking her medication provided by the government thinking back on words her brother had warned her about the medications and is more resolute to investigate the events that might have led to her brother being where he is. She meets two boys; The mysterious Faris who has a secret of his own and becomes her Protector, and Seth who also has a secret of his own and wants her for his own purposes. They completely change the way she sees life, and leads to her finding out who she really is, the role she is meant to play in life and difficult choices she has to make.

Ms. Leigh created characters I fell in love with, even the minor characters in the story. Chela's character development was well drawn out. At first we see a girl who abides by the rules and is shy, though determined. As the story advances, we catch a glimpse of her growth, as she realizes her full potential and fights to protect the people she loves, even with the huge responsibility hanging over her head.

I enjoyed how she weaved the story, her descriptions of the world through Chela's senses.
I look forward to When Copper Suns Fall follow-up story and I highly recommend it.
(reviewed the day of purchase)
Review by: Cecilia Robert on Dec. 07, 2011 :

Thank you Ms. Leigh for giving me a chance to read this book. This is a wonderful story, starting with the beautiful cover to the essence of the story.
I enjoyed reading this book a lot, and now that I am through, I'm going to catch up on my sleep. That's how good the book was as I read page after page, eager to know what happened next.

The story starts off slow as Ms. Leigh gives us a view of the world she has created. The story is built around a dystopian society where rules are the order of the day. Chela the 15 year old female protagonist is determined to find out what happened to her brother who has been lying in a coma for one year after an accident and infection of the glutovirus. As her 16th birthday draws closer, she stops taking her medication provided by the government thinking back on words her brother had warned her about the medications and is more resolute to investigate the events that might have led to her brother being where he is. She meets two boys; The mysterious Faris who has a secret of his own and becomes her Protector, and Seth who also has a secret of his own and wants her for his own purposes. They completely change the way she sees life, and leads to her finding out who she really is, the role she is meant to play in life and difficult choices she has to make.

Ms. Leigh created characters I fell in love with, even the minor characters in the story. Chela's character development was well drawn out. At first we see a girl who abides by the rules and is shy, though determined. As the story advances, we catch a glimpse of her growth, as she realizes her full potential and fights to protect the people she loves, even with the huge responsibility hanging over her head.

I enjoyed how she weaved the story, her descriptions of the world through Chela's senses.
I look forward to When Copper Suns Fall follow-up story and I highly recommend it.
(reviewed the day of purchase)