Zombie Nights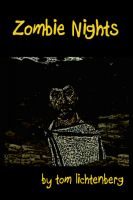 By
Tom Lichtenberg
$

0.00
Rating:
(

35

reviews)
based on
Published: March 11, 2010
Words: 17,900 (approximate)
Language: English
ISBN:
9781452300085
Short description
Being a zombie, not so easy. That could have been Dave Connor's six word memoir. "At first he couldn't remember how he'd ended up in that shallow grave; he just knew it was hell to claw his way out, and that the taste of its dirt would remain in his mouth for the rest of his time on this earth" ... Expect the unexpected in this existential resurrection thriller.
Tags
horror
,
murder
,
zombies
,
bullies
,
existential
,
comic science fiction
This book is free. How to download ebooks to e-reading devices and apps.
Format
Online Reading (HTML, good for sampling in web browser)
View
Epub (Apple iPad/iBooks, Nook, Sony Reader, Kobo, and most e-reading apps including Stanza, Aldiko, Adobe Digital Editions, others)
Download
Kindle (.mobi for Kindle devices and Kindle apps)
Download
PDF (good for reading on PC, or for home printing)
Download
RTF (readable on most word processors)
Download
LRF (Use only for older model Sony Readers that don't support .epub)
Download
Palm Doc (PDB) (for Palm reading devices)
Download
Plain Text (download) (flexible, but lacks much formatting)
Download
Plain Text (view) (viewable as web page)
View
Videos
Diary of a Zombie
I made this video a few years ago; later it turned into one of the inspirations behind my short novel 'Zombie Nights', sort of ...
Reviews
Log-in to write a Review
Log-in to add a Video Review
Review by: Carolyn Brown on June 15, 2013 :

Zombie Nights, by Tom Lichtenberg has an appealing charm, but is a thriller with twists. It tells the tale of Dave Connor's. Poor Dave was murdered by a gang of no good thugs, and left in a shallow grave in a park, dead!

Of course Dave rises and becomes a Zombie, but not the Walking Dead type, he is a little different. Dave expresses to readers how a Zombie feels, thinks, moves, etc. It is quite a different perspective on the world of Zombies.


He finds a place to live with his Uncle, when he just turns up at the door one night and his Uncle helps him to learn human traits once again. I really enjoyed this very unique Zombie experience and would suggest for any Zombie fans out there to give it a go!
(review of free book)
Review by: Michael Ferraro on June 12, 2013 :

A different kind of story to most of the stuff we've gotten used to. Good one.
(review of free book)
Review by: Don Barney on March 16, 2013 :

A thinking man's zombie with a twist ending! Thanks for the very entertaining read!
(review of free book)
Review by: JT Pearson on March 09, 2013 :

Excellent job, Tom. This story kind've seems like the original idea for Warm Bodies - the movie out in theaters at this time. You didn't really play up a romance in your story. That's gotten very popular with the horror genre lately - just add female and mix. I really enjoyed your work. I like the way you kept this story light. I like to do the same sometimes. People should laugh more.
JT Pearson
(review of free book)
Review by: Lesley Morrison on Feb. 26, 2013 :

Great stuff! Liked it a lot.
(review of free book)
Review by: Brian Blose on Feb. 18, 2013 :

Interesting concept, poor execution.
(review of free book)
Review by: Meli Gupta on Feb. 06, 2013 :

Great fun!
(review of free book)
Review by: Kennedy Green on Jan. 16, 2013 :

Fun and entertaining FREE book!! I really liked it.
(review of free book)
Review by: Joseph DiMari on Jan. 12, 2013 :

Tom's characters are well-formed. I especially liked the uncle and his barbaring partner. I could visualize them right out of Mayberry. Good work.
(review of free book)
Review by: John Kulm on Jan. 06, 2013 :

Fun, humorous book that caught me early on and kept me scrolling the text to see where the story would go.
(review of free book)
Review by: Rhys Clark on Dec. 23, 2012 :

Personally, I preferred Tom's other stories Orange Car With Stripes and Missy Tonight over this one, but this one was still quite an interesting read with a unique premise. A different take on the Zombie genre, but I've come to always expect something different when Tom Lichtenberg has written the piece.

I gave it 3 stars on the rating bar, but I would give it 3 and a half if that was possible.
(review of free book)
Review by: Sundae Hunter on Nov. 17, 2012 :

I liked this book. It wasn't the typical zombie fare so that's refreshing. Kept me entertained!
(review of free book)
Review by: Stafford Battle on Oct. 31, 2012 :

Bravo! Not a typical zombie story. It is about the life and death and life and death and ? of a walking dead. It is a biting satire into the flesh of human greed and generosity. The dead main character becomes more compassionate after he climbs out of his grave but unfortunately slips back into the cesspool that his former antics created. Each character, no manner how short their time on the stage was finely drawn. I would gladly pay the author for his work.
(review of free book)
Review by: LeeCharles on Sep. 22, 2012 :

Very good book.
(review of free book)
Review by: Adam Drake on Aug. 19, 2012 :

Interesting story. It starts slowly in action and character development, but as the story unfolds there is a nice balance of humor and creativity.
(review of free book)
Review by: Kelli Walden on Aug. 01, 2012 :

There seems to be a lot of controversy over an author offering his book for free - seems strange that people have nothing better to do then comment on that. Shoot! I just did...

Anyways, I quite enjoyed this book. It's an interesting take on a genre that a number of people think is cliched. Tom takes you on a heart-felt and emotional ride of what it would be like to walk in a Zombie's shoes.

If you're interested in a good read and don't care that some question why a free book has substantial downloads, read it. If you're a fan of the Zombie genre, you won't be disappointed.
(review of free book)
Review by: Karen Wessler on July 19, 2012 :

Great read! Cant wait to read more from this author
(review of free book)
Review by: Karen Wessler on July 19, 2012 : (no rating)
Great read! Cant wait to read more from this author
(review of free book)
Review by: Joy Johnson on May 17, 2012 :

This was quite a fun read! I enjoyed the descriptive details of how the main character zombie felt in the beginning as he clawed his way out of his shallow grave. VERY GOOD!

Respectfully,
Joy Johnson
Freelance Writer
https://www.smashwords.com/profile/view/JoyJohnson
(review of free book)
Review by: Eva N on April 27, 2012 :

Dave is not your average zombie. He doesn't eat brains (or anything else, for that matter). After being murdered by a local gang, he rises from his grave and returns back to the only family he has left, an uncle. He learns to speak almost normally from daytime television and and at night, he wanders the streets, trying to help the less fortunate among the living. He makes friends.

Dave crawled out of the grave one day and becomes a better human than he ever was. But, unfortunately for Dave, the gang members who stabbed him to death see him one day and want him dead (again).
(review of free book)
Review by: Eva N on April 27, 2012 :

Dave is not your average zombie. He doesn't eat brains (or anything else, for that matter). After being murdered by a local gang, he rises from his grave and returns back to the only family he has left, an uncle. He learns to speak almost normally from daytime television and and at night, he wanders the streets, trying to help the less fortunate among the living. He makes friends.

Dave crawled out of the grave one day and becomes a better human than he ever was. But, unfortunately for Dave, the gang members who stabbed him to death see him one day and want him dead (again).
(review of free book)
Review by: Cyndy Nishiyama on March 18, 2012 :

I have always like zombie stories and vampires stories. i already expected there wouldn't be any gore and zombie apocalypse in this story, as the author already specified so. That said, I have to say i like it. A little look into what a zombie would think about if it could actually think. A little cliff-hanger in the end which is good. I just wished he developed the characters more..i seem to find something missing there..i thought Cookie would be a very important character...guess not.
(review of free book)
Review by: Midu Hadi on Feb. 05, 2012 :

http://www.goodreads.com/review/show/215265519
(review of free book)
Review by: Andrew Legend on Feb. 01, 2012 :

this book is alright. after you are done with it, read "I'm Kind of A Zombie" at https://www.smashwords.com/books/view/75111
(review of free book)
Review by: Kate Hatfell on July 26, 2011 :

Wonderful free book!
(review of free book)
Review by: Thorbalt Jennsen on July 16, 2011 :

I found it refreshing to get the zombie perspective - I really enjoyed the convincing description of what it could be like to be a zombie. A well written book. Keep it up Tom!
(review of free book)
Review by: fsmitty on July 06, 2011 :

Pretty cool story, didn't expect the ending. Liked it overall and will be looking for more of this author's books.
(review of free book)
Review by: Mark Stewart on May 25, 2011 :

Not too bad a read.
(review of free book)
Review by: Elijah Joon on May 13, 2011 : (no rating)
Mucho props and respect to Mr. Lichtenberg for reigning supreme (next to the site's owner) at the top of the Top 100 for over a year. I have mad respect for you, sir.

I hope you do not listen to any haters and stop writing, as you obviously have a skill for it.

Keep workin' it, man.
(review of free book)
Review by: Joseph L. Garrido on March 31, 2011 :

I enjoyed the story, even with the few typos. Unexpected ending and not that bad. I was kind of hoping Dave and Cookie were going to become a do-gooder duo and fight against the bad guys, and hoping the story continued to another book or books. Keep this in mind Tom in the future. I would have purchased book 2 without a doubt.
(review of free book)
Review by: Bella's Bookshelf on Jan. 18, 2011 :

OK, I have been into horror stories since I could remember (my fave movie as a wee one was THE SHINING, I was watching Night of the Living Dead like most girls watched Jem & The Holograms, not to give my age away) that said, I ADORE Vampires (looong b4 they sparkled- dammit all to hell) & I am saying it here & now & u heard it here first, 2011-2013 is the year(s) of the ZOMBIE! They will catch on slowly but speed up in popularity especially since ZOMBIELAND 2 is due out soon.

I got this because it was FREE & was a ZOMBIE story that was highly ranked.

Now, I read it. I thought overall it was a good, solid tale. It was DEF NOT "scary". Like another mentioned it seemed more of a "now you're a zombie heres what u do" type book.
The characters were well thought out & each had a personal charisma all their own.
I enjoyed our Zombie. He was not a mentally challenged, falling to pieces, rotting corpse only interested in munchin brains.

It DID drag in a few areas & I did put it down to read another zombie tale (also free on this site) that was more of a scary tale.

BUT I liked this because it was almost like a normal guy re learning life that had a stroke or woke up from a coma. But was a zombie.

It was original & creative & fresh.
(review of free book)
Review by: Michelle DePaepe on Dec. 22, 2010 :

I checked this book out since it was popular, and I've also just written a zombie story. I liked most of Zombie Nights, though it wasn't an action-packed tale like I had hoped to read. On the plus side, it was a quirky twist on the zombie theme and had good characterization. As I was reading it, I couldn't help but think that waking up as a zombie and relearning how to 'live' must be quite a lot like a stroke victim going through rehabilitation. I liked some of the cheeky humor that offset some of the somber nostalgia as the story went on. The ending was a surprise, but also a little disappointing.
(review of free book)
Review by: Evil Ink on July 19, 2010 :

This is good writing. There are moments in the story where I have issues with suspension of disbelief, but overall this is quite brilliant. I like the give-and-take between the characters, and Cookie's back story is delivered deftly. Readers find out much in a very little space: You have a rich economy of words.
(review of free book)
Review by: Malcolm Harden on July 14, 2010 :

Puzzled by the bile of some of these reviews, which was very much at variance with my experience of the book, I went back and read it again. There are always problems when you confound reader expectation. Despite the title this is not a horror story, it is more a practical guide to unlife as a zombie. The ending is deliberately abrupt, and I think unsatisfying, though I can see what the author was trying to achieve. The writer has a light breezy modern style, which won't appeal to everyone, but I found sufficient detail and description to clearly demonstrate his skill. The characters are well realized and rounded and there is gentle humor in the situations. The story line doesn't always flow freely and more might have been done with it. This story promises more than it ultimately delivers but overall this is definitely worth reading.
(review of free book)
Review by: Alcala Publications on July 04, 2010 :

It's not that bad: I like it. The story line was shaky at some points for me, and really thought these reviews were going to all be true, but in fact I found this story a nice piece with zombies!
I would have loved it to be longer though (just ten or so pages, but I would have liked to keep going).
(review of free book)
Review by: M. David Blake on July 02, 2010 : (no rating)
I'll refrain from leaving a rating, since I have not read this piece (anyone who looks closely at my bio should understand why I don't find stories about zombies to be particularly appealing), so it would not be fair for my numbers to affect Tom's status one way or the other.

As another writer whose work has climbed quickly, and surprisingly high given the fact that "We Don't Plummet Out of the Sky Anymore" is my first published bit of science fiction, I can see a few reasons—and these are just off the top of my head!—behind his story's success:

• Tom is prolific. Since November 2009, he has posted twenty-three works on Smashwords... and all of them are free. If people read and like one of his stories, they are likely to check out others.

• Looks like Tom has a website, and uses Twitter prodigiously to tout the availability of his stories. If people are following him at all, I suspect they are getting notifications each and every time he adds a new story, along with frequent reminders about any they may have missed.

• Artwork is usually responsible for the first impression a book delivers, and often decides whether or not the reader even bothers to check out the blurb. A lot of Tom's books have interesting covers. Do the math.

• A lot of people really do like zombies. It's probably sort of like the current vampire craze: If you are into it, you know why it's popular. If you aren't into it, you can't understand why it's popular. Either way, there is a large segment that doesn't understand your perspective. A title like "Zombie"-anything is going to reach a few people that wouldn't bother with other sorts of literature.

• Some people will probably read this story simply because it is the most downloaded thing on the entire site. Some of those people are probably also reading my story.

So why does this piece not seem to have any glowing reviews? If any story gets enough readers, some of them will comment. Those who feel the strongest—with either a positive response or a negative—are the most likely to share their feelings. Unfortunately for this particular title, the readers who reacted negatively spoke up first, and the story's prominence as the most-downloaded title on the site raised a few eyebrows.

If you are still curious about why this particular story is currently number one, download it, and read it. Bear in mind, you'll be adding to Tom's number of cumulative downloads if you do, so the story is quite likely to stay up here.

Oh, one more thing! If you read the story, take a moment and leave an honest review. Your words might help someone else decide whether or not they should give it a try.
(review of free book)
Review by: SgtSadler on July 02, 2010 :

I do not normally write reviews, but this one prompted me. It climbed to the top so fast that I felt compelled to check it out, and I assumed anything with enough downloads to out-rank the Style Guide must have some broader appeal.

If, like me, you are looking at this one simply because it is the most-downloaded book on Smashwords, don't bother. As near as I can tell, it is the most downloaded simply because it has the word "Zombie" in the title. The story doesn't stink quite as badly as a reanimated corpse, but it isn't very compelling.

The formatting is poor, there are plenty of typographic errors, and it is far from the degree of imaginative writing I expected from such an apparently popular work.

This story has earned a single star, because judging from the previous reviews a zero-star rating won't have any effect on the overall count.
(review of free book)
Review by: M Jones on June 03, 2010 :

Cool book on the zombie POV with engaging characters and an interesting, quiet take on the zombie concept. The ending felt rushed, however, and I would like to know how things got on with Ray and Cookie and the others. Maybe a sequel?
(review of free book)
Review by: Dan Dillard on May 10, 2010 : (no rating)
Entertaining read and a nice take on what it is to be a Zombie...ya know, from the zombie's point of view.
I guess you shouldn't judge until you've shambled a mile in his dry-rotted shoes.
(review of free book)