The Runaway Debutante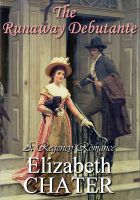 By
Elizabeth Chater
Published by
Chater Publishing
$

0.99
Rating:
(

11

reviews)
based on
Published: Jan. 25, 2012
Words: 51,250 (approximate)
Language: English
ISBN:
9781465822451
Short description
Matilda's father loses everything in a gambling debt, including her, but she courageously flees for her freedom, becoming the personal chef and the delight of Major Bruce. As their love grows for each other, Matilda's past comes back to haunt her.
Tags
london
,
regency romance
,
lady
,
duke
Single purchase gains access to all formats. How to download ebooks to e-reading devices and apps.
| Format | Full book | Sample first 20% |
| --- | --- | --- |
| Online Reading (HTML, good for sampling in web browser) | Buy | View sample |
| Epub (Apple iPad/iBooks, Nook, Sony Reader, Kobo, and most e-reading apps including Stanza, Aldiko, Adobe Digital Editions, others) | Buy | Download sample |
| Kindle (.mobi for Kindle devices and Kindle apps) | Buy | Download sample |
| PDF (good for reading on PC, or for home printing) | Buy | No sample available |
| RTF (readable on most word processors) | Buy | No sample available |
| LRF (Use only for older model Sony Readers that don't support .epub) | Buy | Download sample |
| Palm Doc (PDB) (for Palm reading devices) | Buy | Download sample |
| Plain Text (download) (flexible, but lacks much formatting) | Buy | No sample available |
| Plain Text (view) (viewable as web page) | Buy | No sample available |
Reviews
Log-in to write a Review
Log-in to add a Video Review
Review by: Tracey on Oct. 06, 2012 :

I received The Runaway Debutante through LibraryThing's Member Giveaways in exchange for a review, thank you; it is part of a re-release of the author's light romances, decades out of print, in digital format. The story is a cute one, and on the whole probably no more improbable than many another; the trick with an unlikely story is all in the pulling off of it. Here, a sheltered, rather plain eighteen-year-old girl runs away from her seriously evil parents to avoid being handed over to a seriously evil old lech in lieu of cash payment of her father's gambling debts. Having spent her youth in the kitchens with her father's French chef, she takes a job in an inn which very fortuitously just happens to need a cook right away and proves herself to be a good one despite her youth and femaleness. She is in fact so good that she is shortly hired away by a soldier who lost an arm but gained a kingdom: he has unexpectedly come into the inheritance of a Scottish castle and lairdship, and needs a staff complete, including a chef.

Of course, very soon he – Major Robert Bruce, and oh yes I will come back to that – realizes that she's much too young and fine to be a chef (if you read that with a sarcastic voice in your head, well done), and proposes to her instead. Elitism aside, it's kind of a shame that, having established Matilda's cooking skills – which after all saved her skin – the story drops them as being far too unladylike to pursue. In the second half of the book she doesn't pick up a spoon except to eat. I would have liked to see her at least instruct a servant or surprise her soldier with a dinner or something of the sort. Or perhaps she might have been useful in the hiring of a new chef, which never happens where we can see it; again, it's a hole in the story. (There's also something about a male French chef in that kitchen that bothers me, but I don't think it's anachronistic. Can't pin it down.)

In order to take his new place, Bruce knows he must win over townsfolk who were thoroughly alienated by his predecessor (it is never really said how – examples might be nice. Scots don't drop their loyalties easily), and in the midst of that battle is confronted with a new challenge: a letter from someone else claiming to be the rightful heir. In the course of the fight to retain his new inheritance, there are plans made, and in the course of the fight Matilda seems to take Bruce for an idiot (assuming he'll be taken in by the rival claimants and so on), and he seems to take her for an idiot (not telling her his plans and so on), and in the end they both come off as idiots.

It's cute – but rather than playing on the Scottish blood I possess and making me happy with swinging kilts and pseudo-Gaelic, it went a fair distance toward offending said blood. The idea of the Sassenach strolling in and becoming laird is bad enough, but I imagine it isn't impossible. The idea of the Sassenach strolling in, putting on that swinging kilt, dressing his men in same (as if London laddies would stand for that so readily), and openly speaking in what could be interpreted as anything from mocking to just lame (injecting attempts at colloquialisms into his speech) … this is not the way to win hearts and minds, not in Scotland and not elsewhere.

The instant and overwhelming loyalty – nay, blind devotion – of every single servant Bruce hires, resulting in hordes of folk working above and beyond for him – while, I can only imagine, whistling tunefully all the while – is a bit much. I mean, why? Soldiers of that period, from what I've seen, were a step above the drunks found unconscious outside pubs – a small step; as far as I know the loss of a limb in battle was not looked at in this period as it is now, and all of Matilda's protests to the contrary (the lady doth protest too much?) he would not be seen as a complete man in that time, not at first glance. His magnetism is all tell, no show: I would have liked a little more foundation for the instantaneous devotion. "A little touch of Harry in the night" sort of thing, or even, dare I say, a "Saint Crispin's Day".

That's the pattern, though; we are told repeatedly how darling Matilda is, how feisty and so on, and how purely awesome Bruce is – we're never really shown it. (Oddly, though we're told how wonderful and handsome and all he is, it's two-thirds of the way in before we're told which arm was amputated.) And, when all's said and done, there is a hard and fast dividing line between "us" and "them": "Matilda … was proud of her loving servants". When all's said and done, they're employees. I'll come back to that as well.

The cute (of course) and coy love scenes between Matilda and Bruce, especially the first one, had me almost wishing for the frank and straightforward raunch of most current romance novels. It erred so far on the side of propriety that insulin was very nearly called for. Use of adjectives bothered me a bit in those scenes and throughout. It's beginning to sound like I'm using a magnifying glass to find nits to pick, but the effusive language did irritate – it was constant and fulsome, and more of the telling rather than showing. Matilda is "the little maid" with "the small face" and, better yet, "this stubborn, high-couraged little battle-maid", in the space of a couple of pages.

What bothered me a bit more than the use of adjectives was the sheer irredeemable evil of the parents. I tend to rebel against characters who are too much of one thing or the other – utterly good (like Matilda) or so deep-dyed in villainy there isn't a bright spot about them but the gleam of teeth. It can be done, but it's preferable, for the most part, for there to be some reasonable back story to justify it. Iago, Mordred, Sauron, Scrooge, Macbeth, Lucifer himself – they all had reasons for becoming what they are. Matilda's parents are simply evil – not just neglectful, but actively and demonstrably bad. I kept waiting for some small show of concern that their daughter might be hurt or dead, but there was nothing but concern for their own situation and how her taking off threatened them. While this is useful to the story in a way – you see? They're so terrible she had to leave, and this way she doesn't have to worry about them any more than they do her, and in fact never needs to think about either of them ever again – but it's still pushing credibility. More to their characters might have been helpful: say, because of a difficult birth they were never able to have another child, and perhaps the estate is entailed, or her father was set on having a son and heir, or … something, anything other than simply "they're evil". The malevolent suitor actually has a motive – he's a lech and needs an heir and no decent girl is going to marry him of her own free will. The parents are just escapees out of a bad fairy tale.

What bothered me more than the parents was character name choices. Laying aside the question of whether or not a clan could or would or should ever be formed this way (though I think it's absurd that English men and women would drop their English lives, don tartans, and swear allegiance to Alba and a man they met fifteen minutes ago, and equally absurd that such a "clan" would ever be accepted by the natives; and, too what kind of clan is made up entirely of servants? "Clann", I find, is Scots Gaelic for "children") – just the simple, to me, wrongheaded use of names is bordering on the offensive. "Major Robert Bruce" is awful, but might have been carried off. But to offset that by naming another character Wallace is abhorrent – and for that Wallace to be a cowardly little weasel is inexcusable.

The Kindle edition I received had some typos, occasional dropped letters: ad for and, so man for so many. Hopefully those can be cleaned up.

Spoilers:

I'm rather happy that Miss Alford doesn't meet a handsome ghillie and fall in love by the end of the story. Polly seems to be on her way to it, which is fine; if Miss Alford had fallen for MacLeod or something it might have pushed this into wall-banger territory. I'm rather disappointed that Lord Tark's urgency to find a bride right now is never explained; it is hinted, several times, that there is a specific reason that he wants a bride and an heir immediately, but unless it's simply that he's not getting any younger it's left unspoken.

Why were there two weddings? Why did they pick up, ride off not knowing if the rival claimants might not arrive sooner than expected, hie them off to Gretna Green, pledge troth, weep copiously, ride back to the castle, and – on the same day, forsooth – have a big wedding there, Bruce having arranged it all with the minister well beforehand? (In 1856 Scottish law was changed to require 21 days' residence for marriage) What, exactly, was the point of all of that? Also, why were there two dresses? Why didn't he simply say "look, babe, trust me: just buy this dress, and here's the reason" rather than spending an exorbitant amount of money on a Grand Gown, wasting the seamstress's time and giving Matilda the period of humiliation thinking about how the dress was going to wear her and not the other way 'round? Only to destroy the dress – which, good grief, I don't care how much money you've got, that was ridiculous. And she did love the thing, even if it was silly.
(reviewed long after purchase)
Review by: Bonnie Thornton on May 21, 2012 :

I enjoyed this book very much. It was a quick read and the story kept my interest. Although the ending was somewhat predictable (aren't all romances?), I still enjoyed anticipating the outcome.
(reviewed within a month of purchase)
Review by: Carolina Sanabria on May 15, 2012 :

You could read this book easily in two days, the language is not complicated and the plot is easy to follow. The book is rich in characters but none of them have sufficient complexity for my taste. The bad guys are just bad without any inside on their life's or why they become what they are. The main characters major Bruce and Matilda are just too perfect and lucky. The story goes easily and ends without many problems: It's a good short story.
(reviewed within a month of purchase)
Review by: A Jones on May 15, 2012 :

The Runaway Debutante is a fun romance novel. It is not often that you find independent young women who know their own minds and are not afraid of hard work in historical novels. The main character Matilda is like a breath of fresh air. She is naive, brave, independent and has a great sense of survival. Pair this young woman up with an older hero wounded in the war and you have a great read. The reader is transported to England and then Scotland and into the lives of the characters and their fight for survival. In addition, the reader gets a chance to observe the budding romance between Maltida and Major Bruce.

Although the language and writing is stilted and antiquated at times, it in no way detracts from the story that the author crafted so many years ago. Once I started the book, I couldn't wait to find out what was going to happen next. For persons looking for a quick summer read, give this book a try.
(reviewed long after purchase)
Review by: Jenni Jenkins on April 19, 2012 :

The Runaway Debutante is a fun and quick read about a young woman who is being forced into a marriage with a much older man who is by all standards a scoundrel and a man whom no other will marry. She runs away and soon finds herself in London getting propositioned as a cook for for a disabled soldier who is in possession of a castle that needs staff. Needless to say she becomes more then what was first intended and a romance between the two follows.
Recommend to those of you who enjoy romantic novels and happy endings.
(reviewed within a month of purchase)
Review by: Jenni Jenkins on April 19, 2012 :

The Runaway Debutante is a fun and quick read about a young woman who is being forced into a marriage with a much older man who is by all standards a scoundrel and a man whom no other will marry. She runs away and soon finds herself in London getting propositioned as a cook for for a disabled soldier who is in possession of a castle that needs staff. Needless to say she becomes more then what was first intended and a romance between the two follows.
Recommend to those of you who enjoy romantic novels and happy endings.
(reviewed within a month of purchase)
Review by: Penny Brainerd on April 18, 2012 :

In 1815, Matilda finds out that her father has plans to marry her off to a lecherous old earl in return for forgiving his gambling debts. Having kept Matilda away from other people her own age, at first Matilday isn't too worried. However, her governess reveals all after she is dismissed from her duties. Horrified, Miss Alcort tells Matilda everything she has heard about the earl -- that no mother will even consider marrying their daughter to him.

Head strong, Matilda and her maid Polly sneak off in the morning and head to London to see if they can disappear. Finding that her meager savings will not get them too far, she takes a job as a cook in a local eating establishment. Her skills come from spending a great deal of time in the kitchen where the family chef imparted his secrets to her while she spent time in the warmest room in the house.

Enter Major Bruce a disabled soldier on his way to take over a castle in Scotland as the only heir to the recently deceased laird. Seeing Matilda after enjoying her cooking makes him offer a position as a cook in his new establishment and asks for help in hiring others for his staff. She quickly recommends her former governess, maid, and a butler that had been dismissed from her parent's home.

Eventually, Major Bruce finds out who Matilda really is and thinks he should send her back to her parents until he founds out about the arranged marriage to the evil earl. He allows her to remain at his castle once they arrive, but feels it isn't right to allow her to work for him.

The book is written in a fun and engaging manner. I don't usually read romance novels, but this one was an interesting read. Wish there were more men like Major Bruce in the world. He seems a bit too good to be true, but not overly so.
(reviewed within a month of purchase)
Review by: Penny Brainerd on April 18, 2012 :

In 1815, Matilda finds out that her father has plans to marry her off to a lecherous old earl in return for forgiving his gambling debts. Having kept Matilda away from other people her own age, at first Matilday isn't too worried. However, her governess reveals all after she is dismissed from her duties. Horrified, Miss Alcort tells Matilda everything she has heard about the earl -- that no mother will even consider marrying their daughter to him.

Head strong, Matilda and her maid Polly sneak off in the morning and head to London to see if they can disappear. Finding that her meager savings will not get them too far, she takes a job as a cook in a local eating establishment. Her skills come from spending a great deal of time in the kitchen where the family chef imparted his secrets to her while she spent time in the warmest room in the house.

Enter Major Bruce a disabled soldier on his way to take over a castle in Scotland as the only heir to the recently deceased laird. Seeing Matilda after enjoying her cooking makes him offer a position as a cook in his new establishment and asks for help in hiring others for his staff. She quickly recommends her former governess, maid, and a butler that had been dismissed from her parent's home.

Eventually, Major Bruce finds out who Matilda really is and thinks he should send her back to her parents until he founds out about the arranged marriage to the evil earl. He allows her to remain at his castle once they arrive, but feels it isn't right to allow her to work for him.

The book is written in a fun and engaging manner. I don't usually read romance novels, but this one was an interesting read. Wish there were more men like Major Bruce in the world. He seems a bit too good to be true, but not overly so.
(reviewed within a month of purchase)
Review by: monroe905 on April 07, 2012 :

I have to say that I am not usually a romance reader. But this book and another Elizabeth Chater book I read recently are old fashioned romance novels. I really liked this book. It had an interesting plot with a young woman in the early 1800's escaping a marriage to a horrid man which was being being forced on her by her parents. The heroine is plucky and resourceful and her hero is forceful yet gentle and kind. I read it quickly in a day and thoroughly enjoyed it.
(reviewed within a week of purchase)
Review by: Jerry Leigh on Feb. 16, 2012 :

Fun and enchanting story of a brave girl who after being sold off to a debauched Earl by her own father, leaves everything behind to a new life and finds the noble Major Bruce. It's an adventure to read how the girl helps the Major rebuild his castle and both of their lives. All of Elizabeth Chater's works are a delight.
(reviewed within a month of purchase)
Review by: anjay on Feb. 02, 2012 :

A sweet Regency with interesting characters and a solid plot. I found it to be an enjoyable read and have purchased more from this author.
(reviewed within a week of purchase)