Star Wars: Awakening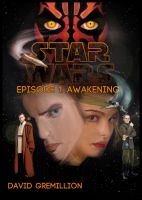 By
David Gremillion
$

0.00
Rating:
(

23

reviews)
based on
Published: Feb. 08, 2012
Words: 78,370 (approximate)
Language: English
ISBN:
9781466136946
Short description
"I'm not a typical Jedi," Anakin said and ignited the lightsaber. The weapon felt natural in his hands, like he had been meant to have something like this his entire life. This wasn't a simple stunsaber; this was a weapon of a Knight of the Jedi Order. "Then it begins," Darth Maul sneered and the two charged each other.
Star Wars: Awakening tells a new beginning for Anakin, Padme, and Obi-Wan Kenobi. Anakin dreams of a life of glory beyond starfighter racing on Tatooine. Padme struggles through a web of lies to determine what General Tarkin is doing on Alderaan. Jedi Knight Obi-Wan Kenobi is on his first assignment as a guardian of peace and justice in the galaxy and discovers something unexpected.
These three will find themselves on a collision course with a horrible truth. The garrison on Alderaan is seizing public lands, but why? War threatens to tear the Republic apart. Worse still, someone is planning to unleash something so horrific that Darth Maul himself is all too eager to see it in action.
Join the trio on a new adventure and a new beginning in Star Wars: Awakening!
Tags
star wars
,
prequel
,
padme
,
star wars books
,
anakin
,
phantom menace
This book is free. How to download ebooks to e-reading devices and apps.
Format
Online Reading (HTML, good for sampling in web browser)
View
Epub (Apple iPad/iBooks, Nook, Sony Reader, Kobo, and most e-reading apps including Stanza, Aldiko, Adobe Digital Editions, others)
Download
Kindle (.mobi for Kindle devices and Kindle apps)
Download
PDF (good for reading on PC, or for home printing)
Download
RTF (readable on most word processors)
Download
LRF (Use only for older model Sony Readers that don't support .epub)
Download
Palm Doc (PDB) (for Palm reading devices)
Download
Plain Text (download) (flexible, but lacks much formatting)
Download
Plain Text (view) (viewable as web page)
View
Videos
Star Wars: Awakening in pictures!
Pictures and images by Mark Cristobal. See more at www.facebook.com/DaveGremillion.
Reviews
Log-in to write a Review
Log-in to add a Video Review
Review by: Benjamin Hart on Sep. 19, 2013 :

Awakening is a fantastic reimagining of the Star Wars prequels! I'm not a big reader and I rarely finish a book I start, but Awakening kept me intrigued from beginning to end. Fascinating plot, great dialogue and lovable characters.

Personally, I love the Prequel trilogy films and I wasn't disappointed at all with George Lucas' work. With that said, I also love David Gremillion's take on the Prequels. Many of his ideas work much better than what is in the films, such as Anakin being older and Alderaan having a much larger role in the story. The inclusion of the Han Solo-like bodyguard Khain brings an original trilogy-esque feel to the chemistry between the characters. But David also pays homage to the Prequels by including characters like Qui-Gon and Darth Maul.

Some people refer to Awakening as "fan fiction" but I feel that's an insult to the passion that was obviously poured into this NOVEL by the author. Awakening is perfect example of excellence in fan created material. I would give it more than five stars if I could!
(review of free book)
Review by: Charles Kehler on Sep. 19, 2013 :

This is a very well written alternate story of how young Anakin Skywalker started down the path of becoming Darth Vader. Unlike the first theatrical prequel, this story integrates important parts of the original trilogy, that in my opinion, were sorely lacking. The political atmosphere is more realistic as well as the first depiction of the young man who would become the Dark Lord of the Sith.

Well done David.
(review of free book)
Review by: Scott Echols on Sep. 19, 2013 :

where was this when the prequels came out?!!??! characters are awesome, lightsaber duels were sweet, i really felt like i was in some of those places in the book! i'm soooo reading the sequel.
(review of free book)
Review by: Juliet Sem on Jan. 02, 2013 :

I read Star Wars before the first movie came out, and it was my intro to reading sci-fi, and I still love the franchise. Yes, I had issues with some of the things in the prequel movies, but not nearly as much with those as I did the Zahn books, which I had great difficulty getting into due to Zahn's writing style (his adding a "y" and/or apostrophe to too many names really got on my nerves).

So while I don't wish for an entirely new prequel series, the description of this book intrigued me, and I have to say Awakening is the best fan fic I've read. The plot moves along at a good pace, the action was vividly described, and the big fight even had a surprise for me at the end, which is not something that happens to me often when reading books.

The only thing I'd recommend for the author is that he have someone edit his work to clean up the few typos I found, which I found most noticeable in the last ten percent of the book.

Overall, I am looking forward to reading more from this author, whether it's Star Wars fan fic or something entirely original, because this book was so very nicely done.
(review of free book)
Review by: David Haberman on Nov. 12, 2012 :

Wow just wow. I just finished Awakening and that was awesome. No Jar Jar or ANY Gungans at all. This is how Star Wars Episode one SHOULD have been. I just started the second book, and I can not wait to see the third. Thank you so much for this.
(review of free book)
Review by: peter veenhof on Nov. 12, 2012 :

Do you love Star Wars??
Didn't you like the prequels??
Then this is a book you must read.
The author tried and succeeded in fixing the flaws of The Phantom menace.
You will read about some really cool new characters for example the best podracing pilot of the galaxy and a bodygard who is almost cooler than Boba Fett.
You will read about an Anakin who isn't just a happy kid,but a kid with a big rage within.

I must say that i really like the smooth writing style,from the start of the book i got into a flow and the book was over before i knew it.

Split Horizons you're next!
(review of free book)
Review by: Tony James on Nov. 08, 2012 : (no rating)
I believe this is the sort of story we all expected when we found out there would be a Star Wars prequel. While I have been a fan of the Lucas-directed prequel trilogy for what it was, but there were a great many lines, events, etc., that caused me to scratch my head while watching it, even on first viewing. This story corrects many of those moments.

It's a better-than-average effort and I would highly recommend it to my Star Wars friends.

Good job.
(review of free book)
Review by: Caleb Fiero on Nov. 08, 2012 : (no rating)
Hello Star Wars Fans! Hello David! I am definitely one of those Star Wars fans who did not like the Prequels! I am very excited to see David's work here! I have not fully read David's book, but there is good reason. More on that later.

More importantly! What David is doing is exactly what the world needs. Many people were upset with the Prequels. So many of those people have wondered what happened, how they went so wrong. David is the example of what needs to be done! If a story is bad in our modern world we, the fans, can rewrite it!

In the case of the Prequels there are literally hundreds of authors, moviemakers and artists sharing their vision of what they thought the Prequels should be! The best part of the Prequels being so terrible is that they have inspired a whole generation of humans to do their best and make a story!

David has done a pretty damn good job here. Characters interesting and the changes made to plot and events are very interesting too! Even having not fully read the book, I agree with other reviews that some of the grammatical and spelling errors are bothersome, but nothing that some editing could take care of.

Way more important to me is that David has made his mark. This is the Star Wars he loves! Now he is sharing it with all the world through the power of the web!

Now for a little clarification! The reason why I haven't delved fully into David's version is that I am writing my own retelling of the Prequels!

Check out my progress at http://nojarjar.blogspot.com and on facebook look for the Improved Star Wars Prequels page!

The Force is with you David!
(review of free book)
Review by: Mary-Fe Mayugba on Oct. 25, 2012 :

Finally,I've finished reading a novel which gaves me some sleepless nights.
I must say the story is vibrant with personalities,speeds along at full tilt from page to page.

A must read book for a Star Wars fan!
(review of free book)
Review by: Randy Daytona on Oct. 01, 2012 :

really cool book.
(review of free book)
Review by: Justin Marsh, Jr on Sep. 15, 2012 :

I would just like to say that in reading this book it has opened up a new world to me about the prequel's. Back in 2005 when EP.3 Revenge Of The Sith came out that was the first Star Wars i had ever seen and after realizing how wonderful star wars was i started watching all the others and BOY WAS I MISSING SOMETHING GOOD FOR 10 YEARS!. And now my good friend David Gremillion has shared his wonderful book Star Wars Awakening and this book if REALLY SWEET for anyone who has not read it I EMPLOY YOU TO CHECK IT OUT!...This book shares another side of the prequel The Phantom Menace and is something you dont want to miss out on and i would rate this book 5 out of 5 stars and also give it 2 thumbs up, Way to go David Gremillion!!!
(review of free book)
Review by: Chris Seekell on June 03, 2012 :

I'll start by saying that I love the Star Wars prequels. I grew up with them and they hold my interest as much as the originals. However now that I am a college student and have heard countless critiques of them, I have a good understanding of their shortcomings, and why many first generation fans were dissatisfied.

Despite this, I still love this book. It is a very well written alternate prequel story to the classic films. There is a fantastic mix of character development, humor, action, romance, and suspense.

The author additionally did an outstanding job nailing the dialog for classic Star Wars characters, and also infused perfect chemestry between them.

While reading this, I couldn't help but imagine what how an audience would have reacted to this story in theaters in 1999. I believe that the lively humor would have sufficed in place of Jar Jar, and the romance between Anakin and Padme would have been better received than the version portrayed in the actual films.

However to remain objective, I would like to provide what I wouldn't consider as criticism, but possible additions to the book if it were to outline a film. There could be more widespread action on a larger scale, and more frequent and deeper references to the original films. But other than that, this was a worthy alternate to the George Lucas version of the first prequel.

I definitely will read any sequels to this novel and I strongly recommend it to all Star Wars fans regardless of their opinion on the prequels!
(review of free book)
Review by: Blaine Lessard on May 09, 2012 :

Well, as several many people know, I am one of very few who is willing to admit that I have minimal complaints against the Prequels. However, this was a welcome book, as it was written by one of my Facebook friends, and so I figured, "What the hell, I'll give it a read."

So I cracked open the book (so to speak, as it IS an ebook), and was almost instantly intrigued. The characters were believable, the events jawdropping, and I even carved out a place in my heart for this excellent book.

The persistent, but faint, grammatical errors irritated me, but what can you expect from a site that allows you to publish yourself, with no editors? It wasn't enough to complain aboit, so I'm more than content.

Like I said, a welcome re-imagining that anyone visiting this page could spare the time to read.

Do it.
(review of free book)
Review by: Alida Veenhof on May 09, 2012 :

I would like to say that it must be hard writing an alternative version of ANY book.David Gremillion did a great job on this one,and if you are a Star Wars fan you should really give it a try!!
There are some new characters that fit perfectly in the story and some of the old are very much improved!!
So,if you are a Star Wars fan and always felt The Phantom Menace was not quite satisfying give it a try and you won't be disappointed this time!
(review of free book)
Review by: Darryl Roberts on May 03, 2012 :

First and foremost, I want to make it clear that I am writing this from the perspective of a fan, who has been enamored of the SW universe from day one. I am discussing storytelling, and canon, not technique.

David did an outstanding job of "re-envisioning" the characters incidents that led up to our 1977 introduction to "a long time ago, in a galaxy far, far away." I won't be a buzzkill and give the story away, but I will say the following:

In "Star Wars: Awakening," we find characters with depth, substance and a genuine place in the history of the saga. There are no "walk-on" characters who drop in, serve no real purpose, and disappear without furthering the plot.

The story MOVES, and I was reluctant to put it down, and always eager to pick it back up again. The characters made sense, the story made sense, and there is none of the disappointing lack of continuity so prevalent throughout the film versions of Episodes 1-3. And nary a mention of the ridiculous 'midi-whatchamacallits." Thank the Maker!

I mentioned technique earlier. David is a great storyteller with a vivid and consistent imagination. As with any work of this length and scope, a 'second pair of eyes' is ALWAYS a good thing. There were very few typos, no incorrect grammar, but a few passages that might have benefitted from a sharp-eyed, like-minded editor.

Having said all of that, here is the conclusion: I am eagerly awaiting the next installment...and I think that says all that needs to be said.

Well done, David, and MTFBWY!
(review of free book)
Review by: zack wall on March 28, 2012 :

I normally give constructive criticism when providing feedback, but this author felt compelled to murder Star Wars with his book, so I will likewise be brutally honest with my review.

To begin, the dialogue felt like something I might read from an 8th grader's creative writing assignment. Grammar mistakes throughout even the first chapter, not to mention a simplistic writing style. Though the author might have problem's with Lucas' prequels, he failed miserably with this attempt to "re-envision" the storyline. George Lucas's canon is untouchable, and should not even be attempted to recreate, simply because you're not George Lucas. He imagined the Star Wars universe, prequels included, years before anyone knew what it was, therefore his interpretation of the story will always be the best interpretation. Perhaps if this book was well-written, or even semi-decent, I might have given it a better rating/review. I cannot in good conscience recommend this book to anyone, Star Wars fan or not. It's just not a good book. I feel that the author should try and better his writing skills and focus on another subject before creating another book, but not a Star Wars book.
(review of free book)
Review by: Mark A.J. Cristobal on Feb. 28, 2012 :

Eight 5 Stars versus a single 2 Stars. This review of mine will be the 9th 5 Stars so ignore the minority because I, a fellow writer assures everyone that this is worth your time whether or not you are a Star Wars fan.

Dave the author of this wonderful novel and I have different writing styles but that doesn't mean we don't agree. Star Wars Episode I: Awakening IS a very good substantial worth reading novel. Empty your cup, as the saying goes because everything you know about Episode I will be changed here. I can not divulge the contents of this novel, it's for you to find out but I can speak about its essence. The mere fact that a person like Dave could conceptualize and complete such a challenging project like this is testament enough of the depth of the novel.

I have started reading this book since before the full version was released, I have personally promoted it to literally hundreds of Star Wars fans in the past months, this book is an astounding fresh point of view take for the humble beginnings of our beloved trio Anakin, Obi-Wan and Padme. Forget what you know about Episode I because this novel will take you to an entirely new angle of how might or should the Star Wars saga begins. The characters each have their blending, the lines and series of events unfolding compliments each other creating a solid plot that is deserving of Star Wars quality.

It is a novel both in technical and layman's term and standard. It is not and never a poorly written gibberish because an intelligent man created this intelligent story. It's not a rag, it's a silk as smooth and majestic as the glamorous wardrobes of Padme Amidala. There will be no wasted time at all in reading this extraordinary novel. This book deserves the same respect if not greater value as the official Star Wars books. It's even way better on some that I've read. It's free yes, but even if Dave charge a hundred dollars for this, I'll work myself to get this book because it is that worth it.

The Force is strong in this book and let no one say otherwise.

And Dave, I can't wait to see Episode II. God bless and more books to come!
(review of free book)
Review by: Ned Burner III on Feb. 22, 2012 :

Seriously? This is not really a novel. Honestly, it's a poorly written explaination of a tired and overdone work of fiction by George Lucas. So glad that this rag is free. No way I'd pay for it. Now if I could just get back the time I wasted even turning the pages. Two thumbs way down.
(review of free book)
Review by: Linda Elam on Feb. 22, 2012 :

I read this book after hearing a friend discuss it. It sounded so interesting, and I was not at all disappointed. To join "old friends" (as I like to think of the Star Wars characters) on new adventures was a joy. I hope the author will write another book which is as much fun to read as this one!
(review of free book)
Review by: Matthew Bastyr on Feb. 22, 2012 :

Its great to say i known the author for sometime and ive read this book at least 10 times now. Im a huge fan of DM so id say take the time to read it its well worth it.
(review of free book)
Review by: Ella Schultz on Feb. 20, 2012 :

I don't read many Star Wars books, but I still think this is good. Besides the typo, the story and characters flow well together, and I must say, this is the only incarnation of Anakin Skywalker I like.
(review of free book)
Review by: Bill Nelson on Feb. 20, 2012 :

This is the best Star Wars book around. The author adds new characters and makes you wish they were in the the Star Wars movies. The plot makes more sense than the scripts too. Highly recommended.
(review of free book)
Review by: Yvonne Weiner on Feb. 20, 2012 :

When the prequels came out, I wasn't as impressed and thrilled as when I watched the original movies. Luckily I found this great book, and it was worth reading it.

It's well written and keeps you interested. I had a fantastic mental cinema and I could really image the characters and their story well. What I really appreciate is that the characters are authentic, the plot is thrilling and its everything in it to please my fangirl-heart: humour, action, and love. It will blow your mind ;)

One of the best Star Wars books I've read. I highly recommend this book to you.
(review of free book)
Review by: Beth Perkins on Feb. 16, 2012 :

I love star wars. I watch the movies and read the books. When the prequels came out I was disappointed that they didn't live up to the original movies I grew up with. Then I read this. Characters, events, settings, and the plot all made sense! It picked me up and wouldn't let me go till I had finished reading the entire book. I love this book and hope David Gremillion continues writing!
(review of free book)
Review by: scott meissner on Feb. 09, 2012 :

I have been reading Star Wars for as long as I can remember, from The New Jedi Order to Fate of the Jedi. When I found Star Wars: Awakening I couldn't believe it this book was amazing it gave a new twist on on the prequel, the author introduced new characters and gave a a new twist one old characters. This book is addictive I give it two thumbs up and five stars,the new characters that are introduced feel like they belong. I am excited to see what happens next, read this book and you'll be as addicted as I am I guarantee it.
(review of free book)