The Difference Between Night and Day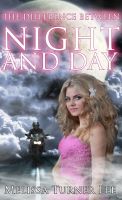 By
Melissa Turner Lee
Published by
AltWit Press
$

2.99
Rating:
(

8

reviews)
based on
Published: Feb. 08, 2013
Words: 71,400 (approximate)
Language: English
ISBN:
9781301119592
Short description
~A Christian Paranormal Romance~ The Christian Alternative to Twilight.
~ A Christian Paranormal Romance ~
Nathaniel Taylor was a Christian who thought believers were exempted from "dark times." That was until he entered his own long time in the dark. When he meets Lilly, a young woman in danger, it sends him on a journey to discover the difference between night and day and that during dark times, the Light is hidden, not gone.
Tags
romance
,
young adult
,
christian
,
ya
,
new adult
Single purchase gains access to all formats. How to download ebooks to e-reading devices and apps.
| Format | Full book | Sample first 20% |
| --- | --- | --- |
| Online Reading (HTML, good for sampling in web browser) | Buy | View sample |
| Epub (Apple iPad/iBooks, Nook, Sony Reader, Kobo, and most e-reading apps including Stanza, Aldiko, Adobe Digital Editions, others) | Buy | Download sample |
| Kindle (.mobi for Kindle devices and Kindle apps) | Buy | Download sample |
Reviews
Log-in to write a Review
Log-in to add a Video Review
Review by: TAMMY HUDSON on Nov. 30, 2013 :

I did not care for this book. It was a struggle to get though. The whole vampire christian thing just Didn't do it for me. I know this is fiction, but it really bothered me. I felt this was like the Twilight series but just a christian them.
(reviewed long after purchase)
Review by: ariella holstein on Nov. 21, 2013 :

I love the book. The characters are great. It's not same vampire book like the others. The plots and twist are amazing.
(reviewed within a month of purchase)
Review by: Deanna Love Gottreu on April 25, 2013 :

The Difference Between Night and Day by Melissa Turner Lee was listed as a Christian paranormal romance and somehow paranormal did not register in my mind. I have never liked the paranormal genre but I read the book since I agreed to do a review.

Nathaniel was a Christian and a minister and one night he witnessed to a woman and explained some Christian truths to her. The next night she came back and told him that what he said was not true and then she bit him on the cheek. He was extremely sick for a while and when he recovered he had become a vampire. When the story begins he is a young man, probably twenty, since that was his age when he became a vampire but he is actually eighty years old. He owns a security business that allows him to work at night for he cannot be in the sunlight or he will die. One night as he is making his rounds through town, he meets Lilly who is a young woman who is not a vampire but she definitely has problems. Her father is a doctor and he has been using her to test all his medical formulas. Even though she looks young like Nathaniel, she is forty-nine. Her father has discovered a formula that keeps one looking young forever. After Nathaniel meets Lilly, he works hard to discover the difference between night and day and he learns that during dark times in life, the light is hidden but not gone.

Even though paranormal is not my cup of tea, the story was well written and the characters and plot were well developed. However, I just could not get into the story because of all the weird things that happened and the fact that vampires do not exist. In my opinion, if the vampires and other weird things that I just could not believe, were taken out of the story then it would be a good romantic story. And all the references to God were right on target but as a Christian I just cannot accept Christian and paranormal together. At least the book had a happy ending that was actually quite a surprise.

I would recommend this book only if you like paranormal fiction and the combination of Christian and paranormal does not bother you. Also, I think the story might be of more interest to young adults than seniors like me who are seventy plus.

The author, Melissa Turner Lee, provided me with a complimentary copy of this book in exchange for an honest review. I was not required to write a positive review. The opinions I have expressed are my own.
(reviewed within a month of purchase)
Review by: candy smith on March 08, 2013 : (no rating)
I didn't know what to expect out of a Christian Paranormal Romance but I am glad I gave it a chance.It really spoke to me.It helped me see the Light in my own darkness.The Scriptures used were perfect to convey the message in this book.Nathaniel see the world how most of us see it :if we are good then we deserve good and how many Christians see the world:if I follow God then we will not suffer." We forget that even though Job was righteous is God's eyes,he still suffered and he held on to his trust that God was in control so he was blessed even more than he was before his time of suffering.Jesus suffered,The Disciples suffered,others who have spread the Gospel suffered so what makes us think we are excepted? I think we subconsciously look at the good part of promises of prosperity and blessings without examining all of what God said.He never promised we wouldn't suffer,he actually said we would,but he will walk us through the storm. We lose hope and forget to trust Him to lead us through because all we can see is the darkness,so we take control and instead of being lead by Him out of the darkness we stumble around in it then wonder why we can't see the Light.
Nathaniel was accustomed to living a blessed life.So when darkness falls on him,he believes he is out of God's reach.He never stops believing in God,he just loses hope that God can reach into the darkness to bring him back to the light.Then he meets Lilly,who despite her suffering,has hope.But Nathaniel still has to decide if he is going to just stand in the shadows of light that Lilly projects or if he is going to walk fully into the light.
(reviewed within a month of purchase)
Review by: Lynn Worton on March 05, 2013 :

This is a fantastic paranormal romance! I loved it!

Nathaniel Taylor is a fascinating character. He is a vampire with a difference - he has managed to keep his Christian values even after his change. I loved this character very much. He was an enigma in the beginning, and I wondered what made him tick. However, as I began to understand him, I felt proud to know him. He is a loving and caring man, who has had to face living with a terrible affliction.

Lilly Vaughn is also a fantastic character. She comes across as a very sweet person. I would like to meet her in the flesh one day. She has a childlike appreciation of the world around her, which gives her a naive quality. I loved watching her character grow as the story progressed.

I must admit that I don't read a lot of Christian fiction, but having read other books by this author, and when I saw the blurb for this, I was intrigued. I love paranormal romance, so I thought I would give this book a chance. I'm glad I did! The story hooked me from the first page! I found myself absorbed by the story, and I struggled to put it down. I fell in love with the characters, as they themselves fell in love with each other. This story is told from both Nathaniel's and Lilly's view points. The story has a few twists that I didn't see coming and kept me guessing as to what would happen next. There is also a bit of danger in the form of a rogue vampire. When I reached the end of the book, I was a bit sad because I hadn't wanted it to end! However, whether it's an intentional cliffhanger or not, the ending lends itself to a possible sequel. And, if there is another book on the way, I would definitely read it! Although this is a Christian romance, the book is not preachy in any way; It focuses mostly on faith, rather than scripture.

Melissa Turner Lee has written a heart warming paranormal romance that has enthralled and entertained me. I am looking forward to reading more books by this author, whether they be Christian or otherwise. I highly recommend this book if you love Paranormal Romance novels, or if you are looking for a unique and different kind of vampire story. - Lynn Worton
(reviewed within a month of purchase)
Review by: Aaron DeMott on March 02, 2013 :

First, the genre... this is a paranormal (read: 'vampire') romance. But don't let that scare you. For that matter, don't let all the pink scare you either.

First, let's get the inevitable Twilight comparison out of the way. Yeah, romance, vampires, people will compare it. First, good news--no sparkling. The vampires in this book are unique enough (I'd say how, but it's kind of a plot twist at the end), but still a lot closer to 'traditional' vampire lore.

The romance in this is sweet, with only a little of the 'he hates me, I hate him, now I love him' stuff that seems to be a necessary ingredient in romance novels. I can't stand it. Possibly because I'm a guy, but in any case it's kept to a minimum. The romance is also unique as it's a lot more true-to-life. The characters and plot are a lot more true to what real love is than the traditional 'lets focus on feelings and lust' of the traditional romance novel, and that makes the characters more true, and to me, the romance a lot sweeter. Hey, guess I'm a sucker for finding true love-- and that's what the characters do, they fall in love, not lust. I know I've re-stated this several times, but it's so rare today that it deserves emphasis.

The secondary plot line takes a while to get moving, and doesn't get as much screen time as it possibly could have, but again, this is a romance with a sci-fi setting. I usually read books that are the other way around (okay, more sci-fi than romance...) so that's probably why this sticks out to me. The b-plot is still fully fleshed out and has a nice (if slightly rushed) conclusion.

Another unique thing about this book is that it's a christian paranormal romance. Yes, you read that correctly.
How do vampires and Christians go together? Well, you're going to have to read the book to find out. That part was very nicely done. The book could be considered by some to be overly preachy (I didn't think so, but I could see how some would), but it makes sense since one of the main characters used to be a preacher, so of course they'd see things through that perspective. The whole christian element was done that way, it comes out of the story naturally and tackles the christian vs paranormal argument head on, and doesn't break story doing it. Very nicely done.

Overall, I've read Janet Oak, an Amish Romance (yes, I proper-capped that... read one, you've read them all... but that's a rant for another time...), Twilight, and even another paranormal romance by the same author and this is easily the best romance I've read. (Possibly the sci-fi element and they way it was integrated... ;) )
(reviewed within a month of purchase)
Review by: Mary C. Findley on March 01, 2013 :

I have read one other vampire book, and only one, Dracula, by Bram Stoker. I didn't know this was a vampire book when I started it, but before you dismiss this as a shabby Christian Twilight knockoff, you should know that it's not really about being a vampire. It's more about the old saying, "Did God abandon you, or did you abandon God?"
Nathaniel's been struggling for years in darkness, and, in a sense, the book is a modern allegory of trust and patience toward God. Lilly has both, even though she doesn't even know a father's love. She knows God loves her in very strange and difficult circumstances. She struggles in darkness, too, but she also helps others come out into the light.
Even though Nathaniel believes he is a monster, he still practices godly character and conduct. How the two of them handle their love is nothing like any worldly vampire treatment could comprehend. The cheeseburger analogy is really so cute.
I didn't care for the sudden change in point of view, introducing Lilly's first person accounts, so far into the book. I also didn't think the explanation of Nathaniel's true nature was very believable. But otherwise the story was well-written. The gradual unveiling of the strangeness of their natures was handled well. The committment to Christ that trumped every difficulty was believable.
(reviewed within a month of purchase)
Review by: Mooky J on Feb. 26, 2013 :

This book deals with how Christians deal with their lives when they go through 'dark times' and how just because we are Christians we are not exempt of those times, when Christ himself suffered even more than we ever will.
*SPOILER ALERT*
Nathaniel is the main character of this story and he's a vampire who was a Christian before he was changed. In his new nature he still tries to act like a Christian, controlling his anger. However, he has a hard time dealing with what he has become and his faith is shaken because of it, leading him to believe
God has abandoned him.
Lilly, on the other hand, is the one with all the secrets and the light in this story. She's basically Nathaniel's counterpart and everything he's missing.
*END SPOILER*
I've wondered before about Christianity + Vampires and I never thought this mix could be possible. Well, I think Melissa has done it well enough that it is believable.
I didn't like Lilly's character enough to empathize with her, but I could relate to some of the things she was going through. However, I LOVED Nathaniel and wanted to get in the book a few times to let him know he was not a monster.
The story is well told and by the end of the book, there are no lose ends. I gave this book 4 stars instead of 5 because there were some things that were repetitive and because it seemed like it was lacking a sense of urgency or of the couple being scared — it needed more action and I think at the end everything was resolved too fast, Lilly accepted everything 'no-questions-asked' and I wish the fight with Augustus lasted longer. Seemed a bit too rushed — I don't think a few extra pages would've hurt the story.
All-in-all is a good story and I can't wait for the other installments to come! I am glad I was chosen to redo the cover for this story!
(reviewed within a month of purchase)
Review by: Sara McCluskey on Feb. 22, 2013 : (no rating)
Before this book came out, I was honored to do a Cover Reveal for this book. The cover really drew me in, and did it's summary, however, I was still a bit skeptical. I mean, come on, Christian fiction meets vampires? Those are like my two favorite genres, but could they work together? That's the question I had on my mind when I added The Difference Between Night & Day onto my Kindle Fire. The writing style captured my attention and I was drawn into Nathaniel's point-of-view. Nathaniel, our vampire of the novel, is a tortured soul. He is a Christian, but he was raised in the time when preaching was about rules to follow and the Hell that awaits if you do not. When he was turned, he lost hope that God did indeed care for him. He lived his life in darkness, fighting off his anger and never once killing or drinking blood. When his secret is almost exposed, Nathaniel moves to a small town named Chesnee. It is in this town, while doing security work, he discovers a strange girl named Lilly.
Lilly is one of the most interesting characters I've read, even though she sometimes annoyed me. She "smells people", loves fast food, has exceptional eyesight, is addicted to shopping, and various other traits. More important though, Lilly is a perfect example of faith and living with Christ. She escapes from her father's control and guards that keep her locked away from society, to visit Chesnee. She feels God has called her there, and it is there that her and Nathaniel meet. Most of their early meetings revolve around food, because Lilly at her father's is denied junk food and is required to eat healthy. Having a hot dog and soda from the liquor store is heavenly for her, and she appreciates those little things very much. Maybe too much sometimes! Nathaniel watches as Lilly leads another Chesnee resident to God, and he longs to feel that feeling again. But he feels as if he can't, because in his eyes, he is a monster and God no longer cares for him.
The relationship between Lilly and Nathaniel is a strained and complicated one at best. They are quickly growing close, but when Lilly finds herself in danger, Nathaniel let's his dark side show. Ashamed he retreats from Lilly, but it seems something bigger is bringing them together. Nathaniel might just be the means for Lilly's freedom of her father, but no only that….Lilly just might be the light that Nathaniel needs to see.
The overall message in this book is one that Christians need to take to heart. It is not about our sins or God not caring for us when trials arise. Remember Job, he did nothing yet God allowed him to be tested. It really irks me when people say that 'oh this happened because of something you did and God or the Devil is getting to you'. We are saints learning to be more like Christ, we are not these vile creatures being punished whenever something bad happens….and I hope people who read this will take that message to heart, because God loves you and he is not punishing you if you get sick, or have problems. I personally suffer from many health and mental problems, but I know these are not punishments, though I once thought they were…Instead, I seek God's strength in coping with these.
NOW that my sermon is over, back to reviewing the book --- the character's development is beautifully written, you see Lilly mature and learn what she didn't being locked away, and Nathaniel question his beliefs. There's a lot of beautiful scripture and Bible references incorporated into this story…I almost would forget it had paranormal elements to it, because the Christian message was so beautifully written, and if it wasn't for Nathaniel reminding me he's a "monster", it would've been almost the same as any other Christian fiction novel. However, things aren't all happy in this novel. Lilly and Nathaniel each face various trials; one which puts Lilly in great danger.
I give this book a much deserved 5 stars, or in the case of my blog, hearts. It was a fabulous read, and I really enjoyed it. The author is amazing to have accomplished such a wonderful story!
(reviewed within a month of purchase)
Review by: George McVey on Feb. 12, 2013 :

Nathaniel Taylor was a Christian who thought believers were exempted from "dark times." That was until he entered his own long time in the dark. When he meets Lilly, a young woman in danger, it sends him on a journey to discover the difference between night and day and that during dark times, the Light is hidden, not gone.

Ms. Lee has crafted what I would have to call the Christian version of Twilight. A Christian Vampire who thinks he has been cursed and forgotten by God. Meet's a young lady who can smell a persons soul those with a relationship with God smell clean and sweet those without smell rotten. She keeps telling Nathaniel that he smells sweet and clean. He can't understand how a God forsaken monster such as he could smell anything but rotten. When another of his kind shows up in town and at Lilly's house Nathaniel becomes her protector as they run for her life. Can he resist the love he feels for Lilly or will her inner light draw him out of the darkness? How can he a rage filled monster be in love with this innocent believer? Is their love doomed to the dark just like Nathaniel is or can their love be the answer to stepping back into the light for Nathaniel?

I loved this tale. It was full of action and enough paranormal activity to make the most die hard supernatural fan applaud. Yet it was completely Christ centered. A Christ centered Vampire book. Who would have thought it was possible? Apparently Melissa Turner Lee did. This book shows that Christians go through rough and dark times too. It makes you rethink what you know to be evil and is very centered on the Choice that all people make daily to walk with God in the Light of Salvation or slink in the dark of sin and dispare. Lilly is a joy to read about so innocent and sweet and Nathaniel is the monster you want to see redeemed. Because even though he has fangs and can't walk in the sunlight you find yourself cheering for him and praying for redemption for this monster with a righteous soul. The Difference Between Night and Day is a romance not only of girl and monster but of God and lost. A great valentines day read and perfect for those girls (or guys) who are suffering from twilight withdraw. Sorry though this vampire doesn't "sparkle"
(reviewed within a week of purchase)