Spinward Fringe Broadcasts 1 and 2: Resurrection and Awakening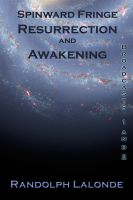 By
Randolph Lalonde
$

2.99
Rating:
(

32

reviews)
based on
Published: Aug. 03, 2009
Words: 113,230 (approximate)
Language: English
ISBN:
9781452307374
Description
Captain Valance has no memory of his past. Left adrift on a strange ship, he begins a new life. Years later he's become a well known hired gun while searching for clues to his past. This follows the First Light Chronicles cult hit Space Opera series.
Tags
adventure
,
space opera
,
collection
,
omnibus
Single purchase gains access to all formats. How to download ebooks to e-reading devices and apps.
| Format | Full book | Sample first 21% |
| --- | --- | --- |
| Online Reading (HTML, good for sampling in web browser) | Buy | View sample |
| Epub (Apple iPad/iBooks, Nook, Sony Reader, Kobo, and most e-reading apps including Stanza, Aldiko, Adobe Digital Editions, others) | Buy | Download sample |
| Kindle (.mobi for Kindle devices and Kindle apps) | Buy | Download sample |
| PDF (good for reading on PC, or for home printing) | Buy | No sample available |
| LRF (Use only for older model Sony Readers that don't support .epub) | Buy | Download sample |
| Palm Doc (PDB) (for Palm reading devices) | Buy | Download sample |
Videos
Spinward Fringe - What They're Saying
Readers from across the globe have reviewed the Spinward Fringe series in text, video and on Internet radio shows. This is a taste of their opinions regarding the Science Fiction Space Opera series by Randolph Lalonde.
Reviews
Log-in to write a Review
Log-in to add a Video Review
Review by: reuban shepherd on Aug. 22, 2013 :

great book, i have read this series several times. love it
(reviewed long after purchase)
Review by: catghost on March 07, 2013 :

All I can do is echo the other reviewers and say that this is a great story that I am thoroughly enjoying it. 21st Century space opera at its finest.
(reviewed long after purchase)
Review by: vern moen on Jan. 27, 2013 :

I started out thinking this was a typical, run of the mill space opera. I thought I would only read the first chapter and then move on. Little did I know 400 or so pages later on the first story; I would have a new series to read and respect. There are many writers in specific genre, it's nice to find someone who knows their stuff and can produce an interesting story, believable characters and plausable tech. I will definitely recommend these and the other stories to anyone.
(reviewed within a month of purchase)
Review by: Sean Russell on Jan. 21, 2013 :

Great read following the first book -Spinward Fringe 0, got me hooked on Lalonde's work . Great sci fi like Star Trex Next Generation meets Star Wars. There is a great combination of creating these worlds in space but its only the backdrop for great storytelling , the hero his love and the never ending touch situations the characters find themselves in and how they fight their way out. Spinward Fringe takes you away . Immersing you in a different time and space to a thrilling non stop adventure. I'm hooked
(reviewed within a month of purchase)
Review by: lambda on Nov. 21, 2012 :

Having read the first free book in the series, I then went on to buy this and was not disappointed. Well written and very entertaining - well worth the money.
(reviewed within a month of purchase)
Review by: Stephen Brown on Sep. 18, 2012 :

Just like so many other reviewers, I am loving this series. Started with the freebie Broadcast 0, not expectting much but was blown away with a fantastic story line. Well written with well developed characters. A must read for anyone who likes sci-fi.
(reviewed within a month of purchase)
Review by: Michael Finney, Sr on July 31, 2012 :

I just finished reading the first book. I read it in record time (days from anytime I could to 2:00 am.) I was searching for the old fashioned type of science fiction without the trashy stuff and some pooor writing seen on the internet today. This was perfect. I even PAID to get the rest of the series. Great writing Randolph.
(reviewed the day of purchase)
Review by: Amanda Mills on April 10, 2012 :

I am all about free Kindle Books. I added the first book and absorbed every word like a sponge in a very short period of time. After I read the last word of the first book, I immediately went in search of any other titles in the series. I normally hate books of this nature - normally. This series "Had me at hello" and I read the entire series in less than a week! Wonderful characters, story lines, imaginative writing, fast paced, and an all out wonderful experience. I can't wait until November for the next book! I will not rip the books apart due to editing, I loved them all too much!
(reviewed within a month of purchase)
Review by: Murakh on April 03, 2012 :

After reading the free version it was impossible not to buy the second in the series. Although there are numerous mistakes (spelling, grammar, naming etc) it is still a very enjoyable read at a reasonable price. Highly recommended for lazy holiday reading.
(reviewed long after purchase)
Review by: Luke M on Feb. 27, 2012 :

This book, like its freely available predecessor, is not perfect: at a minimum there are typos and some minor plotholes. But here's the thing: it doesn't matter...this series is eminently readable even to a pedant. The characters and setting are wonderful, and the plot is perfectly paced so you'll never get bored. I enjoyed Broadcast 0 so much that this is the first Smashwords ebook I've ever purchased. I don't regret it for a second, and neither will you.
(reviewed within a month of purchase)
Review by: Greg van Hartesvelt on Feb. 15, 2012 :

I became hooked by the first "freebee" (see dirty old man giving free drug samples to the kiddies on the playground. ) Once they had me it was the Foundation trilogy all over again. My only problem is I don't have enough time to read. All that eating, sleeping and my wife telling me to put down the d... Kindle. I thought retirement would give me unlimited reading time. I'be been wrong about so many things in my life... Not the Fringe series though. I'd recognize most of the cast if i met them on the sidewalk. I think i could find my way around the bridge of "Firstlight" too. They are among that group of books you don't read so much as watch in your head. Thanks Randolph.
(reviewed long after purchase)
Review by: Nathan Haslam on Nov. 29, 2011 :

A classic space opera that takes it to the next step. Lalonde writes compelling characters who are a delight to read about and has created an engaging universe with a lot of potential. I got hooked with Spinward Fringe Broadcast 0: Origins and have been eagerly devouring the rest of the series since.
(reviewed within a month of purchase)
Review by: Steve S. Grant on Oct. 17, 2011 :

Very entertaining and original. A page turner. I am hooked and must know what happens next.
(reviewed within a month of purchase)
Review by: Peter Thain on Oct. 02, 2011 :

I'm new to Sci-fi reading even though my wife, Greta Van Der Rol, writes and publishes her own sci-fi. After getting the first book for free, I've purchased and read all the other Fringe books and found them captivating, Randolph has spun a magnificent story with many twists and turns to keep the reader enthralled. Looking forward to the series continuing.
(reviewed within a month of purchase)
Review by: Sujit Tulcidas on Aug. 25, 2011 :

This is an awesome series, loving every bit of it - have been reading this on the computer and on kindle, can't put it down... I'm reading Frontline at the moment, and it's amazing how many twists have happened so far already - to think there are still so many more books to read on this series makes this a truly unlimited series, that could go on and on, taking a different character and storyline each time!
(reviewed within a month of purchase)
Review by: Chris Main on Aug. 13, 2011 :

I got the first prequel book from Lalonde's website and was drawn into the characters and universe. Bought the first book as soon as I was done with that and then jumped right into the 3 book. One of the best sci-fi series I've read in the last several years.
(reviewed within a month of purchase)
Review by: jon reed on July 20, 2011 :

Very enjoyable book. Good story line. Started with Origins and have remained with this series thru Fringe broadcast 6 Fragments. Waiting for no. 7.
(reviewed within a month of purchase)
Review by: L Driver on July 06, 2011 :

I continue to be both impressed and entertained with this series, and have learned not to start reading one of these books unless I am willing to lose myself in the story for at least a couple of hours. I get quickly absorbed in the writing and even though these were my least favorite in this series so far (I started with book zero--Origins and am now starting book 5) they kept me up late more than once when I couldn't put them down. Bravo...the next few books keep getting better!
(reviewed long after purchase)
Review by: Kwadwo OBESE JECTY on July 05, 2011 :

I quite enjoyed the first two volumes of the series. I haven't yet bought the others. The plot seems to get more and more complex!
(reviewed within a month of purchase)
Review by: Patrick Stapleton on June 20, 2011 :

An excellent read. I started with the free Broadcast 0 by the time I was done I'd bought all the rest of the series in one shot. Characters you care about set in an amazing universe. I can't wait for #7.
(reviewed long after purchase)
Review by: jstoc on June 19, 2011 : (no rating)
I so much love this series. I could not put it down.
(reviewed within a month of purchase)
Review by: Mirella Banfi on May 10, 2011 : (no rating)
I liked the whole series, and I'm waiting for chapter 7.
(reviewed within a month of purchase)
Review by: Chris Gilbride on March 27, 2011 :

Continues the adventures first started in the FirstLight chronicles. The galaxy has moved on, new villains, new plots and twists. Where are we going with this story? I don't know, but so far it's a hell of a ride and I'm in for the duration.
(reviewed within a month of purchase)
Review by: Jim Murphy on Feb. 26, 2011 :

Excellent followup to the FirstLight. Well worth the time and enjoyed the wild ride adventure and discovery that the story envisioned. Ready for the next evolution.
(reviewed long after purchase)
Review by: Lavinia Dorwaldt on Feb. 04, 2011 : (no rating)
I couldn't put this book down. It is the first SF I have read and I really enjoyed it and can't wait to read the rest of the books!
(reviewed within a month of purchase)
Review by: David Grace on Feb. 01, 2011 :

Pretty good SF space opera. I found the first chapter confusing and the powers supposedly possessed by the Hero were so excessive that it made him essentially invincible which takes the threat out of the story. I didn't think the "world view" background was nearly as well planned out in advance as it should have been or at least it wasn't explained anywhere early enough to make sense of it as it went along. I give it three and a half stars.
(reviewed within a month of purchase)
Review by: dwdoc on Jan. 30, 2011 :

Wonderful series. I was already addicted with Spinward Fringe Broadcast 0, and it just keeps on getting better!
(reviewed within a month of purchase)
Review by: Gordon Harris on Jan. 27, 2011 : (no rating)
I really liked this book! It describes a world many, many years in the future when many of the technological discoveries of today have matured and are in widespread use, eg., nanotechnology, transparent metals that are stronger than today's steel, cloaking devices of different types, etc. At the same time, the story, while somewhat like a soap opera, takes us into the lives of people who, although using these technologies, still exhibit the same strengths and weaknesses that we display.

I've just begun the next volume, and while I'm a wee bit confused about which Jake Valance is the "real" one, I've decided to go along for the ride. And it's a very good ride!!
(reviewed within a month of purchase)
Review by: Bam Mitt on Oct. 24, 2010 :

Very good story. Very linear but engrossing nonetheless. If the story holds up, I'll be buying mroe in the series.
(reviewed within a month of purchase)
Review by: VendingMech on Oct. 15, 2010 :

Best si-fi I have read in Years. Reminds me of the old style of writing
Where the tech and ideas were as important as the people. I read the first book then bought and read the rest up to today (oct 2010). I'll be watching
For the next one. Absolutely a great series.
(reviewed within a month of purchase)
Review by: johnbrennan on Oct. 14, 2010 : (no rating)
im hooked.i have to get the rest of the books now.very easy to read and a proper page turner.highly recomended.
(reviewed within a month of purchase)
Review by: Thomas Hummel on July 25, 2010 : (no rating)
After reading First Light Chronicles I was hooked! The series is an easy read but very well done! I just purchased number 6 Fragments and can't wait until the next installment. Tom
(reviewed within a month of purchase)
Review by: Michael Mann on June 18, 2010 :

I am hook. Have read all in series and can't wait. Plots in plots great
(reviewed within a month of purchase)
Review by: Dale Bell on June 09, 2010 :

Great book, I started with the free Omnibus and could not stop until I had read this and every other book in the series. Great entertainment. Keep bringing these stories on.
(reviewed within a month of purchase)
Review by: James Sullivan on May 31, 2010 :

This was a real good read. I'm looking forward to the continuing story. You must read Omnibus first and you will get hooked on this Starwars like saga.
(reviewed long after purchase)
Review by: aaron lacey on May 28, 2010 : (no rating)
best series of books i have read in a long time
(reviewed within a month of purchase)
Review by: Charliegraywolf on May 09, 2010 :

I would have to agree with the previous reviews, this is good. I have already purchased the next in the series and will do the same for the next after that. Nice twists and turns in the plot and all really integrates well. Highly recommend.
(reviewed long after purchase)
Review by: JRM34857 on Jan. 09, 2010 :

These books really are very good. I am very impressed.
(reviewed within a month of purchase)
Review by: Martin Krischik on Sep. 01, 2009 :

The story continues and get better all time. Do read the Omnibus first - it's worth it.

Just one nitpick: The font size changes between book 1 and 2 (LRF) - a bit more care on layout might be nice. I still give 5 stars as the story is just great.
(reviewed within a month of purchase)