Darkhouse (Experiment in Terror #1)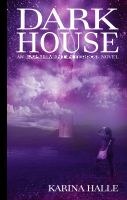 By
Karina Halle
$

0.00
Rating:
(

15

reviews)
based on
Published: May 09, 2011
Words: 91,216 (approximate)
Language: English
ISBN:
9781458110992
Short description
When 22-year old Perry Palomino gets roped into a ghost hunting web series with a slightly unhinged producer called Dex Foray, the pair discover that the only thing scarier than dealing with the dead is dealing with each other.
There's always been something a bit off about Perry Palomino. Though she's been dealing with a quarter-life crisis and post-college syndrome like any other twentysomething, she's still not what you would call "ordinary." For one thing, there's her past which she likes to pretend never happened, and then there's the fact that she sees ghosts. Luckily for her, that all comes in handy when she stumbles across Dex Foray, an eccentric producer for an upcoming webcast on ghost hunters. Even though the show's budget is non-existent and Dex himself is a maddening enigma, Perry is instantly drawn into a world that both threatens her life and seduces her with a sense of importance. Her uncle's haunted lighthouse provides the perfect catalyst and backdrop for a horrific mystery that unravels the threads of Perry's fragile sanity and causes her to fall for a man, who, like the most dangerous of ghosts, may not be all that he seems.
Tags
horror
,
young adult
,
ghost
,
series scifi
,
series fiction
,
ghost hunters
,
female antagonists
,
horror and scifi
,
web series
,
supernatural detectives
,
series mystery
This book is free. How to download ebooks to e-reading devices and apps.
| Format | Full Book |
| --- | --- |
| Online Reading (HTML, good for sampling in web browser) | View |
| Kindle (.mobi for Kindle devices and Kindle apps) | Download |
| Epub (Apple iPad/iBooks, Nook, Sony Reader, Kobo, and most e-reading apps including Stanza, Aldiko, Adobe Digital Editions, others) | Download |
| PDF (good for reading on PC, or for home printing) | Download |
| RTF (readable on most word processors) | Download |
| LRF (Use only for older model Sony Readers that don't support .epub) | Download |
| Palm Doc (PDB) (for Palm reading devices) | Download |
| Plain Text (download) (flexible, but lacks much formatting) | Download |
| Plain Text (view) (viewable as web page) | View |
Videos
Darkhouse - The Book Trailer
The Book Trailer for Darkhouse - shot in a fun, whirlwind two days, on a $0 budget but it gets the point across. Mainly, that lighthouses are evil.
Reviews
Log-in to write a Review
Log-in to add a Video Review
Review by: Lucia Valovcikova on Nov. 13, 2012 :

Darkhouse was my first book by Karina Halle and I was pleasantly surprised with her intriguing style of writing. She made me laugh, made me feel scared and created very different, original and interesting characters in this book. I like when authors are able to use the right amount of sarcasm in theirs stories, and Karina Halle definitely knows how to do that. I never watch horror movies but I love reading horror stories. It has been quite a long time since I read some horror so I am very grateful that EIT series were recommended to me.

Perry Palomino is "delightfully impulsive" 22-years old woman who grew on me right from the very beginning of this book. She works as a receptionist and even though she is not happy with her job, she knows it is better than having any. The thing I like the most about Perry is the fact that she is funny and remarkable kind of person, always choosing the more crazy and more interesting alternative when given a choice. I really like Perry and she made a perfect narrator for this book. Dex was also very interesting character. I could not figure him out, there was something mystical about him but I liked it. A lot. Most of the time, he was driving Perry (and me) crazy but I had to like him nonetheless. Both, Perry and Dex, are not ideal or perfect people, they have their flaws but it makes them very likeable characters. Moreover, it was very easy for me to feel connected to them on many levels.

I realize that this book is not for everyone. But if you like realistic characters set in paranormal setting with some horror aspects, go for it. And I am sure you will love it.
(review of free book)
Review by: Mary on Oct. 04, 2012 :

No I don't like reading bout ghost novels or as such as eit is about' but I came across this book by accident thinking it was a werewolf one which by the way I found out later isn't. I can say that I have never been so happy to have pick this book up by accident, I not only enjoyed it, tho I hated and stared away from paranormal ghost books, I absolutely loved it, and it stills in my head when i am forced to put it down. it was the wit of karina writing that keep me going, even after I found out its scary ghost runs. I loved the characters perry and dex, the connection is so real and down to earth. I find it hard to believe it was fiction. I just loved them flawed and so real characters she used, and found it so funny, which took the ease of scary parts. With each series your just wanting more. And here I sit waiting for part 6. (that is killing)It was the rawness of how close to reality in characters and connections I found within this book that got me hooked not the journey of chasing paranormals.

My favo part ********"Why do you care so much?!" I yelled at her. My voice cracked over the next bit, "You told me you didn't love me!"
With a huge gust of strength, she wrestled out of my grasp and stumbled to the door. I reached for her but she turned to me in fury. She looked me right in the eye and I saw the truth. I saw it all. And it was all too late.
"You're not the only who knows how to lie, Dex!"
And there it was.
The truth.
She loved me. She had lied. She loved me all this time.
She loved me, me.
And I ruined it.
She left into the icy night, her anchor bracelet ripped on the floor. She was gone out of my life, out of the show. I had everything I wanted in my hands, in my actual hands, and I destroyed it before it could even become anything. I crushed everything we already had. I drove the only relationship that meant anything to me into the ground and then buried it with six feet of dirt.
I collapsed to my knees, unable to come to terms with what I had done. At the precious thing I'd lost. It was more than missing a part of me. It was feeling like there was nothing left of me to exist in her absence.
When my knees didn't feel low enough, I fell to my side and curled up on the floor.
When the floor still wasn't low enough, I began to cry.
(review of free book)
Review by: June Swinford on Oct. 01, 2012 : (no rating)
This book was reviewed by the bloggers at the Science Fiction and Fantasy Review:

http://sffreview.wordpress.com/2012/09/03/experiment-in-terror-series-by-karina-halle/
(review of free book)
Review by: Kim Bibbee on Sep. 12, 2012 :

This first book was hard for me to get into
(review of free book)
Review by: Terri Seminuk on July 26, 2012 :

In the first installment of Karina Halle's Experiment in Terror series Darkhouse, we meet Perry Palomino, who has a boring job as a receptionist at an advertising agency til she decides one fateful night to explore her uncle's haunted lighthouse. She meets Dex Foray and becomes an internet sensation, turning her life upside down. This book will grab you and drag you into the story of Perry and Dex and not let you go. This is definitely a must read for fans of paranormal romance!
(review of free book)
Review by: snowangel56 on July 26, 2012 :

If you like a paranormal, supernatural story with romance thrown in, you will love the Experiment in Terror series. Karina Halle has a knack for creating characters that are believable and endearing. Once you start reading Dark House, you will not be able to stop and will want to continue on through the series. The main characters, Perry Palomino and Dex Foray, will pull you in and not let go. I've read the series twice and am waiting (im)patiently for the next book. You must read it to believe it!
(review of free book)
Review by: Robert Zimmermann on June 26, 2012 :

I've been meaning to read this books for quite a while, and I'm glad I got around to it. In a world where paranormal books are thrown in your face like they are all the next big thing, and vampires, werewolves, and "new" (yet, all too similar) creatures are introduced, it's hard to find something different to read.

For me Darkhouse, the first book in the promising Experiment in Terror series, was just that. It was something different. Halle takes on the paranormal genre from a different way then I've been reading in other books. She throws the reader, not into a fantasy world, but into the real world. I think that's a great strength in this book. It makes the horror elements in this book that much more real and terrifying.

Another thing I loved about this book was the character Perry Palomino. To me she seemed like your average young woman, or young adult for that matter (male or female). (By young adult here I mean a real young adult, early 20s. Not the book industry's young adult, which is really late teens if you ask me.) Like the average person her age, she's fresh out of college and has no clue what she's really going to do with herself. She has a job, but she's not happy with it. She's not the thinnest woman out there, but honestly I found that to be a great characteristic too. I got the feeling that she was much more attractive than the book made her out to be. This helped me sympathize with her even more. This, as well as, her not so uneventful teenage years, really made her character believable. Many of us haven't had the perfect life or the perfect body. It's easier to follow along with a character that has real life issues.

The other major character of this book is Dex…no, I'm not going to tell you how much of a hunk he is. Or how beautiful his eyes look when he's starring deep into my very soul. I wasn't really sure what to think about him for a while. He's a very mysterious person and you don't get much out of him until he wants to reveal it himself. He's also a bit older than Perry, which at first seemed like it'd get in the way. It didn't. I think Perry is more mature than her age and Dex, while also be mature, can relate to the younger Perry well enough. This makes the chemistry between them (romantic or otherwise) support the great story.

The only real "negative" for me with this story was my wants for action. The story did push on forward without too many slow sections. I was always interested in what would happen next, but the action was separated by longer sections to set up more of the plot. It's probably not an issue for most readers. It's just once I got to the first encounter with the lighthouse, I wanted MORE….right THEN!!! I got impatient

As a whole, finishing this books has made me want to continue along with Perry and Dex on their next adventures. I think the more that gets revealed in later books, the more questions will arise. I enjoy books like that. Not only that, but I really want to know what the hell's up with the Creepy Clown Lady. The picture I have of her in my mind is just the creepiest thing ever.
(review of free book)
Review by: Andrea Thompson on Aug. 01, 2011 :

My Review
Have you ever heard the expression "book hangover"? Well, for me, a book hangover happens when you find a book that completely consumes you. It is all you can think about, and you walk around in a stupor for a few days. Guess what? That happened to me when I read Darkhouse.

Darkhouse, when you read the synopsis, seems like a typical thriller. But it is so much more. It is creepy, funny (believe it or not), very suspenseful and yes, thrilling. While much of the book is about Perry, her new partner Dex, and their haunted encounters at the lighthouse, Darkhouse is just as much about the perplexing relationship between the troubled duo.

Perry, from the get-go, is easy to love. She's doesn't have the perfect body or life. After struggling with low self-esteem and drug use throughout her teenage years, she has gotten her life in order, for the most part. She still struggles with her self-esteem and then there's the fact that she sees ghosts. Is Perry "off" mentally or is it that she's able to see what most can not?

Then there's Dex. Almost every book I read has a guy who is a complete hottie. Very tall, very muscled, defined abs, etc. That's all great, but Dex feels more like a real man to me. He's described as having a very "90's" look. He's on the thin side, not especially tall. A slight moustache, dark eyes, arched brows and a eyebrow ring. His voice is low and smooth or growling, depending on his mood. He has eyes that seem able to see inside a person. He is quick with a smirk. Perry says he "reminds me of Robert Downey, Jr. in his strung-out drug days". Believe me, it works for him. Besides the looks, there's Dex's odd personality. He's just, strange. His thought are often all over the place, confusing Perry. His words often lull her into a sense of trust and security, then he says something to totally screw the moment up. But, underneath the smirk and harsh words, there's a hint of a fragile man with a troubled past of his own.

Honestly, the driving force of the story is the relationship between Perry and Dex. The paranormal aspect of the story is gripping. Truly. But the collision of the two forces is what is electrifying. The relationship is antagonistic. Perry and Dex each seem determined to get under the other's skin. Say what will set the other on edge, or off the edge. They are cut from the same cloth. In many ways, each is a mirror of the other. I'm dying to see where the author, Karina Halle, takes their relationship in the future.

Speaking of Halle, the lady has knocked my socks off! She took Darkhouse, what could have been your typical scary book with snarky characters, and breathed life into it. This book has heart. Characters you want to see through to the very end. There are going to be a total of eight books in the Experiment in Terror series. I will most definitely read each and every one. I will be reviewing Book Two, Red Fox, later this week.

I love when a book has phrases that capture my attention. Darkhouse has many. Here are a few I want to share.

"Somehow, by dealing with the dead, I had never felt so alive." Chapter 11

" "How come you aren't afraid?'... 'Because I find life to be scarier to than death,' he replied matter-of - factly." -Chapter 12

"A handsome, beguiling man whose eyes read your very soul and whose smirk held you in contempt." -Chapter 16
(reviewed within a month of purchase)
Review by: Lori (Romancing the Dark Side) on July 25, 2011 :

A ghost hunting adventure with original characters guaranteed to please!

Perry Palomino is a college graduate who is back home living with her parents, teenage sister and working at an advertising company as a receptionist. With a troubled past, Perry is trying to find herself in the world like any ordinary young woman; only Perry is far from ordinary. She has the ability to see spirits and ghosts, an ability she keeps to herself. On a weekend family trip to her uncle's, Perry encounters ghost hunter, Dex Foray, while she's exploring the rumored haunted lighthouse on the property. When things get a little too paranormal in the lighthouse, Dex realizes Perry is the real deal and jumps at the chance to have her cast in his new ghost hunting show, ensuing a chain of events that will bring Perry to the brink of losing herself in the dangerous and haunting supernatural world they discover.

I'm a huge ghost hunter, paranormal investigating fan, making this book my cup of tea. This is a fun, character driven story with enough spooky paranormal elements to keep you on the edge of your seat but not scare you to death! The author brings the characters to life with her descriptive and splendid writing style, allowing the reader to connect with them almost instantly.

Perry is a self-discovering, flawed protagonist you can't help but love. Sure she might get on your nerves a tad bit, at times, but just about every woman who has been 22 can identify with her in one way or another. I found it absolutely hilarious that she initially can't stand Dex but then lusts for him...all while questioning herself for finding the guy incredibly sexy when he treats her like a child for half of the book! Perry lacks some confidence when you first meet her but eventually begins to find her way on her own. She's smart and sticks to her own style which you have to admire her for in a world constantly concerned with fitting in.

Dex is definitely an enigma. He's good looking and charming one minute and the biggest jerk the next. You never know what his motives are and want to hate him, until he does or says something to totally redeem himself. I'm all for loving a bad boy but didn't really fall for Dex in this book, he has potential, but there are times you just want to slap him and give him a piece of your mind (which was for more than half of the book in my case)! As unappealing as he might seem after my assessment, Dex and Perry have some great moments and sexual tension that keeps you interested throughout the story.

Darkhouse is a fun tribute to all the entertaining ghost hunter and paranormal investigating shows out there. It focuses more on the characters than on the supernatural, but there are a few creepy moments for those who love a little scare. The supporting characters add a bit more flavor and humor to the story that blends in perfectly. I found the pace a little slow at the very beginning but that all changes after the first few chapters. Karina Halle does a fantastic job of keeping her story and characters believable while extremely entertaining. Fans of the paranormal and supernatural will find Darkhouse a promising start to a series that can only get better!
(reviewed long after purchase)
Review by: Joseph Valentinetti on July 22, 2011 : (no rating)
A fun read. I enjoyed the characters and the doings at the light(dark)house.
(reviewed within a month of purchase)
Review by: MSRheinlander on July 18, 2011 :

This is Karina Halle's debut novel (the 1st in the Experiment in Terror Series) and I am hooked!! Initially it was slow reading for me as the plot developed and thickened but it picked up speed and I didn't want it to stop. Karina has a very unique writing style, her descriptions are vivid and intellectual.
You can definite relate to the main character- Perry, especially her insecurities and fears. The the dynamic between Perry and Dex is very real, so much so that you just want to yell at them sometimes due to the attraction and sexual tension between them. They have a unique relationship that you *think* you know just where it will end up...
The "ghost hunter" aspect of this is very interesting to me because I have always been intrigued by this topic. Karina writes about it in a horrifying but realistic page turning way! I would definitely recommend this book and can't wait to read the next installment in the Experiment in Terror Series.
(reviewed within a month of purchase)
Review by: Nandi Berry on July 18, 2011 :

A super thrill ride of a book. I devoured this book, seriously I did not want to put it down. I'm a big fan of ghost stories and ghost hunting in general so picking this up was a no-brainer for me.

I loved Perry! I think because she reminded me of well me at that age. I really liked her snarky humor and wit. The way she was sweet yet guarded and still would take chances. She was the complete "problem child" grown up. I did have a hard time buying her as 22, I kept feeling like she was younger. I think this came from her interaction with her sister. Yet I felt the same with Dex, I kept feeling like he was younger than the age given. Perhaps this was due to his attitude and outlook. I liked his almost crazy attitude, he was walking a razors edge of sanity and crazyville. At times in the book, I had to wonder if maybe he wasn't screwing with Perry just for the sake of the show. But as the book progresses you discover there's no way that could be happening. Sometimes I found myself wondering if it wasn't all in Perry's head.

The "normal" sections of the book added tension leaving you wondering what was going to happen. They also enhanced the paranormal aspect. I felt this skated a thin line at times almost falling into the YA genre then bouncing back over. The plot moved along really well. Ms Halle, I feel, did a good job rounding out the story and giving the characters real backgrounds making them actual people. I'm very interested in seeing where this series is going.
(reviewed within a month of purchase)
Review by: Jaki on July 13, 2011 :

As the first book in the series, Darkhouse is a little slow to get started. Although I have to admit, that's actually something I usually expect from first books. Characters must be established as does their particular world. Facets of Perry's troubled background are revealed in dribs and drabs throughout, something I enjoyed. We weren't hit in the face with a huge block of exposition about her character and background. Just enough here and there to make us start to understand her more. Perry's feeling very lost in her life – she has a job that she loathes and she just doesn't know what she wants to be or where. She's stumbling through life, trying to find herself. And sheesh, who DOESN'T relate to that? :D She's not a petite drop-dead gorgeous kick ass heroine either – her references to her "thunder thighs" and her "fat ass" had me nodding and saying "I hear ya, sister!" :D Nice to come across a heroine who can take care of herself, but isn't some leather-wearing rock chick with gorgeous "raven" hair and "violet" eyes who squeezes herself into tiny sex queen outfits. *grin* And I think that's what I loved the most about Perry – she's normal. Albeit normal with some pretty cool action skills that she picked up doing stuntwoman courses. Heh. She's like you and me – well, ok, maybe more ME cos you the Reader could very well be some sort of Sex Goddess for all I know – living a normal life, doing a normal 9 to 5 job that she doesn't like, wanting something "special" in her life, and not wearing high fashion or having every male who meets her start salivating over her.

On a family weekend visiting her uncle and cousins, Perry takes her video camera and decides to investigate the creepy lighthouse on her uncle's property. During a terrifying episode, she stumbles – or rather, slams right into – a mysterious man. Even after finding out who he is, Perry still has no idea exactly who he is or what he was doing there. Until she posts the video and story about her experiences on her younger sister, Ada, fashion blog, in an effort to keep Ada's blog going while she is down with the flu.

The response is quite overwhelming and becomes a bit of an Internet hit. And she receives a phone call from the mysterious man. He turns out to be Dex Foray, a producer for webisode shows.

To cut to the chase, Dex proposes he and Perry go back to the lighthouse for a full investigation that he will turn into a "ghostbusters" type show.

While the supernatural part of the book – the haunted lighthouse – is essentially what the tale is about, I found myself more drawn in by the characterisation and voices. I loved Perry. She's so lost in her life, no idea what she wants to do, just fumbling around trying to keep going. She's funny and smart – but she's not TOO funny, she's not a one-liner for every little (or big) thing going on around her. And while genuinely terrified of certain things happening to her (believe me, the Creepy Clown Lady would have me running and screaming down the street, far far away), she has a core of courage and bravery and keeps going on. Perry's instantly attracted to Dex, but his behaviour and things he says, confuses her. She can't decide if he's a homicidal psychopathic maniac, or a great guy.

Dex is a strange strange character. Dude, this guy is weird! I honestly couldn't work him out – one minute I was expecting him to do something totally evil or even mean to Perry, the next I was waiting for him to jump her bones. LOL. But then, as you get further into the book, you start to get hints that something has happened to Dex – something that points him to being so interested in this ghost stuff, and in Perry. He's a character I want to like, but I can't work out if I do. LOL. Perry's crushing on him of course, but even she has her moments of WTF-am-i-insane-being-with-this-guy?

Perry's background experiences are probably the most intriguing to me. As a child she had "imaginary" playmates, and she saw things. We don't get a huge lot of detail, but it seems to be something that sent her off the rails as a teenager. There seemed to be a brief period of drug taking and most of the things that happened to her she has chalked down to that, or she just doesn't remember them. I really hope that aspect of her life gets explored further in the next books.

I really did enjoy Darkhouse and I'm looking forward to the next one in the series Red Fox (and the rest after that!) I like Ms Halle's style of writing (dude, she's a rock journalist – i mean, how cool is that?? :) ) and I'm pretty sure I'm going to be wanting the rest in this series.
(reviewed within a week of purchase)
Review by: The Book Diva's Reads on July 09, 2011 :

Is it normal to have had imaginary friends and an overactive imagination? Perry Palamino lives with these questions in the paranormal/horror story Darkhouse (Experiment in Terror #1) by Karina Halle.

In some ways Darkhouse seems to be a coming-of-age story with Perry learning to deal with her differences. The problem is that Perry apparently sees dead people and always has. Her younger sister, Ada, the fashionista, makes reference to Perry scaring her with this ability as a young child. Although Perry is 22 years old and gainfully employed -- as a receptionist at an advertising agency, she feels unsure of herself and where she needs to be and go in life. To make matters worse, she was an extremely troubled teen and dabbled in drugs, alcohol and even cutting to help deal with her inner pains. Perry now feels that she owes her parents some normalcy. But Perry isn't "abnormal" she just has an ability that others don't have and can't quite understand . . . the ability to see ghosts.

During a trip to the coast to visit family, Perry decides to explore an old, defunct lighthouse. Of course she's exploring it late at night and no one knows where she's gone (wouldn't be as dramatic otherwise). She's spent the day photographing nature and still has her camera, which is a good thing, because her dreams (or rather nightmares) have just come to life. Fortunately she is able to film some of her ghostly encounters but she also encounters Declan "Dex" Foray, a cameraman/producer of webcasts. Perry has the opportunity to write about this incident when Ada is down-and-out due to a virus and unable to post to her fashion blog. Perry's ghostly encounter video becomes viral and Dex returns with the offer to host a webcast on ghost hunting.

What follows are a series of unfortunate encounters with an elderly woman that only Dex and Perry can see, and this serves to heighten the fear factor when they return to the lighthouse. Is the lighthouse haunted or is it simply evil? Are Dex and Perry "crazy" or simply in touch with energies other's can't see or feel? Where will these abilities lead them? Ms. Halle has crafted a dark story filled with horrifying moments. For me this was simply an okay read (I didn't connect to this story). Darkhouse is well written and the characters are believable with all of their idiosyncracies and eccentricities.
(reviewed long after purchase)
Review by: Charlie Courtland on June 15, 2011 :

I started this book on a chilly Pacific Northwest afternoon and read until 3 am. I didn't anticipate getting hooked, but the pacing created an irresistible page-turner that had me reading until my eyes ached. Who needs sleep? Sleep is over-rated! Darkhouse is seductively entertaining and I'm convinced that it has some secret ingredient (like the sauce on a Big Mac or the coffee beans at Starbucks) that makes it immediately addictive. Red Fox is coming out soon and I simply can't wait (okay, maybe I'm begging a little) for the author to send me an advanced copy. What makes it so good? Perry is a reliable character: flawed, insecure, impulsive, but despite her own roadblocks she has a determination that the audience can clearly see even if she does not (yet). It is her self-awareness that makes the character appealing, trustworthy and honest. Her vulnerability provides sympathy without demanding pity. Dex is similar and it is not surprising that the Clown Lady insinuates Perry and Dex are cut from the same cloth. Their contradictions show strength of character and reveals a great deal about the individuals. For example, Dex admits he lies and by doing so disproves he's a liar because he confesses to the deceit. A true liar would never willingly reveal this deprecating detail.

The paranormal elements and spook factor are unique and provide just enough to let the imagination create the setting without coming across as silly, immature or easy to dismissed. The creepiness I experienced was real and I loved the lighthouse scenes. The splattering mentions of pop culture references were excellent and worked to create a mental map of the characters perception and thinking. I knew where they were coming from, what images came to mind during their experiences, and how they related to the world unfolding in front of them.

Frankly, I'm surprised by the lower ratings received at places such as Goodreads because this contemporary humorous spook fest might read fast-paced and easy, which it does, but the voice is not absent of substance. The language doesn't try too hard to convince intelligence and by doing so, is smartly composed to do what a story should, entertain. Don't get me wrong, there is meaning here, but the fact that the story isn't trying so hard to show (or prove it) makes it that much more clever. Darkhouse is an example of a confident and assured author's 'voice.' The writer connects with the characters, deeply understanding and channeling them onto the page. By the end I was convinced Perry was writing this story. I have no doubt that Perry and Dex are real--and they live through author Karina Halle.
(reviewed within a month of purchase)
Review by: Megan Caffery on June 06, 2011 :

Loved this book from the get-go. Immediately wanted more as soon as I was finished. It's filled with suspense and the creep factor which is always a plus. And if you're into the supernaturaly, this is definitely up your alley. Dex and Perry are awesome characters that have you hanging on to their every word, thought, action...anything involving them.

I've read two other books in the series as well and they keep getting better and better. You can't get enough. Addicting as hell.
(reviewed within a month of purchase)
Review by: Janine Boon on May 30, 2011 :

A thoroughly thrilling read! Had me on the edge of my seat and managed to fill my sleep with weird and wicked phantoms!! Haven't read a decent scary story in a long time and can't wait for the next book in the series!
(reviewed within a week of purchase)