A Demon Made Me Do It (Demonblood Series #1)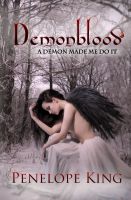 By
Penelope King
$

0.00
Rating:
(

23

reviews)
based on
Published: May 27, 2011
Words: 90,030 (approximate)
Language: English
ISBN:
9781465748232
Description
Half human, half demon Liora Greyson just wants to survive her final year of high school unscathed, her dark secret intact. But the walls she's carefully constructed to keep people out crack wide open once she meets the sexy and mysterious Kieron Ambrose, and he lights her cold world on fire. But it turns out Kieron has a few dark secrets of his own. Secrets that will either save or destroy her.
Tags
urban fantasy
,
love
,
suspense
,
poetry
,
paranormal romance
,
fantasy
,
magic
,
teens
,
witches
,
dark
,
demons
,
new
,
series
,
edgy
,
young adult fiction
,
modern fantasy
,
good evil
,
fantasy adventure demons warlords magic parallel worlds mystical creatures
This book is free. How to download ebooks to e-reading devices and apps.
Format
Online Reading (HTML, good for sampling in web browser)
View
Epub (Apple iPad/iBooks, Nook, Sony Reader, Kobo, and most e-reading apps including Stanza, Aldiko, Adobe Digital Editions, others)
Download
Kindle (.mobi for Kindle devices and Kindle apps)
Download
PDF (good for reading on PC, or for home printing)
Download
RTF (readable on most word processors)
Download
LRF (Use only for older model Sony Readers that don't support .epub)
Download
Palm Doc (PDB) (for Palm reading devices)
Download
Plain Text (download) (flexible, but lacks much formatting)
Download
Plain Text (view) (viewable as web page)
View
Videos
A Demon Made Me Do It book trailer
Brand new video for A DEMON MADE ME DO IT. Enjoy!!
Reviews
Log-in to write a Review
Log-in to add a Video Review
Review by: Roxanne Kade on Nov. 26, 2012 :

WOW! How do I even put into words how fantastic this book is?

I fell right into the story from the very first page and couldn't put it down. It was an electric charge of emotions from the get go and never once did it fail to impress me. The characters are all amazing, so well written and unique. Normally there is at least one character who gets on my nerves, but it was impossible to dislike any of them.

The story starts with Liora, an average teen with a supernatural secret. She shares her body with a demon. She tries her best to conceal this fact, but with great difficulty as the demon is restless and likes to make an appearance once in a while. Liora is an outcast, distancing herself from people because she believes there is no way she can live a happy, normal life.

When night falls, Liora sleeps and Lucky awakens. She is a kick ass demion who takes no prisoners and enjoys tormeting "sapies" (humans) and demons alike, who rightfully deserved to be tormented! I felt her tough exterior was a mask for the tumultuous feelings she keeps hidden inside, and she continually blames Liora for weakening her with those emotions, instead of owning up to them.

Of course, what would a great paranormal romance be without some delicious eye candy!?

Bones, the hot as hell (no pun intended) incubus/hell hound. Lucky's best friend, who would chew off his own arm just to be with her. But his cavorting ways are always in the forefront of Lucky's mind and although she loves him, the thought of sharing him with anyone else is unbearable. But Bones cannot change what he is and what he has to do to survive, which leaves me wondering, can there ever be anything between them?

Then there is Kieron, with his movie star good looks and charm. Kieron steps into the lives of both Liora and Lucky, and he quickly falls for both of them. Even though Kieron lies and keeps secrets, it's really difficult to fault him in anyway. He always makes amends for his actions and besides, everything he does is in Liora/Lucky's best interests.

I really loved this book in every way! The only disappointing thing about it was that it had to end!! I wanted to cry when I got to the last page and realised that was it!! So, naturally, I wasted no time in purchasing Fire with Fire, the second book in the Demonblood series. Although it is still very early in the new year, I have no doubt that the Demonblood series is going to be a strong contender for my favourite series read in the year 2012.
(reviewed long after purchase)
Review by: Marian LOL on July 29, 2012 :

It's the first time I've actually participated in a RI&R so I think I got nervous I couldn't make it to the deadline. But when I started, deadlines and anything related to it faded away. It was all just me and the book. :)

This is a blow by blow review of Penelope King's A Demon Made Me Do It . I hope you like it.

First Few Chapters:

COOL. Definitely interesting. And I get to like Principal Winters instantly. *sigh* If all principals were as caring as that, I wouldn't mind being sent to his office. (Although I should probably maintain my goody-goody attitude some more, just to be on the safe side.)
And Tatiana? A witch, blind *foster*-grandmother? Oh wow.

Next Few Chapters:

Oh man. What is with that guy? I apparently don't like this romance thing going on and if thunder struck Mr. Hot Guy Kieron, (yep. Hot is definitely the word.) I wouldn't mind one bit. Serves him right. For being hot and caring and all that. teehee.

Oh and Lucky? Instant COOLNESS overload.

She's so demon and undemon at the same time it makes you want her to inhabit Liora's body a lot more. I mean, okay, Liora's great, but you gotta admit Lucky is kick-ass.
And the story is too. Totally KICK-ASS.
The whole time I was like:


Nothing could stop me from reading this. I swear, I drank about twelve to fifteen cups of coffee and some Coke and I'm having too much caffeine on my system, but I barely noticed.
And the doughnuts I ate? Take a wild guess.
Sugar Rush.

Nearing the Middle Chapters now:

Oh eff. This is nothing but awesome. Although I did feel kinda weird when Lucky woke up and Kieron was there (see old lunatic guy with a gun) and they acted like it was all normal . And it was anything but.
Anyways, it's just what I thought. Totally a biased opinion (the moment being all crazy with old lunatic guy).

Now reading the Last Few Chapters:

Just a thought (Yes, again.) You're probably tired of my thoughts, but whatever. I like the part about Michael and Kayla and the
day Liora and Lucky split . It's so... I don't know, mundane and touching. ( Ha-ha, you're such a Sapie. Lucky would
probably say this.)

Oh what the?! I've put Bones in my mind as creepy (I mean, DUH, bones? ) and I'm pretty sure I don't like him from the moment I
read the part about him. (no pun intended. he's still pretty hot.)
But what was about the I'll be waiting.? God, I feel like crying. (Laugh all you want)

ALMOST DONE:

Is this guy serious? Talk about sacrificial.
(referring to Kieron, fyi :>) But heck, I seriously think there's something fishy about this guy. (Or is it just me being
paranoid?)

DONE (meaning I'm reading the first two
chapters of Fire With Fire ) :

I know I should probably keep it short but, who cares? I have to express what I feel or I'll explode.

I am seriously hooked. I have only one reason why I should probably read this next book.

That is:
Chapter Two ends in a sentence that is a spider and has caught me in its web.

And if there is another thing that attracts me so much other than DEATH? Guess.

It's WAR.
Because WAR=DEATH.

I am so definitely gonna read the second. :>
Happy reading to me! (And to you.)
(reviewed long after purchase)
Review by: Angieleigh Eads on June 23, 2012 :

I received a complimentary copy of A Demon Made Me Do It in exchange for my review. All opinions are my own and have not been influenced by an outside source.

Even though this book is totally out of my comfort zone, it appealed to me anyway. I am so glad that I read it as it truly was a very intriguing book whose sequel I am anxiously awaiting to read.

I loved the how nearly every other chapter was from either Lucky or Liora's point of view. Some chapters was both of them. I loved their dynamic, even if they pretty much hated each other. I loved Bones. I loved Kiernon...but if I had to choose a team to be on, it'd be Team Kiernon all the way.

Sorry, Bones!

I loved how parts that could have been written in such vivid gory detail weren't, which made me happy that I'd decided to step outside of my comfort zone again and again.

I just plain loved everything about this book. I can't wait to read the sequel. I want to know more about everyone!

I guess if I had to come up with a negative, it would be that I didn't totally understand what happened to Liora//Lucky. But really? That's not a negative...if anything I hope more detail is given to their back story!
(reviewed long after purchase)
Review by: Heather Rucker on June 09, 2012 : (no rating)
When I first heard of this book, I was a little skeptic about it. But when I heard it was about a girl who has a demon possessing her, I thought I could give it a chance. As soon as I started it I was drawn in.


It starts off with Liora, one of our main characters, at school getting yelled at by her English teacher. This is where Lucky, Lioras demon side steps in. After Lucky gets a few words in about his teaching she is sent to the Principals office, but very quickly leaving after freaking him and his secretary out. While Liora is ditching school she runs into the very attractive Kieron, the new boy who just came from the big cities. For some reason he shows interest in Liora, which confuses her greatly. After hanging out in the woods for a few hours, she heads comes home to Tatiana her caretaker who is also a very powerful witch. This is where the confusing part comes in.

It turns out Liora is only in control of her body for the morning and in the evening Lucky steps in. This is result from a very tragic attack by a pair of very creepy demons, which causes them to follow this routine everyday. While Liora goes to school everyday, Lucky goes into the demon world to hunt down some other demons, collect debt, or go drinking in a bar. But when humans and demons begin to go missing and end up dead, Lucky and her friend Bones, an Incubus, plus someone else, go searching down the ones who have committed these murders. All in all it's a very well put together story line and I have to say Lucky does act badass at some points.

Another thing I have to add is this, if they switch on and off like that, how is their body not extremely tired!? It has been confusing me for awhile. Other than that, I suggest this to people who love a good fantasy novel.
(reviewed within a month of purchase)
Review by: Rebecca Spencer on June 08, 2012 :

'A Demon Made Me Do It' is a fast paced roller coaster ride of teen angst and Buffy the Vampire Slayer-esque ass-kicking. Liana Greyson is a highly intelligent and introverted misfit at school who has very few friends. This is partly because she can't socialise after dark, which in turn is due to the fact that she shares her body with Lucky, a Justice Demon, who takes control from dusk until dawn. The book juxtaposes Liana's attempts to live a semi-normal life with Lucky's travels into the demon realm and adventures therein. The tone is very much that of a sarcastic and rebellious teen - Liana is railing against her feelings of confinement and the hopelessness of her situation, and Lucky is consumed with the desire for revenge.

There are some definite parallels between Liana/Lucky and Buffy; both have a guardian to guide them through their tasks and advise them on demon lore; both are sassy, wilful, independant teens who go out of an evening to roam the local area killing bad guys; both resent what they feel has been thrust upon them. This does not detract from the novel itself, however. Liana/Lucky has plenty of unique aspects and personality traits. Whilst the book is predictable at times and treads some well-worn paths, it has enough individuality, sass and spark to separate itself from the chaff of the genre.
(reviewed within a month of purchase)
Review by: Gloria Rozanne on June 07, 2012 :

The concept of demons isn't new to me. But the setting of this book was. I adored Liora and her mortality. I absolutely liked Lucky's demion nature.

Liora is human a normal teenager but as soon as the sun goes down her body becomes a demon's meat suit. Liora and Lucky are polar opposites. The only thing they both agree on is Keiron Ambrose. The new boy in town and also the new Demion in Dryndara. Liora can't seem to take her eyes off of him and Lucky finds him attractive. To be or not to be? Is the question that haunts both of them when Keiron seems to like both the demon and the human. But both Lucky and Liora are in for a spin when they find out Keiron's secrets. Turns out messing with a demon/human girl while keeping a few truths from her are bad for a certain demion's health.

The writing was good. The characters are amazing. Aside from main characters I found I liked Bones too! The way he handled Liora was hilarious. I definitely would recommend this book to others!!
(reviewed within a month of purchase)
Review by: Karen Siddall on June 07, 2012 :

Great debut to a new series about a teenage demion girl (half demon, half human) virtually split into 2 separate identities (in one body). The human identity, Liora, is only "aware" during daylight hours, while Lucky, the demon "half" owns the night.

King has set half the story in a human high school (Liora's daylight) and Lucky's story unfolds in Dryndara, a land of permanent night with 3 moons. Both settings are becoming more distinct and fully-formed as the action progresses.

The story revolves around Lucky's search for the demons that killed her friends and caused her personality-split but King includes the usual problems confronting teenage girls: how to talk to the cute new boy, boring classes, mean girls, and troubled friends. And with the cute new boy also being a demon himself and able to travel between the human and the demon worlds, we get to see how each half of our heroine handles herself around him.

Just an all-around delightful story that I look forward to reading more about in upcoming sequels!
(reviewed within a month of purchase)
Review by: Brooke DelVecchio on June 06, 2012 :

This book was really great. Nothing that I expected. This is my first reading strictly based on demons.
Lucky and Liora are two parts of a whole. Lucky is the demon side whereas Liora is the human side. Because of a tragic indecent, their soul was split in half and they have been living this way for 5 years. Liora remains human during the day, while Lucky comes out at night.
I really love how the book is written from the two different points of view. We get Liora's side: the caring, loving human who knows she will never live a normal life. The human who hates demons because of what they did to her friends years ago. The human who wants nothing to do with her demon half. Then we see Lucky's side: the frisky demon who believes nothing can harm her or stop her from her mission of finding the demons who killed her friends. She feisty and sexy, all the things Liora is not. And she dislikes Liora because due to her human side, Lucky still feels pain, sorrow and love while she wishes she could just be down with emotions completely. The differences between them are drastic.
They both fall for the same guy, Kieron, who turns out to also be a demon. He's a gorgeous mixture of sex and love. He's a bounty hunter after the same demons Lucky hunts. But, while she wants to slay these demons, he must bring them back alive to receive his freedom. Kieron falls for both Lucky and Liora and they, in turn, fall for him. In the end, he helps them both face their own "demons" and make choices they would not normally have made.
We also meet a few of Liora and Lucky's friends. There's Corrine, the shy, overweight girl that has befriended Liora and never questioned her strange need to always be home by dark. There's Bones, who is Lucky's best friend but also has feelings for her. Corrine kind of annoys me. She's very filled with self-doubt, but we don't see much more of her than that. Bones is easily the most lovable character in this book. He's that guy who is always your best friend but wishes he was more. Gorgeous and seductive, due to him being an inccubus, he's hard for anyone to resist.
Then there's Tatiana, Liora and Lucky's guardian. She is a witch who tries her hardest to steer the girls in the right direction. To help them find peace, love and happiness by showing them they must look inside themselves to see what is really there.
I like that you really see both Lucky and Liora grow during this book. They change and become accepting of their certain fate as two distinct beings living in one body. They learn to love and to open themselves up to the possibility that they can be whole, even while living the two separate lives.
The only issue I had with this book was that I really cannot picture Lucky/Liora in my mind. Aside from the cover picture, I can't see her in my mind. To me she is not described in enough detail. This is something I really like to see in a book. I want to be able to picture the characters in my mind so I know exactly what they look like.
I give this book a strong 3.5, maybe even a 4 out of 5. It was a very enjoyable read and I look forward to the next book in the series.
(reviewed within a month of purchase)
Review by: Martha Campos on June 06, 2012 :

You know how there are some readers who praise a book so much that you get curious to see what all the hype is about and find out that that was not your cup of tea? I've had those happen to me...but not with this book. Really took me by surprise how this book progressed because I had kind of an idea but this book took that idea and threw it out the window.

This isn't a book of demon possession but a book about coming to terms with two sides that make up one. I enjoyed reading the two very different sides of the coin that make up Liora. One is a kind, sweet school girl who tries to stay under the radar as much as she can to prevent Lucky from making a guest appearance and kicking bum. Lucky on the other hand is that kick bum in your face kind of girl who isn't afraid anyone or anything. I think when the Amazea messed everything up their two different selves just intensified to how they are now. Very interesting to see the different selves. They hate each other but yet they respect each other enough to be done with everything by the time the other needs to take over.

Kieron....well what can I say about Kieron that hasn't already been said? Why are these boys so swoon worthy? Probably because they're just so awesome inside and out right (now why can't we find guys like that in real life?). Bones. My goodness Bones made me laugh everytime he hit on Lucky that my stomach hurt from all the laughing. he is quite a character that Bones (but why was he called Bones? Did I miss where they explained?). I did pick up a bit of a love square though (I hope that makes sense) although now that I think about it it might be sort of a web (I think I might confusing people).

This is the job well done you get an A++ from the English teacher (no it's not me). I saw no flaws in this story (none at all). The plot, character, climax everything was brilliant. I had absolutely no complaints whatsoever.

Overall, this is a book to read. A stay up until you finish it book. A I'm going to recommend to everyone I know kind of book. A woah I have to read the next one kind of book.
(reviewed within a month of purchase)
Review by: mdlagarland on June 02, 2012 :

Young adult novels are not my usual read. I like my stories to have a bit more edge to them in either the romance department or the suspense/mystery department. A Demon Made Me Do It manages to fill my need for more edge. This was a really good book and I couldn't put it down once I started it. However, real life got in the way and it took me few days to read it.

Ms. King weaves a wonderful story set in rural Virginia. Liora/Lucky, Kiernon, and Bones are loveable, even thought they're demons, enigmatic characters. Liora/Lucky are truly two people inside of one and Ms. King did a fantastic job of building each person's personality, quirks and flaws included.

I don't typically like books that change POV but this story was different in that regard. Switching between Liora and Lucky made sense and built the story in unbelievable and imaginative ways. Even though the chapters switched between Liora and Lucky it wasn't really changing POV since they were both the same person, yet different.

Kiernon was a very nice touch to the story since he could travel in both worlds, human and demon. His love and devotion to both Liora and Lucky was touching and managed to heal them both.

This is a touching story with a bit of bad-ass thrown in. I held back on giving it 5 stars since I like a little more spice and steam in my romances. I realize it's a YA novel and the amount spice and steam was appropriate for a YA novel, but I still want my spice and steam.
(reviewed within a month of purchase)
Review by: Lissa Smith on May 31, 2012 :

bookshelves: 1st-in-series, paranormal, demons, romance, young-adult

Recommended to Lissa by: Penelope

Recommended for: Grades Eight (8) and up

Read on May 15, 2012, read count: 3


I would be lying if I said I was interested in reading this book for any other reason than the catchy title and the beautiful cover that screamed… I am just a beautiful innocent young woman. Then again you could flip the coin and call the cover that beckoned… the innocent, who me cover girl.

It might have been the cover that drew me in but it was P. Kings ability to weave an interesting story line that kept me interested and ultimately vested in the characters. I love the fact that by day the progeny was one way then when night fell she was completely opposite. It reminded me so much of the season of Buffy when she had to deal with the crazy deity that was a guy and possible love interest during the and the wacked out deity at night. It always interesting to read and see how each author betrays one internal struggles of good versus evil.

The story goes that during the day we have Liora. She is your normal high school student who on occasion gets into a little trouble. Oh and she has only one real friend. During the night, while Liora is sleeping, we get a peek at Lucky. Lucky's a not so nice rough and tumble demon who lives for hunting and killing other demons, especially the ones who killed her best friends. What you have to understand is Liora and Lucky share a body but are two completely separate individuals.

Now the biggest question is whom does Kieron fall for? Is it Liora or is it Lucky? Only time and reading will tell or does it? And trust me it will leave you on the edge of you seat.

King does a superior job at weaving a story line with so many intriguing characters. She does an excellent job humanizing her charactors while lacing them with such innocents and desires.

Over all this King's "A Demon Made ME Do It" was truly an eye catching and terrific read. King offered the perfect mix of good versus evil wrapped in delicious characters you can't help but to love. I was drawn in hook line and sinker from the first chapter. I can't wait to read the second installment in the series and highly recommend you stop reading my review and hop on over to Amazon.com and pick up your own copy.

I highly recommend this book and it's probably more appropriate for mature young adults (Grades 8 and up) due to the mild violence, some language in a few places, and some romance scenes.
(reviewed within a month of purchase)
Review by: Nereid Gwilliams on May 30, 2012 :

I was pleasantly surprised as I really liked this book. Liora is half human and Lucky her demon side and true self who due to no fault of their own had their soul split in half. These two distinct personalities formed after a run in with the Amazea` demons and Liora lives the day and Lucky lives for the night. The demons killed her friends and now revenge is the order of the day and of course trying to get through high school. Sometimes with POV books you do find it a little disjointed but that was not the case here and I liked the girls as a whole. Liora was trusting and innocent albeit a little helpless and Lucky was a kick ass Justice demon who could more than stand up for herself if need arose. Then along comes Kieron a half demon who turns their worlds upside down. Both girls are falling for him but he has been keeping secrets. The other characters like Bones and Corrine are lovable in their own right and you do become invested in the characters. Throughout the book both Lucky and Liora grow and become more settled with their shared lives and each other and I look forward to the next instalment from this author.
(reviewed within a month of purchase)
Review by: Alison Gussack on May 25, 2012 :

I really enjoyed this book! It took me about 40 pages to really get into it, but then I finished it in one fell swoop. The story and characters are compelling, the men are sexy and mysterious, and the world is a unique one (at least from my limited experience). The writing flows easily and there were very few editing problems to distract from it, just a misspelling here and there. Looking forward to the sequel and more of Bones and Keiron!
(reviewed within a month of purchase)
Review by: Leigh on May 24, 2012 :

This book will grab your attention and not let it go!! This is my first time reading anything by Penelope King, and I was not disappointed. She delivers with a vivid, fast paced adventure into the different worlds of humans and demons.

Liora Greyson is not like most other seventeen-year-old girls, because she shares her body with a demon. She is human during the day struggling to finish her last year in high school, and at night, she is a demon driven by the need of vengeance against the Amazea demons who not only killed her two childhood friends, but also forced her to live two separate lives. Her life will never be the same after a new student, Keiron, shows up at school. Will he be the one to bring her two halves together and finally give her a life worth living?

The author was able to create an interesting cast of characters that continued to develop as the story unfolds. The dual nature of Liora/Lucky and their conflict made for an interesting read. I really enjoyed this book, and I am looking forward to reading the next one.
(reviewed within a month of purchase)
Review by: Angie Lenkevich on May 23, 2012 :

Liora Greyson is a high school senior at Dove Creek High School. She's not like everyone else because she's part human and part demion. She is human during the day and at night she splits into her demion half Lucky. It's Lucky's job to torment humans and collect payments from demons and demions. Lucky's best friend Bones who is part hellhound and incubus ever since the tragedy five years ago. Liora meets Kieron Ambrose and her world and life are not the same. Kieron rescues Lucky from a pair of demons showing her horrors of her past and Liora's. Tatiana is Liora/Lucky's guardian and friend who is blind. Tatiana tells Lucky not pursue the Amazea and that vengeance is not the answer to her problems. Liora/Lucky are both attracted to Kieron in different ways. When Liora finds out that Kieron lied to her she wants nothing to do with him ever again. The same is true for Lucky as well. Can Liora and Lucky forgive Kieron? Will Lucky have the same feelings for Bones? What is Kieron willing to sacrifice? Will Lucky get her revenge? Your answers await you in A Demon Made Me Do It.
(reviewed within a week of purchase)
Review by: Ray Chelle on May 22, 2012 :

I love the concept of this book - Liora, who's human, must share her body with Lucky, a demon during the night. It's like she's living a double life. The author is able to portray this idea in a believable and entertaining way, shaping the plot with its own share of peaks and exciting turns.

The relationships between the characters are also quite complex. Take Bones for example - he's clearly romantically interested in Lucky, but acts as an older brother towards Liora. Meanwhile, Liora, who claims she absolutely hates demons, harbors a brotherly love towards Bones and a romantic interest towards Kieron. Moreover, Kieron (at least in my opinion) seems romantically interested in both Lucky and Liora (which I find is a little confusing and player-ish). However, the relationship I found the most interesting was between Lucky and Liora. On one hand, they may despise each other because of the difficulties they present each other, and simply because the other is human/demon. However, they have a need to protect each other, making them emotionally bonded towards each other.

Overall, The Demon Made Me Do It is a light and enjoyable read c: I recommend this book for people who enjoy PNR/UF, or the Mortal Instruments series (I don't know why, this book kind of reminds me of City of Bones, although they are actually quite different!)

I can't wait to read the sequel :D
(reviewed within a week of purchase)
Review by: Ray Chelle on May 22, 2012 :

A Solid 4 Stars!

I love the concept of this book - Liora, who's human, must share her body with Lucky, a demon during the night. It's like she's living a double life. The author is able to portray this idea in a believable and entertaining way, shaping the plot with its own share of peaks and exciting turns.

The relationships between the characters are also quite complex. Take Bones for example - he's clearly romantically interested in Lucky, but acts as an older brother towards Liora. Meanwhile, Liora, who claims she absolutely hates demons, harbors a brotherly love towards Bones and a romantic interest towards Kieron. Moreover, Kieron (at least in my opinion) seems romantically interested in both Lucky and Liora (which I find is a little confusing and player-ish). However, the relationship I found the most interesting was between Lucky and Liora. On one hand, they may despise each other because of the difficulties they present each other, and simply because the other is human/demon. However, they have a need to protect each other, making them emotionally bonded towards each other.

Overall, The Demon Made Me Do It is a light and enjoyable read c: I recommend this book for people who enjoy PNR/UF, or the Mortal Instruments series (I don't know why, this book kind of reminds me of City of Bones, although they are actually quite different!)

I can't wait to read the sequel :D
(reviewed within a week of purchase)
Review by: Athena Franks on May 21, 2012 :

I try really hard to not rehash the entire story or give a bunch of spoilers when I review a book, but it may be hard not to this time! I'll do my best, though. ;)

I received this book to rebiew from the Shut Up & Read group's Read It & Reap event. I have to say, I have been extremely fortunate in the books I've been given to review through them so far. There really haven't been any misses. :)

Anyway, about this book...

I admit it--halfway into the very first chapter I was convinced I was going to hate this book. Liora seemed like the typical, overly-angsty teenager often depicted in paranormal fantasy these days. I initially found her constant whiny and hating herself grating. All I can say is I'm so happy I read chapter 2!

Lucky kicks ass! There's really no other way to describe her. The demon half of Liora who takes over at night, separated from Liora by a curse, she is angry, obviously. And that anger is often turned toward Liora, her fully human side. She is also strong, practical, loyal to her friends, and more willing to look into herself and face the things that make her uncomfortable that she admits. And as time went by, I found Liora to be less annoying as she found her own strength and started to face her own inner "demons".

There are only a couple of things that prevented me from giving this book five stars. The first is that I felt like the romance between Keiran and Liora/Lucky felt too conveniently done to me. There didn't seem to be any build up to it at all. The second issue is that conversations sometimes felt stilted to me. While I appreciate that there was a distinct lack of inappropriate idioms throughout, the almost complete lack of contractions often made discussions feel too formal and unnatural.

This book had everything--romance, fear, growth, drama, excitement, sadness, and victory. It was a great story and I can't wait to read the next one!
(reviewed within a week of purchase)
Review by: Baisakhi Chatterjee on May 21, 2012 :

Rating: 3.5


Have you ever shared your life with someone, say a sibling for example. Imagine that sibling is your complete opposite in every way, annoys the hell out of you and you hate her. Now imagine she shares a body with you!

Liora's life wasn't always this complicated. As a half-human, half-demon or demion, she had a charmed life. By day she made friends and played with humans, and by night she had fun with fires of hell....literally. but all that changed when a curse by another demon caused her soul to be ripped into half - Liora, the human and Lucky - the demon. Where Liora is sweet, compassionate and smart, Lucky is sarcastic, funny and crazy with not an ounce of common sense. they do have one thing in common though, they can't stand each other.

Written hilariously, Penelope King imagines a world where our greatest dreams and darkest nightmares come true - and karma isn't just a concept. It's a gown-wearing Justice Demon having fun. Temptation has a name and hell hounds love to party.

But not all is fun and rosy in this land. Trouble soon comes knocking, and both Liora and lucky soon discover just how complicated it can get when love and lust finds them, especially when they do not refer to the same person.

King has a wonderful imagination and the world she has created fills me with awe. It is a land I really don't want to leave, especially to return to school!

I do have an issue, however, with Lucky's freezing up every time she needs to fight. For a supposedly great fighter, she panics a lot.

What I really love though is the Liora and Lucky's relationship. They may claim to despise each other, hell that is inevitable when you are guided by the timeline of a complete opposite personality, but at the end of the day, they know they aren't really mad at each other. They are just worried that they may never get back to how they truly belong. They may never be whole.

Filled with hilarious commentary (more of Lucky's that Liora's) and awesome characters (I loved Tatiana and Corrine - I would love to see more of them), A Demon Made Me Do It is a book you don't want to miss.
(reviewed within a week of purchase)
Review by: Baisakhi Chatterjee on May 21, 2012 :

Have you ever shared your life with someone, say a sibling for example. Imagine that sibling is your complete opposite in every way, annoys the hell out of you and you hate her. Now imagine she shares a body with you!

Liora's life wasn't always this complicated. As a half-human, half-demon or demion, she had a charmed life. By day she made friends and played with humans, and by night she had fun with fires of hell....literally. but all that changed when a curse by another demon caused her soul to be ripped into half - Liora, the human and Lucky - the demon. Where Liora is sweet, compassionate and smart, Lucky is sarcastic, funny and crazy with not an ounce of common sense. they do have one thing in common though, they can't stand each other.

Written hilariously, Penelope King imagines a world where our greatest dreams and darkest nightmares come true - and karma isn't just a concept. It's a gown-wearing Justice Demon having fun. Temptation has a name and hell hounds love to party.

But not all is fun and rosy in this land. Trouble soon comes knocking, and both Liora and lucky soon discover just how complicated it can get when love and lust finds them, especially when they do not refer to the same person.

King has a wonderful imagination and the world she has created fills me with awe. It is a land I really don't want to leave, especially to return to school!

What I really love though is the Liora and Lucky's relationship. They may claim to despise each other, hell that is inevitable when you are guided by the timeline of a complete opposite personality, but at the end of the day, they know they aren't really mad at each other. They are just worried that they may never get back to how they truly belong. They may never be whole.

Filled with hilarious commentary (more of Lucky's that Liora's) and awesome characters (I loved Tatiana and Corrine - I would love to see more of them), A Demon Made Me Do It is a book you don't want to miss.
(reviewed within a week of purchase)
Review by: Yzabel Ginsberg on May 18, 2012 :

Told from the points of view of both Liora and Lucky, the story deals with a girl who's human during the day, and half-demon at night. While they share the same body (and are basically the same soul, only cut in two), Liora doesn't know what Lucky does, and conversely. Every day seems to be the same old drill for Liora: going to school to follow classes she knows by heart and isn't interested in, while being labelled the school freak and not having any real friend to speak of. Every night also seems to be the same for Lucky: a trip to the Demon world, minor demons to hunt, humans to punish for their deeds. Until a new boy, Kieron, enrolls in Liora's school.

I was a little afraid that the tone of the book would be too reminiscent of your typical teen angst, especially in the chapters focusing on Liora (who seemingly likes to wallow in all the bad sides of her life, without enjoying the good moments); and the constant rejecting of fault on each other got tiring after a while, even though it was also understandable, given their circumstances. At times, it deterred me from the pleasure of reading. Fortunately, the first chapters still managed to get me in fairly easily. The world inhabited by the demons is interesting, nicely described, and its layers and social links make it clear that Liora/Lucky's situation is even trickier than the pitch promised at first.

Kieron's first appearance didn't do much for me. Typical good-looking boy with dazzling smile and eyes, with all the popular girls flitting around him like flies, but the only one to really catch his interest is unpopular Liora (who's actually a hottie, but doesn't want to believe it; thanks Satan Lucky is here to be cool, sassy, and make her wear sexy clothes and make-up). Granted, the reason why gets revealed later on; at first, it gave way to quite a little bit of eye-rolling. I enjoyed reading about Lucky more than about Liora, though the latter got better in the end; I guess Lucky is just more my type of character. As for Kieron... I still can't decide if I disliked him or if he was at least mildly bearable. The character I liked the most, all in all, was Bones; there's no particular reason, in fact, I just liked his way of behaving and his personality—straightforward incubus, but also very loyal to his friends.

It was an enjoyable read, but it could've been better, notably in terms of pacing. The way the point of view is carried between Lucky and Liora sometimes leaves certain things in the dark in an odd way, or switches at moments that seemed weird to me. The ending was a little abrupt, compared to the relative 'speed' of the rest of the book. On the other hand, I thoroughly enjoyed that ending and the lesson it carried. The themes of 'revenge' and 'how revenge can ruin your life', are something I am deeply interested in. I think that Lucky made the right choice, and that it was quite a positive ending. The book ends on some kind of closure, yet some things are still not resolved, such as the other crimes of the Amazèa, some elements about Kieron's employment, or whether Liora and Lucky can become one again, and how; and so, in spite of its flaws, I still want to read the next installment.
(reviewed within a week of purchase)
Review by: Kel Donovan-Roberts on May 18, 2012 :

Wow...a half demon half human cursed so each half is a different personality. Total schizo type thing without the crazy. Very interesting story with great character development. The demon half, Lucky, is trying to find the demons that killed her friends and put the curse on her while the human half, Liora, wants nothing to do with demons and is trying to have a normal life. Liora is unable to participate in anything but school since during the day she is the human and during the night she is the demon, makes for a very lonely existence. Lucky is having problems dealing with the human emotions that are leaking through from Liora so she is also feeling very much alone. That is until Kieron shows up (sigh). Lucky cracks me up, she wants to be wanted but be the only one wanted so she seems to get jealous knowing that Liora is getting attention. They are pretty much the same person except their personalities, which is what makes it funny, and they don't like each other very much. It's so easy to relate to since so many of us don't like certain things about ourselves.
(reviewed within a week of purchase)
Review by: Heather Boustead on May 18, 2012 :

A Demon Made Me Do It
Demonblood Series Book One
By Penelope King

Liora was born half demon, one day she was playing in the woods with her firends when two girls came upon them killing Liora's friends and splitting Liora into human by day and a demon of justice by night, Lucky. Lucky is determined to exact her revenge on the twins who had cursed her into this half-life but Liora only wants to be a normal high school girl and make it through her senior year. But when she meets Kieron her entire world is turned upside down and she begins to fall in love with him knowing that she can never be with anyone because of the life she endures, what she doesn't realize is Kieron is hiding his own secret and will she be able to forgive him when she finds out that he isn't what he seems and what happens if he finds out about Lucky?

This was a great book if being possessed by a demon isn't bad enough try sharing an entire life with one and then having to wake up hung-over without having the fun of drinking. Penelope King managed to create an intricate and beautiful story and added just enough twists and turns to make it captivating but not confusing. Not only do the main characters have to deal with falling in love but there are also unexplained murders add on top of it the conflicts each "character" must overcome it is truly remarkable. The author took multiple personalities to a whole new level with this book, it is such an interesting and fun idea I can't wait to see what she comes up with next.
(reviewed within a week of purchase)
Review by: Mar Mag on Jan. 14, 2012 :

I found this book interesting. It had quite a different story from the ones I usually read. I would definitely recommend it. In fact I intend to read Fire with Fire (book 2).
(reviewed within a month of purchase)