The Shrew Untamed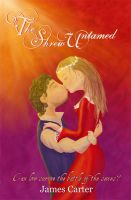 By
James Carter
$

0.00
Rating:
(

11

reviews)
based on
Published: June 19, 2011
Words: 21,660 (approximate)
Language: English
ISBN:
9781458017208
Short description
Kate marries Petruchio in a state of submission, only to turn the tables on her husband and family with devilish brilliance. A sexy update to "The Taming of the Shrew" that is designed for 21st century audiences.
In Shakespeare's "Taming of the Shrew" Petruchio marries a harpy known as Kate. He does so not for love or for passion, but rather for the dowry attached to her head. With a little wit and a lot of stubbornness he transforms his shrew into a pliable and obedient housewife.
The parts of the above mentioned marriage that The Bard conveniently "forgot" to dramatize lie within this play. In it you will find that Kate turned the tables on her husband after their honeymoon. You will also find this brilliant woman embroiled in a new drama that pits intellect against spite and threatens to crush true love.
Tags
romance
,
love
,
comedy
,
kiss
,
battle
,
sex
,
shakespeare
,
shrew
,
kate
This book is free. How to download ebooks to e-reading devices and apps.
Format
Online Reading (HTML, good for sampling in web browser)
View
Epub (Apple iPad/iBooks, Nook, Sony Reader, Kobo, and most e-reading apps including Stanza, Aldiko, Adobe Digital Editions, others)
Download
Kindle (.mobi for Kindle devices and Kindle apps)
Download
PDF (good for reading on PC, or for home printing)
Download
Reviews
Log-in to write a Review
Log-in to add a Video Review
Review by: Angela B on Sep. 27, 2011 :

I'd like to start by saying that before anyone reads this, they should definitely do a refresher on "The Taming of the Shrew." While it was definitely a great read and easy to get into, I had a hard time remembering the original plot line, so I found a summary to get more into the book. The characters can relate to it's audience even if they're worlds apart! That is one of the best things to find in a book and I definitely recommend it!
(reviewed within a month of purchase)
Review by: Elise Lietzau on Sep. 22, 2011 :

I was looking forward to reading this for quite awhile and finally got the chance. "Shrew Untamed" was one book that was worth the wait. James Carter was able to keep the essence of Shakespeare's characters while showing their change and growth after a year of marriage. I couldn't stop reading this play. It was so easy to be drawn in to the story. All of the characters are written in such a way that they just spring to life. I found myself cheering on Maria, horror struck by Bianca's actions, in awe of Kate and Petruchio's relationship. Even if I had never read "Taming of the Shrew" I would have loved this play. James Carter answers the question what happens after marriage. It was a hilarious reminder that although we have come a long way since Shakespeare's day the struggles in a marriage remain the same. "Shrew Untamed" was an excellent conclusion to the classic. I would and am recommending this book as a great read whether you like Shakespeare or not.
(reviewed within a month of purchase)
Review by: Jeannette on Sep. 18, 2011 :

I'm going to be flat-out honest about this one: The Shrew Untamed is not Shakespeare. It's written as a sequel to The Taming of the Shrew, but the reader should not go into this expecting the vivid language or clever wordplay of the Bard.

Fortunately, I love Shakespeare so much that I never go into anything expecting the Bard, so I liked it. The premise is always a fun one: let's revisit one of a happily-ever-after, one year later. I particularly liked the idea of revisiting The Taming of the Shrew as it's a fun play but leaves kind of a sour aftertaste when you look back on it from the perspective of a modern, independent woman. The idea that the shrew could be on the other foot was an even more entertaining touch (haha, I slay me).

Carter does a pretty good job retaining the characters of the original. He wisely skirts the flowery language and lets the original couples converse in modern prose. This is not just a relief for those who are not fans of Early Modern English (I am a fan, but I don't mind), but also maintains their personality without a direct comparison. Thus, we can easily believe that Kate and Petruchio have grown into a fond couple and Bianca has evolved into the spoiled child we see now. No, it's not all her fault, but Lucentio is more acting "like a guy" than actually abusing her. Bianca's just a pain - though I don't blame her for being angry when he chases her around the room. That's a disturbing scenario for anyone. Our heroes Kate and Petruchio, on the other hand, are less disturbing and much more entertaining. Petruchio's delight in his wife is worth a smile, while Kate's logic in developing her mind and the way she expresses her feelings for Petruchio near the end are admirable (and slightly reminiscent of 10 Things I Hate About You).

Carter also, in a very Shakespearean way, adds a third subplot to intertwine with our first two couples. While the characters behave in the ways you would expect in such a play, I was disappointed in the fact that he chose to make their subplot musical. The lyrics were nothing special, and the resulting comparison was the reason why I was so happy the story began in prose. I also wished the plots would have intertwined more, as the plays generally would. I think the new characters would have been better developed and I in turn would have then been more invested in them.

Among other details that disappointed me were the complete lack of Grumio, which I didn't understand from a story point of view. I don't feel that his absence accomplished anything in the plot, but his character was originally so rich. I also disliked the lack of resolution between Bianca and Lucentio. It seems uncharacteristic of a story like this to leave a plotline unfinished like that, and a little off for Kate and Petruchio to leave it that way.

Of course, their ending was exactly what I would have wanted from them, and an excellent reparation for that Taming of the Shrew discomfort.

As an aside, thank you to James Carter for the download coupon. I appreciate the opportunity to read and review a fun story!
(reviewed within a month of purchase)
Review by: Anni6 on Sep. 14, 2011 :

The characters differ a great deal from the original, the movies and even the version my mom used to share before bedtime where Kate waved a rifle around and so on so at first I felt a tad cheated in my expectations. Although the new versions are easier to laugh at, the new version shakes off one of the main elements of continuity, beside the title.

I am unsure of the target public as both Kate and Petruchio feel a little child-like and simple because of their energy and joyfullness, attitude which sits quite at odds with the kiss, "remove an article of clothing of your choice" gambit or Gabrielle's vocabulary. The child-like temperament then changes a lot in a very short time. Apart from that Petruchio alternately calls Kate by the nickname or 'madam' which differ greatly in formality, especially for that time.

About the first Lucentio/Biance scene, it was either reavealing as to Lucentio's previously nonexistent dark character streak or hilarious in the way that an overy angered child throws a tantrum. Either way, I believe new Lucentio went from originally wimpish to downright stupid.

When Kate arrives, neither she nor Petruchio show none of the salt-in-the-wound temperament that made them both so famous and for the first time Bianca becomes the focal point of the whole stage.

At this point, I finished the first fifth of the book and I sincerely believe that it bears none but the smallest resemblance - title and names - to Shakespeare's initial work. It's too late to revert the characters back without seriously exaggerating.

As a stand-alone this book alternates between childishly funny and soap-opera dramatic, a very unfortunate mix, indeed.
(reviewed within a month of purchase)
Review by: karen spor on Sep. 12, 2011 :

I have always loved to read Shakespeare and his "Taming of the Shrew" has always been one of my favorites stories. Kate, as we remember, was not a happy wife when first married to Petruchio. But here we find them a year later, having managed to work through the differences they had, and living a peaceful and delightful life. They go to visit sister Bianca who had seem such a meek, mild young woman when last seen. What they find is much of a replay on the first little while of their own marriage. Through the placing of a wager, it falls on Kate to try to salvage this marriage and leave her sister and husband as happy as she. What follows is a comedy of errors involving all parties, drunken adventures and misunderstandings. It was totally wonderful. It was a mood lifting, and fun story and in life we all know these couples so can enjoy the interaction all that much more. Thank-you for the coupon and the opportunity to read this fun take on my favorite author.
(reviewed within a month of purchase)
Review by: Carole Zullo on Sep. 01, 2011 :

What a fantastic read! I've always been a fan of Shakespeare, while this is slightly more playful and silly, I enjoyed it no less. Each of the characters had me giggling at one point or another. I loved how Petruchio and Kate bet and wagered there way through loving each other. I think we all know a shrew like Bianca. No matter what you do they will never be happy. Loved the slick way Mr. Carter had Maria teach her husband how to help out around the home. Very clever writing. Thanks so much for the opportunity to read Shrew Untamed.
(reviewed within a week of purchase)
Review by: Shelly123 on Aug. 03, 2011 : (no rating)
A fun continuation of Shakespeare's Taming of the Shrew. Was Kate really tamed?
(reviewed within a month of purchase)
Review by: Monique Leigh on July 31, 2011 :

James Carter sent me a coupon to download this book. I have been a fan of The Taming of the Shrew for years, and Kate will always have a special place in my heart. If you like light-hearted romantic slapstick, The Shrew Untamed is a great find. If you're looking for a sequel to Shakespeare, keep looking. This play is closer to Moliere than a modern Shakespeare.

The Shrew Untamed looks at three very differnt married couples: the happily married Kate and Petruchio, a year after their marriage; Kate's sister Bianca and her husband Lucentio, the stereotypical modern couple who want completely opposite things from their marriage; and Maria and Gabrielle, a friend of Lucentio. The latter couple provide most of the comedy despite being the "third tier" storyline as they work out the differences between "traditional" and "modern" expectations of the roles of spouses. There are moments of great comedy, but it's all rather stereotypical of what you'll find in most TV sitcoms and not at all reminiscent of Shakespeare.
(reviewed within a month of purchase)
Review by: Rachael Gonzales on July 19, 2011 :

I have never been a fan of plays and always had a difficult time getting through anything Shakespeare related in high school, mostly because I couldn't understand the old English style of writing. With James Carter's The Shrew Untamed, that definitely was not the case! For anyone who enjoyed Shakespeare's Taming of the Shrew (or didn't, as was my case- I did read it several years ago so maybe I should give it another shot?), The Shrew Untamed is a delightful addition for 21st century readers that gives us a glimpse at the lives of Kate and Petruchio a year after they were married.


No longer unfortunate in love, the couple appears to have found wedded bliss and decide to stop in and see how Bianca and Lucentio are doing. Unfortunately for them, wedded bliss seems to evade them as they spend their days stuck in a bitter marital war, at heads with how they each believe the other should act within their conjugal prison. Kate and Petruchio take it upon themselves to wager a bet: Kate has three days to convince her sister and brother-in-law that their marriage could be a lot better if they would both just make some changes in their dealings with one another. What follows is a hilarious and delightful twist to what could have been between the sisters and their respective spouses had Shakespeare chosen to continue with his story.


☆ ☆ ☆ ☆ ☆ The Shrew Untamed was a very quick read that had me giggling out loud and rooting for the underdogs. You won't be disappointed!
(reviewed within a month of purchase)
Review by: kimyunalesca on July 19, 2011 :

This book offers insight about love, marriage and friendship. I like the flow of the story I can vividly imagine all scenarios it's as if I'm watching a live performance. I also like Maria for the way she stood up for herself. I love and admire Kate she's intellectual, knows how to shake things up and I agree with her three golden rules in which we could all learn from and apply as well(sorry no spoilers)I truly enjoyed this one and for sure you will too so grab a copy it's better to see/read it for yourself. All the characters are relatable, you can definitely feel their emotions, their catchy songs will get you singing, witty and very entertaining.
(reviewed within a month of purchase)
Review by: Katy Sozaeva on July 19, 2011 :

Although not my normal type of story, "The Shrew Untamed" – which is actually a play, set as a sequel to "The Taming of the Shrew" – is an amusing and light-hearted romantic comedic romp that will have the reader smiling and laughing along. I would honestly love to see this performed.

The basic synopsis is as follows: The story takes up a year after Kate and Petruchio's marriage. They are traveling to Rome and decide to stop in Pisa to visit Bianca and Lucentio (Kate's sister and her husband). Kate and Petruchio have both changed a great deal from the original play – they have both mellowed significantly. When they arrive in Pisa, they find Bianca and Lucentio are not at all happily married – Lucentio wants his wife to cook and clean and raise babies, while Bianca wants to wear nice clothes and be pampered and avoid losing her figure by not having children at all. Petruchio bets Kate that she cannot reconcile the two within three days. Mischief closely follows.

Well written and amusing, the reader will find this a fun and quick read. There are several songs scattered throughout – I don't know if a score is available for those who actually want to put on the play, or if the director or musical director is meant to come up with tunes herself; for me coming up with a tune in my head was part of the fun. Fans of Shakespeare should eat this up, as should those who enjoy romantic comedy. Check it out, why don't you?
(reviewed within a month of purchase)
Review by: Margaret (Literary Chanteuse) on June 29, 2011 :

I enjoyed being taken back to the time of Shakespeare with all it's colorful characters and dialogue. Very witty and entertaining!
(reviewed within a week of purchase)