Vit Brown
Biography
About Vit Brown

Vit Brown shares his exceptionally delicious meals made from scratch efficiently and nutritiously.
He has been interested in cooking from early childhood. In the early days he would sit on the kitchen sink and "help" his grandma cook. He soon advanced to preparing simple foods, then on to more complex meals for the whole family. Cooking is something he really enjoys.

When his family lived outside of town, they had a large garden, a variety of fruit trees, and they raised chickens. He helped take care of the garden and pick the fruit. He also got to help catch the chickens for dinner. (He never had to kill one). He watched his grandma cook the food and he learned.

He carried his interest in cooking forward. After leaving home he bought recipe books and studied cooking techniques. Later he married and his wife shared his interest in cooking. Her mother also had a keen interest in cooking. She had boxes and boxes of cookbooks plus recipes she had clipped from regional magazines and newspapers as she and her husband traveled on business from the 1920's to the 1950's. Together, they traveled all over the United States, Europe and Mexico, sampling food and collecting recipes as they went.

Vit kept notes on foods he liked and finally decided to publish. The recipes in this book have been tweaked to improve taste and health and make preparation easier. Included are a beverage guide and several appendixes covering seasoning, nutrition, diet, exercise, weight control, supplements, and table settings.

I know you are going to like these recipes because they're his favorites.
Books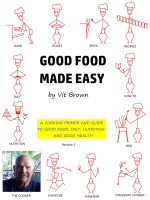 Good Food Made Easy
by

Vit Brown
Many of the newly emancipated eat out. But a diet of fast foods, Roach Coach cuisine, restaurant/store food will have a negative impact on your health. This book teaches you how to prepare tasty, inexpensive meals. This book was written for people with little or no cooking experience. It covers easy to fix recipes, cooking instructions, use of appliances, and information on diet and nutrition.
Vit Brown's tag cloud