Agatha Callie
Biography
Have you ever dreamed of getting away from it all and living carefree in a tropical island paradise? Many years ago I was a terrified single mother working in New York City. My baby had been coming to the office with me but my boss's tolerance ebbed away after she threw up on the computer keyboard. I began reluctantly interviewing prospective nanny candidates. I asked one particularly unkempt candidate – she resembled Mrs. Bates from Hitchcock's film Psycho - if she had children of her own. Her reply was that she used to. When I inquired further and learned that all five had all burned to death in a fire something in me snapped and I made my plans to leave. My wonderful friend Magdalena had first acquainted me with images from the beautiful Bali so I went for that tropical dream; strapped a pack on my back and boarded a plane for Bali, Indonesia with my seven month old daughter hugged tightly to my chest.

While I was putting this together I realized that this collection dimly reminded me of something long buried in my past. Since I'm a self-designated refugee from the Inquisition, I naturally thought of my favorite hysterical period, the Middle Ages. Then it hit me - we expats had all left our homelands in search of paradise only to end up playing, being played for or looking like fools. It's just like that famous medieval book, Ship of Fools! Back then the story satirized a group of characters who board a ship bound for an earthly paradise. Well, this struck a chord with me and it's clear I had been on that ship, albeit a Boeing 747, ending up in the best fool's paradise one could wish for.
Where to find Agatha Callie online
Books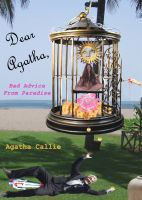 Dear Agatha, Bad Advice From Paradise
Absurd advice columnist Agatha Callie spent years on the Paradise Island of Bali where she wrote a popular satirical column. For over thirty years the island has been a magnet for expats foolishly seeking the ultimate earthly paradise. Being a recovering expat fool in Paradise herself, Agatha knows just the kind of advice these people need.