Ajay Kansal
Biography
Ajay Kansal is working as a professor and consultant pathologist in India. During his medical practice, he encountered many suffering patients, which drilled a hole in his faith in gods. Besides, he noticed terrorism, poverty, inequality, exploitation, injustice, crimes, etc. Gradually, Ajay realized that gods and religions are doing nothing to alleviate suffering humanity. Rather, fake promises by priests lure sufferers into complacency: they suggest only worship in place of struggle.
Ajay began conceiving that gods and religions seem to be human imagination. He studied anthropology and history of religions to find answers of his questions. That knowledge attested his previous conception. After this, he could not resist spreading the knowledge among others and wrote this book.
Books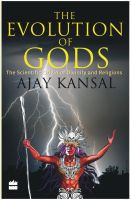 The Evolution of Gods
Did gods create mankind, or did mankind create gods? Religious scriptures the world over claim that one or other god gave birth to humans, but science has not yet identified any supernatural power that created and governed human beings. Did primeval humans come up with the idea of gods to help them cope with their fears? Could it be that they attributed natural phenomena to divine powers or gods?
Ajay Kansal's tag cloud