Alexandra Ares
Biography
Alexandra Ares was born in Bucharest, Romania and reborn in New York, NY in 1998. She writes in English as her second language and her writing credits include novels, short stories, essays, cultural reviews, screenplays, plays, and academic work. Her style ranges from light and humorous to dramatic and literary. She also produced, wrote, and directed news and docs on performing arts. She is the publisher of Manhattan Chronicles, a member of PEN America and of Romanian Union of Writers. She is passionate about astrology, Tarot cards, I Ching, and many other divination methods, which are her life-long hobby. Most recently, Alexandra Ares finished a collection of short stories. "Manhattan Folly", and a new novel, "In The Pocket of Life," to be published in 2015. She won four awards and finalist titles for her novels. Her work was translated in Romanian and Turkish, and in Europe was featured in Elle, Elle Book Club, Cosmopolitan, Time Out, etc.
Where to find Alexandra Ares online
Where to buy in print
Books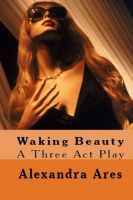 Waking Beauty
An original, dark, funny three act play, with a strong female lead, blending the European and American culture and angst. A modern tragedy, a social vaudeville, and indirect a political play with an absurd and neo-feminist touch, coming from the tradition of Bertolt Brecht's Three Penny Opera, Wendy Wasserstein's Heidi Chronicles and David Hare's Amy's View.