Alicia Laurin
Biography
First and foremost, I am a mom of three. I have always been a creative person. I am a jewellery designer, I enjoy painting, and have always done alot of crafts with my children. I am a business woman and Pay It Forward advocate. I started doing children's parties after having a very successful party for my eight year old daughter. I figured I had something other people wanted...and I was right! I am thrilled to be able to share my success with others and do yet another thing I never imagined myself doing - writing books!
Where to find Alicia Laurin online
Books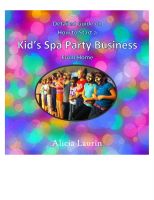 Detailed Guide on How to Start a Kid's Spa Party Business From Home
By
Alicia Laurin
Price:
$6.99 USD.
Words: 4,840. Language: English. Published: October 8, 2012. Category: Nonfiction
(1.00 from 1 review)
Detailed start-up guide including a kit list to get you started doing kids spa parties in other people's homes and potentially earning great income in your spare time! Tap into a great market that never goes away...birthday's!
Alicia Laurin's tag cloud