Alisa Libby
Biography
Alisa M. Libby has been writing stories since she first learned how to properly grip a crayon. Growing up in Natick, Massachusetts, she dabbled in other potential careers in her formative years (trumpet player, actress, astronomer, unicorn) but ended up going to Emerson College for a degree in creative writing, with a focus on fiction. While at Emerson she began writing numerous short stories about the infamous Countess Bathory--the "blood countess" of Hungarian legend. Years later these stories evolved into The Blood Confession, her first novel, published by Dutton Books. She is also the author of The King's Rose. Alisa lives outside of Boston, Massachusetts.
Where to find Alisa Libby online
Where to buy in print
Videos
The Blood Confession Book Trailer
Erzebet is young, beautiful, rich, and imprisoned in her castle, waiting to be sentenced for murder. In a brilliant fiction debut, Alisa M. Libby resurrects the real-life Erzebet Bathory, a seventeenth-century countess who believed that bathing in human blood would preserve her looks forever.
Books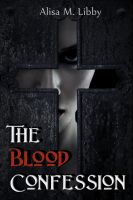 The Blood Confession
Born under the omen of a falling star, Erzebet Bizecka is a child of prophecy. The only heir of a powerful Hungarian count, she was predicted to die young or to live forever. Determined to survive despite the grim prophecy, Erzebet becomes obsessed with preserving her youth and beauty. How far will she be willing to go to protect herself?