Amy Marie Brander
Biography
An adventurer in life and in dreams, Amy is a self published author residing in Halifax, Nova Scotia.

At 29 years of age, Amy spends most of her time learning to come to terms with her own sense of reality. Currently working on a cyberpunk novel to be realeased in 2013.

She can often be spotted writing in a black book in the dark corner of small Halagonian establishments.
Where to find Amy Marie Brander online
Books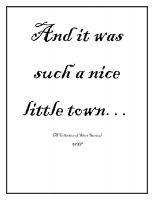 And it was such a nice little town..
The real town of Truro, Nova Scotia has problems. It's suffered similarly to the rest of the Canadian province with one small exception: Truro is the Hub of paranormal phonomenon. The following is a collection of short stories about children dealing with disturbing, real life occurances.Childrens imaginations run rampant to explain the circumstances they cannot emotionally fathom.