Andrea Sinclair Paz
Biography
My name is Andrea. I am twelve years old. I go to Gerald Mc Shane Elementary school and I am in the sixth grade. I am in the class 6A and my teachers are Mme Paquin and Miss Sabrina. I live in Montreal-North, Quebec. My dad is from Montreal and my mom is from Columbia. I chose to write about Vanessa's new school because I had to go to a new school when I was younger, so my story relates to something that happened to me. Cette histoire était un grand défi. C'était un long processus. J'ai choisi d'écrire l'histoire : «Une fille sportive», parce que j'aime jouer au soccer. Je joue avec mes amis à toutes les récréations, du début, jusqu'à la fin de l'année. Je jouais dans une équipe aussi.
Where to find Andrea Sinclair Paz online
Where to buy in print
Books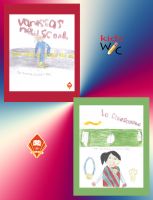 Vanessa's New School & La Fille Sportive
A new category of books launched by the 99 Series, LLC; children stories written by children. Kids books written by kids, captures the heart and the imagination of a child. Through these books and the Kids Write Club (KWC™) literacy, anti-bullying, and social disorders that affect our youth are shared in their own words to help other children.