AnnCharlesJacquieRogers
Biography
ANN CHARLES writes romantic mysteries that are splashed with humor. She is the winner of the 2010 Daphne du Maurier Award for Excellence in Mystery and Suspense. She is also a 2011 Romance Writers of America Golden Heart finalist. A member of Sisters in Crime and Romance Writers of America for many moons, she has a B.A. in English with an emphasis on creative writing from the University of Washington. When she is not dabbling in fiction, she is penning writing-related articles or standing on her workshop soapbox, sharing what she has learned over the years about the craft and self-promotion.
Visit her at www.anncharles.com or www.anncharles.com/deadwood; or hang out with her on Facebook (Ann Charles profile page) where she lounges and shares drinks daily.

JACQUIE ROGERS is a former software designer, campaign manager, deli clerk, cow milker, but always a bookworm. She writes fiction with a touch of whimsy and romance. Her current releases are Faery Special Romances (royalties go to the Children's Tumor Foundation, ending neurofibromatosis through research), Down Home Ever Lovin' Mule Blues, and a novella, Faery Merry Christmas. Her stories have won the P.E.A.R.L. Award for Best Short Story, and the NOR Award for Best Print Sci-Fi/Fantasy Romance novel. She's a former Golden Heart finalist, and a frequent speaker and workshop instructor, both in person and online. She's host of Meet the Parrots, the 1st Turning Point instructional internet radio program. http://1stturningpoint.com/?page_id=182
Visit her website at www.jacquierogers.com.

Jacquie and Ann are the co-founders of 1st Turning Point (www.1stTurningPoint.com), where authors teach, share, and learn—all about promotion and marketing.
Where to find AnnCharlesJacquieRogers online
Books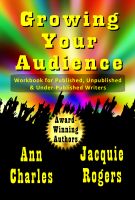 Growing Your Audience: Workbook for Published, Unpublished, and Under-published Writers
Must-Know Information For Every Author The publishing industry and the internet are bringing a new dimension to the concept of audience. The bad news: no one will find your readers for you. The good news: you have more options than ever in history to build your own fan base. In this workbook, we'll explore these options and send you on your way to building your own tribe of diehard fans.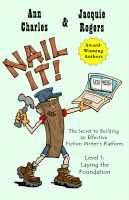 Nail It! The Secret to Building an Effective Fiction Writer's Platform Level 1: Laying the Foundation
Writing a great story is no longer enough to land a contract. With economic downsizing, publishers are selective when it comes to acquiring authors. These days, it takes a platform that is equal to the story in excellence and potential for you and your book to make it through the acquisitions gauntlet. Nail It! The Secret to Building an Effective Fiction Writer's Platform will help you succeed.