Mann and Cummings
Biography
After meeting online, we quickly discovered that we each had a talent for writing. Our communications soon became very sexual in nature and before we knew it, we were writing our very own personal erotic adventures – never (initially) intending that they would ever be published, but purely to see how hot, bothered and horny we could make each other!! Each of our erotic adventures is a compilation of those original communications -- one or the other of us would begin with a storyline, ship it off and wait to see what would come back – neither knowing what to expect or the direction the story would take.

Co-authors Mann and Cummings take you through a truly unique experience as they put into words the male-female perspective of erotic sexual adventures, sure to tantalize and tease you ... and yes, that too!!
Books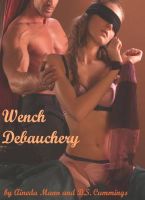 Wench Debauchery
They decide to take their sexual desires to a whole new level -- a trip to the sex toy store inspires them to embark on a pirate-themed fantasy filled with lust, desire and debauchery!! Can the Captain control his Wench? Can she handle his intense wrath after he discovers her betrayal? Immerse yourself into the deep depths of Wench Debauchery.
Mann and Cummings's tag cloud