Bahiyah Shabazz
Biography
Bahiyah Shabazz is a leader in maximizing your potential and visualizing growth. She's an author, entrepreneur, personal wealth expert and financial blogger. Bahiyah Shabazz also empowers and coaches through 'Fix Your Money' segments.

Bahiyah Shabazz is the CEO & Founder of Shabazz Management Group, LLC an advisory and coaching firm based in Indiana. Shabazz Management provides specialized money management solutions, personal development, innovative leadership, self awareness strategies and financial growth from households to corporations. The Merrillville, IN based advisory management provides these services to individuals and small businesses. Shabazz Management is a Minority and Women Business Enterprise in the state of Indiana.

Bahiyah is the author of Finances are linked to emotions: live within your means. She has written news articles about emotional spending, budget for business, premarital financial advice, women & money, and money management for children, among many more. She frequently presents seminars and workshops to groups, businesses, and organizations. Some of her seminar presentations include "Find your potential", "Manage your investments", "Budget your household", "Plan for success" and "Stop impressing others with money you don't have".

Bahiyah has appeared as a guest on the nation's television and radio networks. She has also been featured in Black Enterprise.com, HER Magazine, Industry Buzz, Rolling Out, The Savvy Sistah and a variety of other media outlets.

She is a member of Women in Public Finance, NAACP, Women Entrepreneurs of America, WEE Savers of Sigma Gamma Rho Sorority, Inc, and Rotary International Club.

Bahiyah received her MBA (Business & Finance) from University of Phoenix and Bachelor of Arts (Psychology & Minority Studies) from Indiana University. She also earned license(s) as a financial advisor.
Where to find Bahiyah Shabazz online
Books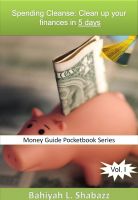 Spending cleanse: Clean up your finances in 5 days
Spending cleanse: Clean up your finances in 5 days is an Ebook designed to give you the tools to acknowledge your needs over wants. At the same time, allowing you the discipline to focus on eliminating your debt. If you are tired of being in debt and want to figure out how to manage your finances with your current income then it's time for a spending cleanse.