Bill Howard
Biography
Bill Howard is a retired Oklahoma City businessman. He published the first of the Rick Wade mystery series, Rick Wade:Investigations/Murder in the City, just after his 83rd birthday. Two of the books are published and the third it ready to be published. The fourth is in progress. Bill and his wife, Juanita, live in the Shawnee Twin Lakes area near Shawnee, Oklahoma. A widower for eight years after the passing of his late wife, he and Juanita married five years ago and their blended family consists of eight children, sixteen grandchildren and fourteen great grandchildren. Being reared in the small town of Coweta, Oklahoma during the depression years there was little time and money for entertainment so reading was a major source of enjoyment. Reading the mysteries of the earlier writers fascinated Bill and whetted his desire to write. Finally, fully retiring at the age of seventy five, he had the opportunity to fulfill that dream.
Books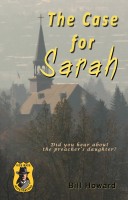 Rick Wade Investigations: The Case for Sarah
Rick Wade:Investigations, the Case for Sarah, is the second book in the Rick Wade mystery series. Sarah is a High School senior, a straight A student. Her father is a Minister and her mother has passed away. She falls in with an unsavory element.
Bill Howard's tag cloud