Bob Mackin, Jr
Biography
Bob Mackin is a North Vancouver, Canada, journalist who has authored books on soccer and baseball trivia. He specializes in sports, business and news and covered the Vancouver 2010 Winter Olympics and Paralympics for local, national and international publications.
Where to find Bob Mackin, Jr online
Books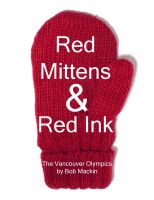 Red Mittens & Red Ink: The Vancouver Olympics
The Vancouver 2010 Winter Olympics were the Games of the Great Recession. A $6 billion-plus party that inspired a nation. But at what cost? This is more than a story of the thrill of victory and agony of defeat. It's about fear and greed, unity and division, celebration and anguish. It is red mittens and red ink.
Bob Mackin, Jr's tag cloud