F. W. Boreham
Biography
BOREHAM, FRANK WILLIAM (1871-1959), preacher and writer, was born on March 3, 1871 at Tunbridge Wells, Kent, England, eldest child of Francis Boreham, solicitor's clerk, and his wife Fanny Usher. He was educated and was later a pupil-teacher at Grosvenor United School, Tunbridge Wells. In December 1884 he became junior clerk with a local brickworks where, in a locomotive accident, he lost his right foot, necessitating the life-long use of a stick. Late in 1887 he went to work as a clerk in London, becoming increasingly involved in church, debating and writing activities. Although his family was Anglican, he was baptized at Stockwell Old Baptist Church in 1890; he preached from pavement and pulpit and published "Won to Glory" in 1891. He was admitted to Spurgeon's College, London, in August 1892, serving as a student-minister at Theydon Bois, Essex, where he met Estella Maud Mary Cottee. In 1894 Boreham was called to the Scottish community at Mosgiel near Dunedin in New Zealand, and was inducted on March 17, 1895. Stella, then 18, followed to marry him at Kaiapoi on April 13, 1896. Boreham became president of the Baptist Union of New Zealand in 1902, and published "The Whisper of God and Other Sermons." He wrote editorials for the Otago Daily Times, contributed to theological journals and, as a keen temperance advocate, participated in liquor polls in 1905 and 1907. In June 1906 Boreham was called to the Baptist Tabernacle, Hobart. He edited the Southern Baptist and later the weekly Australian Baptist and in 1910 became president of the Tasmanian Baptist Union. His "George Augustus Selwyn" was published in 1911. He wrote a biographical series for the Hobart Mercury, which in 40 years covered 2000 persons; in 1912-59 he contributed 2500 editorials to the Mercury and the Melbourne Age. Boreham's 80 publications, including religious works, homiletic essays and novels, sold over one million copies.
Where to find F. W. Boreham online
Where to buy in print
Books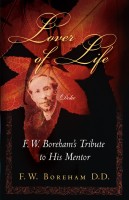 Lover of Life, F. W. Boreham's Tribute to His Mentor
This is a tantalizing sketch of a pastor, artist, author, who later in South Africa became a friend and freedom fighter with Mahatma Gandhi in the struggle for the rights of minority races.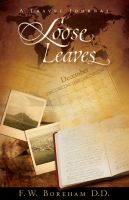 Loose Leaves
Loose Leaves chronicles F. W. Boreham's pilgrimage to the birthplaces and homes of great English and Scottish writers. His communion with them as a young writer recalls quotations and thoughts from their books. He writes about history, literature, faith, heroism, royalty and the charms in everyday life. Boreham's ability to paint a picture, tell a story and uncover fascinating detail is evident.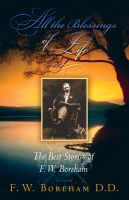 All the Blessings of Life: The Best Stories of F. W. Boreham (Revised)
Throughout his life F. W. Boreham wrote and refined his stories in order to master the difficult art of telling a story well. Such diligence was awarded as Dr. Boreham became recognized as one of the leading Christian preachers and writers in the first half of the twentieth century.