Brandon De Mattia
Biography
My name is Brandon of Mattia and I live in Montreal. I go to Gerald Mc Shane Elementary School. I am in class 6B and my teachers are Miss Sabrina and Mme Paquin. My hobby is to watch my favorite hockey team, the Boston Bruins. I love drawing, for example, cars.
Where to buy in print
Books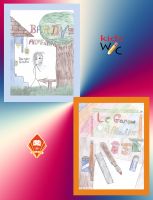 Brady's Adventure & Le Garçon Qui Aime l'Art
A new category of books launched by the 99 Series, LLC; children stories written by children. Kids books by kids, captures the heart and the imagination of a child. Through these books and the KWC™ literacy, anti-bullying, and other issues that affect our youth are told in their own words.
Brandon De Mattia's tag cloud