Brenda Tobias
Biography
Brenda Tobias is a cultural commentator with good intentions and reasonable credentials. A social work degree from Cornell University has proven itself less of an unwise investment as one might think, and her work as a child therapist and higher education administrator has led to a unique understanding of the human psyche. Ms. Tobias is an award-winning writer whose work has been published in journals, and magazines. She is an on-air Huffington Post commentator. Her essays on; culture, media, education, theatre and style can be found at www.HereSheIsBoys.com.
Where to find Brenda Tobias online
Books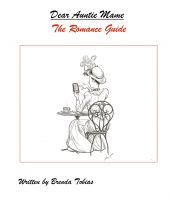 Dear Auntie Mame:The Romance Guide
Did you ever have a friend who always had the right answer to your troubles? How about a relative who was worldly and wise but funny and approachable? Your Auntie Mame is all that and more with her traditional sensibility and cutting edge approach to your most vexing problems. She'll make you smile while telling you things that you might not want to hear.
Smashwords book reviews by Brenda Tobias
Smashwords Style Guide on April 12, 2013
(no rating)
I hate to say it but I suspect the clumsy process & vague error messages & links to new pages are intentional. I fear that the goal is to frustrate the user after he/she has bought into the process and therefore ensure they will pay the extras to just be done with it.