Brendan Power
Biography
Brendan Power was born in a pub and has years of experience as a small business owner. The son of Bernard (Bernie) Power, Brendan grew up working in his father's hotels, then later at Power's Brewing. In addition, Brendan has owned and operated a number of pubs in Queensland and the USA.
Brendan also has extensive background in marketing. He has worked in the United Sates of America for an American based brewer and was Managing Director of a company that specialized in the management of hotels, restaurants and cafes. He was also the CEO of an international backpacking company.
Brendan has Bachelor of Business and an MBA and is a graduate of the Australian Institute of Company Directors.
Books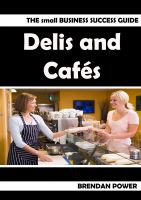 The Small Business Success Guide: Delis and Cafes
How do you make your deli or café as successful as it can possibly be? With the Small Business Success Guide: Delis and Cafes! It is full of effective tips and simple suggestions that require minimal effort but are sure to improve your bottom line.
Brendan Power's tag cloud