Ryan Foland
Biography
A native of Huntington Beach, Ryan earned two bachelor degrees from the University of California Santa Barbara, and went on to earn his MBA from the University of Phoenix Arizona. As an entrepreneur, Ryan formed Foland Financial Corporation and has consulted for several small to mid-sized companies in the fields of Construction, Mortgage, Finance, and Life Insurance. Currently a consultant, working as Program Director for Zen Dojos Martial Arts Academy in San Juan Capistrano, Ryan works with kids on a daily basis, and has formed his organization Bully Buster OC and Bully Buster USA to tackle the "bullying" issue that so many children struggle with. Being bullied as a kid, and seeing the need for Bully Buster training in the community, he has been working closely with different community groups, schools, and organizations to push awareness of bullying in and out of schools. Using his experience as black belt in Taekwando, and Black Belt in Karate, Ryan has developed a unique "Bully-Buster" Workshop for Kids and Parents of Orange County. The workshop is designed to arm kids with the knowhow to handle bullies in a non-violent way, learning how to avoid potentially harmful situations, resolve problems as they arise, and manage the conflict if it gets to the physical level. Bully Buster USA has partnered with Iconosys, Inc., a leader in mobile safety communication and life-style applications, to launch Word Bully™ 3.0, the ultimate app and means of self-defense in the battle against bullying and cyber-bullying. Ryan also actively writes his "Bully Blog," sharing insights on bullying information daily. For more information of if you are interested in booking a Workshop or Ryan as a guest speaker, please visit www.BullyBusterOC.com.
Where to find Ryan Foland online
Books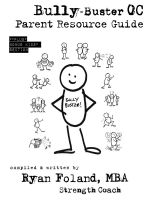 Bully Buster OC Parent Resource Guide
The Bully Buster OC Parent Resource Guide is designed to provide practical, straight forward advice for parents and children on how to handle various bullying and cyberbullying situations. Laid out in an easy to read format, this book answers frequently asked questions with proven solutions. Also included is a bonus section for kids with 12 easy tips to becoming Bully Proof!