C.J. Tremblay
Biography
Carole Jean Tremblay was born in Hackensack, N.J. She graduated from Stanford University with a BA in French.

"The Patriot Conspiracy" is the result of her husband's four-year stint in politics. Carole likes to joke that writing her novel was an act of catharsis, as she transformed her experiences into an original, compelling, and terrifying story.

Carole taught both French and English in elementary schools, and has written eleven books for teaching English as a second language.

She writes children's books published both in English and in French. Pineapple Press published her illustrated children's book "The Old Man and the C". Bayard Canada publishes her French mini-novel series "Po-Paul".
Where to find C.J. Tremblay online
Books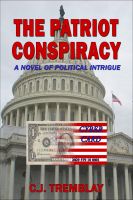 The Patriot Conspiracy
1984 meets Wag the Dog. A popular president seeks to abolish cash and consolidate his power. A senator struggles to reconcile his principles and his ambitions. His young wife learns the truth about politics and suffers the consequences, transformed from observer to participant. The shocking ending of The Patriot Conspiracy is a wake-up call to those who deny the importance of privacy rights.