Chance Stiles
Biography
Chance Stiles, a pseudonym, is a professional by day and a reader/writer/gamer/lover (not necessarily in that order) at all other times...well, when he hasn't fallen asleep with the computer on his lap. He is a 21st century man stuck in the 12th century (also known as the deep red state of Oklahoma). Reading should be pleasurable and he hopes you find his books a pleasure to read. He appreciates your feedback. Feel free to contact him at lavender.cowboy.epubs@gmail.com with your comments and suggestions. Be aware that hostile e-mails and attempts to evangelize may be posted on the internet for the world to see.
Books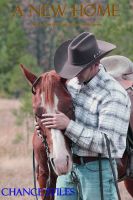 A New Home
By
Chance Stiles
Price:
$0.99 USD.
Words: 16,030. Language: English. Published: July 6, 2012. Category: Fiction
Dr. Stuart Davis returns to New Mexico to start a new life after the untimely death of his parents. He realized that he missed having a family. Then Micah walked out of the barn.
Chance Stiles's tag cloud