Caleb Kimball
Biography
Caleb Kimball was born on February 26, 1999. Since he first learned to read when he was five, he had read hundreds of book in many various genres. Recently, Caleb has published a short story entitled 'Operation Sting', which is available on Amazon. A novel, entitled 'The Greatest War', is scheduled to be published in 2015.
Books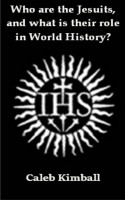 Who Are The Jesuits, And What Is Their Role In World History?
Who are the Jesuits, and what is their role in World History? This essay will go through the history of the Jesuits, from their founding in 1534 to today.
Caleb Kimball's tag cloud