Joshua Calkins-Treworgy
Biography
My name is Joshua T. Calkins-Treworgy. I'm a 26 year old father of 2 beautiful little girls in Eden, New York State. I'm a new author, and intend to make writing my career, so that my wife won't have to work so much, and I won't have to work in the work-a-day world forever. Also because I love storytelling. My writing is in the realm of high fantasy, a genre for which I have a deep love. I've been reading fantasy and sci-fi novels for years, and among my favorite authors are Stephen R. Donaldson (the Covenant novels), Terry Brooks, Terry Pratchett, J.R.R. Tolkien, and Terry Goodkind. R.A. Salvatore's okay, but I'm not so big on him. I also enjoy the writings of Stephen King, Clive Barker (the old stuff), and Dean Koontz. I'm big on video games, particularly RPGs (role playing games). This stems in part from a long-lived love of pen-and-paper role playing games, like Dungeons and Dragons. In short, I'm a huge nerd. In addition, I'm also a huge Otaku, or anime/manga freak. (Inuyasha is my favorite, along with Negima: Magister Magi Negi, and Bleach)
Where to find Joshua Calkins-Treworgy online
Where to buy in print
Books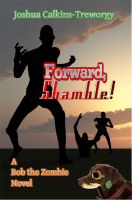 Forward, Shamble! A Bob the Zombie Novel
(5.00)
A weird virus sets zombies loose on the world. One of these zombies, Bob the Zombie, wonders why zombies happened now...as he munches his way through human body parts and tries to think of ways to keep his fellow zombies alive...or at least no more dead than usual.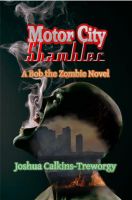 Motor City Shambler: A Bob the Zombie Novel
(5.00)
Robert Johnson was out for a hike when a stranger ran up and bit a chunk out of his arm. It's a strange behavior, but Johnson patches himself up as best he can and heads for home--Detroit. When he wakes up, he sees the news--there's a weird infection out there, an infection that comes to be known as zombies. Very funny.