Alexander Kane
Biography
Captain Alex Kane was born in Scotland in 1920. He and his family immigrated to New Zealand when he was just 5 years old. There, he went to school and developed a facination for a very new concept in our lives, aviation. He joined the Royal New Zealand Air Force during the Second World War and embarked on a career full of adventure. He eventually immigrated to the United States and settled in the State of Hawaii, where he resides today. His works are a recollection of family, friends and his biggest passion in life, flying.
Books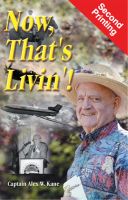 Now That's Livin'!
By
Alexander Kane
Price:
$9.95 USD.
Words: 79,200. Language: English. Published: September 16, 2012. Category: Nonfiction
This is Captain Alex Kane's first book, illustrating his family's history and his life's journey to where he is today. A second book is forthcoming shortly with a more in depth look at aviation and how it affected his life and the world. A portion of the proceeds will be donated to Rotary International.
Alexander Kane's tag cloud