Carol Northfield
Biography
The story you will find here is the story of my discovery of my husband's addiction to narcotics and my own journey toward health and serenity. If you, too, love someone who uses drugs or drinks too much, perhaps my story will help you find your way.

This story is not intended to be all of the help you'll need, just a guide to steer you toward some long-term solutions. Whether or not you choose to stay with your addict is up to you, but like it or not you're going to need some help either way. This story is an account of what worked for me, some of which might also work for you, a little something for you to hold onto until you get through to the other side.
Books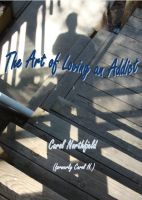 The Art of Loving an Addict
(5.00)
It has been said that addiction is a victimless crime, but those who love people who are addicted to one substance or another know better. Not only are addicts victims of their disease, but the lives of those of us who love them are deeply affected, too. If you know-or suspect-you love an addict, this story is written for you, an account of what worked for me, some of which might work for you.
Smashwords book reviews by Carol Northfield
The Magi of Futurity on Jan. 25, 2009
(no rating)
An elegant writing style married to the most advanced ideas of the Coming Age. A refreshing read!