Caroline Linden
Biography
Caroline Linden was born a reader, not a writer. She earned a math degree from Harvard University and wrote computer software before turning to writing fiction. Ten years, twelve books, three Red Sox championships, and one dog later, she has never been happier with her decision. Her books have won the NEC Reader's Choice Beanpot Award, the Daphne du Maurier Award, and RWA's RITA Award. Since she never won any prizes in math, she takes this as a sign that her decision was also a smart one. Visit her online at www.carolinelinden.com.
Where to find Caroline Linden online
Books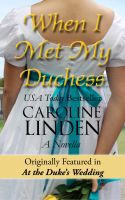 When I Met My Duchess
The Duke of Wessex believes he's chosen the perfect bride. Cleo Barrows thinks her sister is very fortunate to be marrying the duke. But when Cleo and Wessex set eyes on each other, neither is so sure the wedding of the year won't be a terrible mistake. Originally published in the anthology At the Duke's Wedding. Includes bonus epilogue.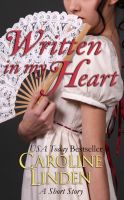 Written in my Heart
For three years Jane Barton has written a letter every week to Sgt. Ethan Campbell, her dearest childhood friend…and the man she's secretly loved for ages. For three years, Ethan has relied on Jane's letters to keep him sane through the war. But now the war is over, and he's desperate to discover if the girl he left behind is really the woman he can't live without…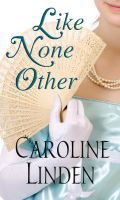 Like None Other
(4.00)
Lady Emma Bowen loves her snug little house in London. Captain Phineas Quentin hates his—except that it's near hers. Because he feels ever so much more than neighborly toward the pretty widow next door. This short story originally appeared in the Mammoth Book of Regency Romance.
Caroline Linden's tag cloud